Description

Bunny and the Fox: Country Hoedown!
Saturday, May 26
7PM Doors / 8PM Drag Show / 10pm Hootenanny
$25 per person
18+

Seating is limited so make sure you come early!
---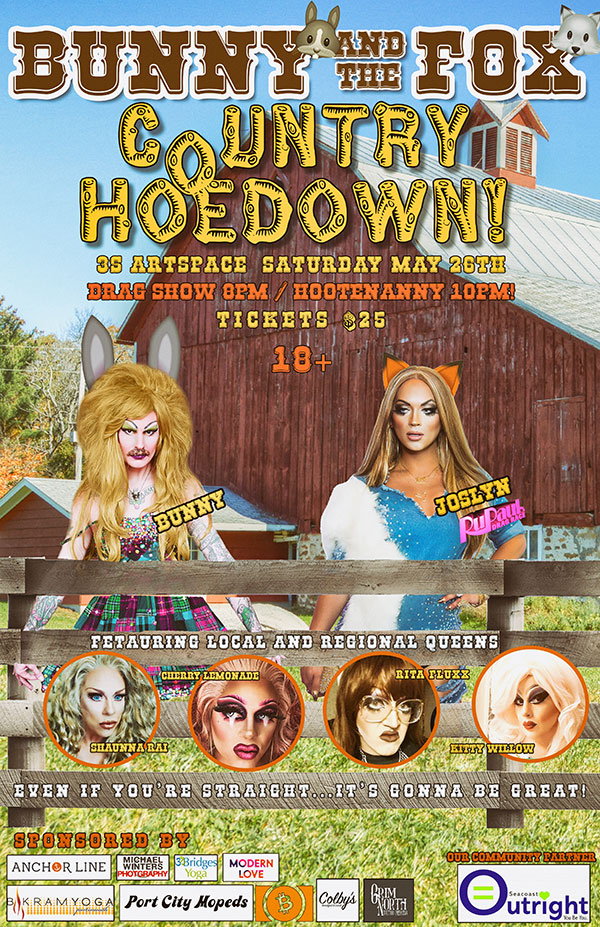 The reviews are in and Bunny and the Fox is now an underground hit! After popular demand, Bunny and the Fox has been extended for 3 more months of drag goodness.

"...It's time to strap on the stilettos and strut down to 3S. "Bunny and the Fox" are not to be missed. To say it brought the house down is putting it mildly." --Seacoast Online

Bunny and the Fox is a free form, interactive, multi media drag show like you've never seen before. Starring Joslyn Fox of RuPaul's Drag Race, and New England's Cult hit, Bunny Wonderland, this isn't your grandmothers drag show! Combining video, audience participation, and bucket loads of glitter, Bunny and the Fox is an impactful and fun respite to this broken and beautiful world.
Well butter my biscuits! Bunny and the Fox is back with the rootness' tootness' show around! Join your favorite drag duo Joslyn Fox (Rupauls Drag Race Fan Favorite Season 6) and Bunny Wonderland (New England's Cult Queen) as they celebrate the ladies of Country! With a bevy of cowgirls at their disposal, you don't want to miss this round of New England's largest and most audacious Drag Show! Before you know they'll have you screaming "Hay, Girl, Hay!"

Country Hoedown featured performers:

Cherry Lemonade (Portland, ME)
Kitty Willow (Portsmouth, NH)
Rita Fluxx (Rollinsford, NH)
Shaunna Rai (Portland, ME)

No guests under 18 will be admitted.