Description
Connect with the Bunker Labs D.C. community and learn how to start a podcast to share your perspective, promote your business, or tell an imaginative story.
Rod Rodriquez, the Founder of Clear Commo Studios, will give the Bunker Labs D.C. community a glimpse of what goes into creating a podcast. This event is part of Bunker Brews, a monthly meetup where the Bunker Labs community, including veterans, military spouses, and civilians, comes together to network with subject matter experts, investors, thought leaders, and more in an environment focused on growth and development.
This event is for you if...
1. You're interested in meeting more like-minded, action-oriented entrepreneurs in a fun, casual setting.
2. You're interested in getting involved in the local entrepreneur community.
3. You'd like to learn more about companies being created by veterans in our community
This Bunker Brews will be hosted at Chisel, a veteran-founded co-working space for lawyers.
---


About Bunker Labs:
Bunker Labs is a national nonprofit focused on inspiring, educating, and connecting the next generation of military veteran entrepreneurs.

---
Speaker Information
Rod is a writer, producer, Veteran advocate, content creator, mental health professional, and analyst. For over a decade he worked as a HUMINT professional from squad leader to division level senior HUMINT advisor and in conventional Army units, joint and combined operations, with Special Operations Forces, and recently as an Irregular Warfare Analyst. He also worked as a mental health counselor focused on trauma related to crime with an emphasis on sexual assault and abuse towards children as well as with military Veterans living with service-related injuries providing one-on-one care and support towards their goal of independent living.

His latest journey has taken him into the world of podcast production. As the host of the After Action Review (AAR) Podcast he aims at inspiring and connecting the Veteran community of business owners, non-profit founders, artists, and musicians. The Veteran entrepreneur is a positive force equipped with unique talents and skills that make them ideal for the challenges of the entrepreneurial life. The AAR Podcast is a showcase of those dynamic Veterans, their stories of what went right, wrong, and where their endeavors are taking them next. This podcast has provided him the opportunity to learn about podcast production, small business development, website creation, and social media development for small businesses and non-profits.
---
Partner Spotlight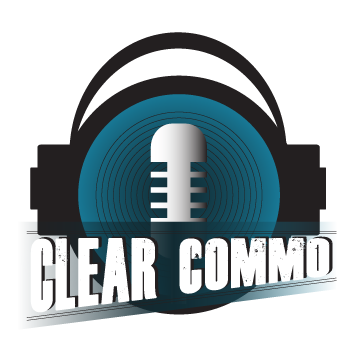 About Clear Commo
Clear Commo is a full-service podcast production solution for Small to Medium sized businesses who want to share what's important to their company with their customers and potential customers. We help our clients every step of the way from storyboarding, figuring out the right format for their show, recording with our industry grade microphones, editing for sound optimization, and publishing their podcast on all the major podcast platforms.
Deadon "Rod" Rodriguez

Founder

Clear Commo, LLC