Description
Every entrepreneur needs to take the time to hone their technology skills--becoming digitally literate. In partnership with Comcast, we are proud to present the second part of our 4-part Bootcamp series on "Digital Literacy".
February's event we welcome special guest Matt "Griff" Griffin who will focus on "Monetizing Social Media: Data, Persistence, and Failure", "Maximizing Your Time", and "Paid vs Unpaid SM Marketing". We will also have a free copy of Matt Griffin's Book, "Steps Ascending: The Rise of the Unarmed Forces" to give away to the first 50 people in the door.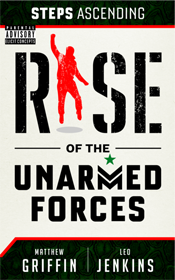 "The remarkable true story of a group of former Special Operation soldiers turned entrepreneurs on a mission to end the war in Afghanistan with business, not bullets."
This event is part of Bunker Brews, a monthly meetup where the Bunker Labs community, including veterans, military spouses, and civilians, comes together to network with subject matter experts, investors, thought leaders, and more in an environment focused on growth and development.
Agenda:
4:30 - 6:00 Happy Hour/Social
6:00 - 7:00 Digital Bootcamp w/ Matt Griff
7:00 - 9:00 Networking and Veterans in Residence Tour
This event is for you if...
1. You're interested in meeting more like-minded, action-oriented entrepreneurs in a fun, casual setting.
2. You're interested in getting involved in the local entrepreneur community.
3. You'd like to learn more about companies being created by veterans in our community
---


Sponsor Spotlight

---
Guest Speaker
Matt Griffin