Bun B at the Vogue on June 11, 2021
About this event
Bun B
Saturday June 11, 2021
Tickets $50 each. VIP Upgrades are $50 per person, and include VIP entry, dedicated seating, and a premium beverage concierge.
Bun B
Texas rapper and scene icon Bun B (born Bernard Freeman) rose to fame as part of the duo UGK, issuing a string of U.S. Top 20 hits, including 1996's gold-certified Ridin' Dirty and the 2007 chart-topping Underground Kingz, home to their smash hit with Outkast, "International Players Anthem (I Choose You)." Bun B made his solo debut in 2005 with Trill, extending his presence into the 2010s with Trill O.G.: The Epilogue and Return of the Trill, just as a generation of younger MCs looked up at the influential veteran for inspiration.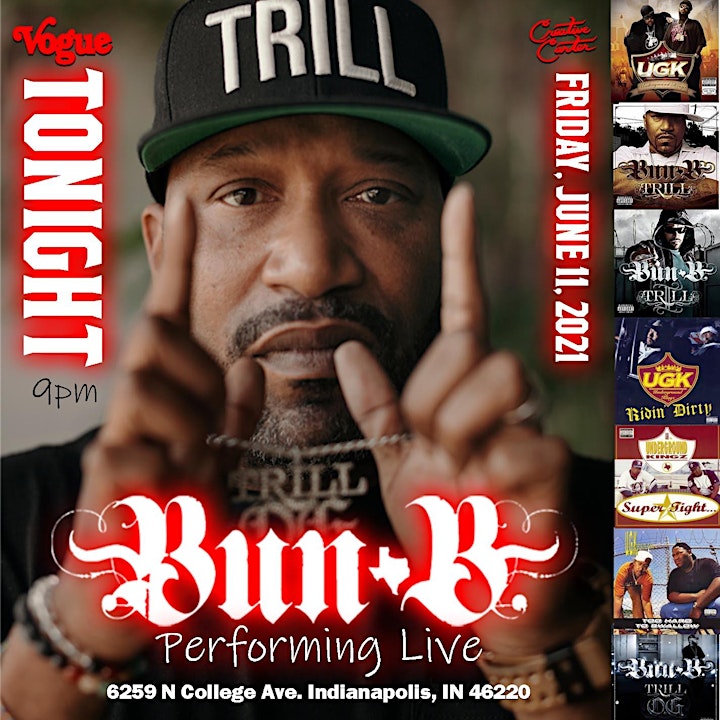 More About Bun B
Together with partner Pimp C, Bun B formed UGK in the late '80s when their former crew, Four Black Ministers, fell apart. Based in Port Arthur, Texas, UGK signed with Jive, and with 1992's Too Hard to Swallow began a series of Southern gangsta rap albums that were successful sellers. Bun B formed the side project Mddl Fngz in 2000, but his main concern was still UGK. Things came to halt in 2003 when Pimp C was sentenced to eight years in prison on an aggravated gun assault charge. Bun B carried on solo, making numerous appearances on other artists' tracks and then in 2005 releasing both the mixtape Legends and his debut album, the Rap-a-Lot release Trill, a Top Ten hit that was later certified gold. With Pimp-C seeing early release in late 2005, Bun B returned to UGK. In 2007, the pair released their chart-topping Underground Kingz, which included the hit single "International Players Anthem (I Choose You)" with Outkast. Tragedy struck in early 2008 when Pimp C died suddenly, leaving Bun B to return to a solo career.
His second solo album, II Trill, arrived months after Pimp C's passing. It became his highest-charting effort to date, rising to number two on the Billboard 200 and topping the R&B/rap/independent charts. His follow-up, 2010's Trill O.G., fared almost as well, peaking at number four. A fourth installment of the Trill series, Trill O.G.: The Epilogue, arrived in 2013 and featured guests Big K.R.I.T., Rick Ross, 2 Chainz, Raekwon, and more, as well as Pimp C on a pair of posthumous tracks, "Cake" and "Don't Play with Me." After a five-year silence, Bun B released 2018's Return of the Trill.
What We Are Doing To Keep Fans Safe
Limited Capacity: Per Marion County public health orders, the capacity for this event will be limited.
Face Coverings: All patrons and employees will be required to wear a face covering when entering the venue. Face coverings must remain on when high traffic areas such as restrooms, hallways and service areas. Masks are not required while consuming a beverage or interacting inside of your social circle. Please bring your own mask. Disposable masks are available for purchase at the box office but quantities are limited.
Signage: Pay attention to signage as you enter on the exterior of the venue, as well as various points throughout the venue. Remember, by purchasing a ticket and entering the venue you are doing so at your own risk.
Cleaning: The Vogue continues to maintain its enhanced cleaning procedures which include a thorough cleaning before and after every show. The Vogue has implemented a new Viruscide Spray system that is delivered via commercial anaomizer spraying system. The Vogue treats all high-traffic areas with Nu-Foamicide, which is recommended by the CDC to kill Covid-19, before and after shows. Security staff will be responsible for disinfecting high traffic areas including service areas, door handles and restroom facilities throughout the show.
In an effort to reduce and sanitize high-traffic touchpoints, restroom doors will stay open at all times
Line Cue & Entrance Procedures: We will provide a defined entrance lane for you to enter the venue. Please follow the markings on the ground that will help you maintain social distancing as you enter.
New Point-of-Sale System: We've installed a new point-of-sale system that will not only speed up transaction time, it will provide more visibility into your checkout process. Consumer-facing screens allow guests to complete the checkout process more efficiently directly with their credit card or Apple Pay which creates less handling of cash and cards across the service area.
PLEASE NOTE: THIS IS A LIMITED CAPACITY EVENT. MASKS ARE REQUIRED AT ALL TIMES WHEN NOT SEATED.
What We Are Doing To Keep Artists Safe
Barricade: When applicable, the Vogue utilizes a stage barricade that allows for proper distancing between the artist and the crowd. This is also a preventative measure to ensure patrons do not get on the stage during the show.
What We Are Doing To Keep Our Staff Safe
All employees will wearing a face covering that covers the nose and mouth
All employees will submit to a pre-shift temperature check. Employees who feel ill or showing any symptoms of illness will not be allowed to work.
Employees will take frequent breaks for personal sanitization and hand washing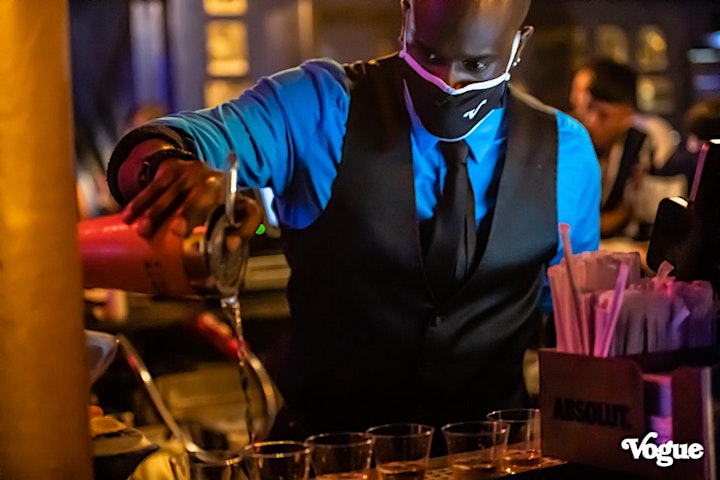 GENERAL ADMISSION, LIMITED SEATING, LIMITED CAPACITY.
MUST BE 21 TO ENTER.
ALL GUESTS MUST WEAR A FACE COVERING PER MARION COUNTY PUBLIC HEALTH ORDER. PLEASE BRING YOUR OWN. DISPOSABLE FACE MASKS WILL BE AVAILABLE FOR PURCHASE AT THE BOX OFFICE, BUT QUANTITIES ARE LIMITED. THIS POLICY IS SUBJECT TO CHANGE BASED ON THE ORDER OF LOCAL AUTHORITIES AND AT THE VENUE'S DISCRETION.