About this Event
NYC is a fast-paced city filled with interns and young professionals who work in demanding industries. The pressure to focus solely on a career and not on a work-life balance can be detrimental, and so we want to address these concerns. This panel will highlight and outline ways to find a work-life balance and set yourself up for success in and outside of the workplace!
Join us for an evening of networking and an informative panel followed by a cocktail hour with delicious sponsors DŌ ROLLN, Sweets by Chloe, and MatchaBar.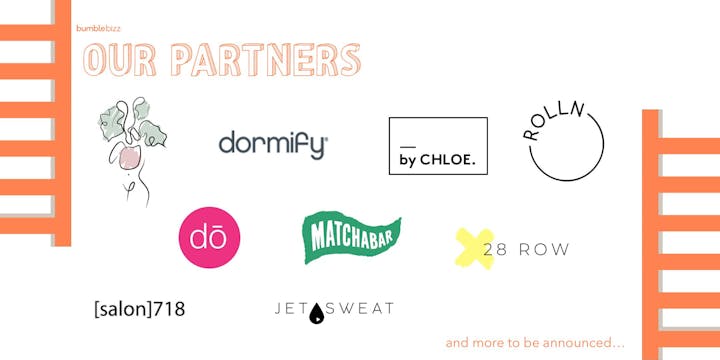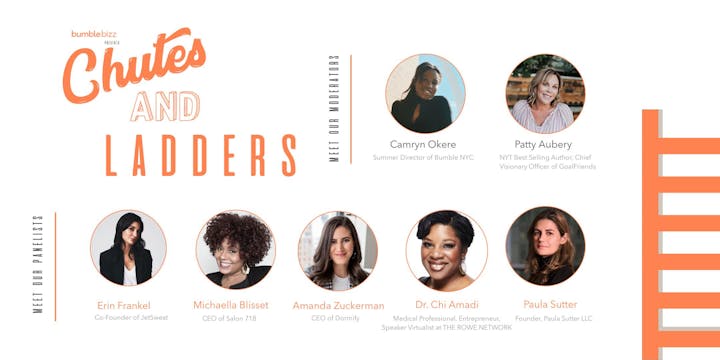 Agenda:
6:30-7pm Refreshments, Professional Headshots, Hair and Makeup demos from Salon 718
7pm -Networking with Bumblebizz Presentation
7:15-8:30pm: Hearing from our Panelists
Link to submit panel questions: https://docs.google.com/forms/d/e/1FAIpQLSdaV4WR0a--jVFlAC06qznKapJcq11Fnvu2-Y_uOsg2nAq04A/viewform?usp=sf_link
Moderating Chutes and Ladders will be:
Camryn Okere
As the Summer Director of Bumble for NYC, Camryn leads the largest Bumble "Honey" ambassador team in the United States and is in charge of developing strategies to drive traffic and new growth to the app through innovative events, activations, and campaigns for the metropolitan area. Through her time at Bumble she has been primarily focused on women in business and growing user base of the networking mode of Bumble, Bumblebizz whether that be in the St. Louis Area where she was a Campus Director or here in NYC.
Patty Aubery
As President of The Canfield Training Group, Patty Aubery has not only overseen the growth of the publishing industry's first billion-dollar brand, Chicken Soup for the Soul®, but she's also created a multimillion-dollar training company around the success principles of author Jack Canfield. Patty has expanded these live training and coaching programs to 108 countries and prepared thousands of emerging success trainers for professional careers in the transformational field. She is a #1 NY Times bestseller. She is the CVO for Goalfriends, and she is now dedicated to bringing her experience to women entrepreneurs, sales professionals, and corporate employees through live events, retreats, women's summits and speaking engagements that teach audiences and small groups the Success Principles and strategic career planning.
Meeting our Panelists:
Amanda Zuckerman
Currently the CEO of Dormify and recognized as a Forbes 30U30 recepitent. Amanda has created a home decor brand and e-commerce store dedicated to fashion-minded college girls and first apartment dwellers.
Dr. Chi Amadi
Dr. Chi Amadi is a board-certified Obstetrician-Gynecologist who works with women and their families to promote alignment between the emotional, spiritual and physical aspects of her patients. For over fifteen years Dr. Chi has dedicated herself to working with underserved women and families to ensure their access to safe, elective and compassionate healthcare services. She believes that good health is a basic and obtainable human right. It begins with the incorporation of self- care, stress management strategies and healthy relationships into everyday practices
Erin Frankel
Current Co-Founder of Jetsweat. JETSWEAT is an on-demand, customizable fitness platform that provides exclusive access to premium boutique studio classes and structured programming personalized to fit individual goals. This coupled with real-time performance tracking empowers an active lifestyle for consumers wherever, whenever.
Michaela Blisset
Goldman Sacs recognized small business CEO, Michaela Blisset Williams is the mastermind behind the [salon]718 brand, she started her first salon in her brownstone in Brooklyn and she is now 4 salons strong and growing. Her company aspires to be experts & educators within their industry and to spread the message that beauty is inclusive.
Paula Sutter
Before founding Paula Sutter Consulting, Paula served as CEO/Operating Partner of TSG Consumer's Fashion Group, working closely with the firm's fashion partner companies, including Revolve, Backcountry, Alexis Bittar and Paige Denim. Prior to joining TSG, Paula was President of Diane von Furstenberg. Paula joined DvF in 2000 with the task of re-launching and rebuilding the brand. Paula led DvF's transformative growth over the course of 13 years, spearheading the company's development into a true lifestyle brand through free-standing stores around the world including Europe, Asia, South America, and the Middle East, building a substantial presence in department stores worldwide, launching DVF.com and developing a vast range of accessories and home furnishings.
Paula has a deep understanding of branding as well as key retailer and supply chain relationships. Paula began her career in fashion over 20 years ago. Her interest in fashion coupled with her sales driven mind eventually led her to Donna Karan where she was named Vice President of Sales and Marketing for North America. Paula is a board member of ThredUp, MeUndies, and Mackage Fashion Group as well as an advisor to Allbirds.