BULLETS TO BOOKS

Thursday, April 16, 2020 from 6:30 PM to 8:30 PM (EDT)
Event Details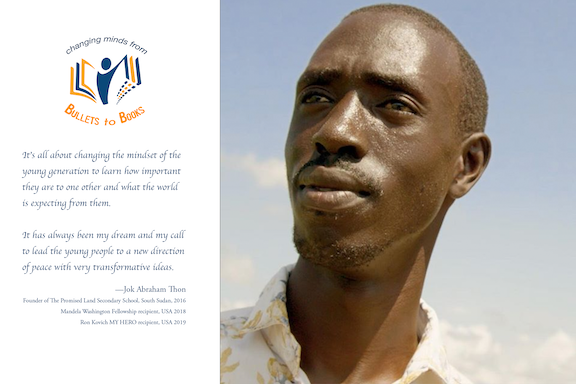 You are invited to join a presentation about BULLETS TO BOOKS, presented by The Jüdische Kulturbund Project and co-hosted by the Goethe-Institut, featuring 2018 Mandela Washington Fellowship Alumnus Jok Abraham Thon; three American Reciprocal Exchange Awardees, Andy Truschinski, Cindy Oxberry, and Gail Prensky; and South Sudan hip-hop artist Meen Mabior. 
The event will take place on April 16, 2020 from 6:30 - 8:30 PM at the Goethe-Institut in Washington, D.C.  The program will:
Feature insights from the team of Reciprocal Exchange Awardees and a Fellowship Alumnus, who will discuss their experiences in the United States and in South Sudan;
Lead a panel discussion focused on the importance of U.S.-Africa relations, including topics of political and tribal conflict, economic instability, and South Sudan's and the need for investment in education and culture to build peace and unity throughout the country; and
Introduce musician Meen Mabior, a founding member of Ana Taban, the artist-activist group in South Sudan, who will perform a song of peace that he wrote for BULLETS TO BOOKS.
Refreshments and a networking reception will follow the panel discussion.  
The Mandela Washington Fellowship, the flagship program of the Young African Leaders Initiative (YALI), empowers young African leaders through academic coursework, leadership training, mentoring, networking, professional opportunities, and local community engagement. YALI was created in 2010 and is celebrating its 10th anniversary supporting young Africans as they spur economic growth and prosperity, strengthen democratic governance, and enhance peace and security across Africa.  Since 2014, through the Mandela Washington Fellowship, the U.S. Department of State has supported nearly 4,400 young leaders from across Sub-Saharan Africa to develop their leadership skills and foster connections and collaboration with U.S. professionals.
After completing the Fellowship, Fellows can apply jointly with American professionals they met during their time in the United States for a Reciprocal Exchange, a small grant which enables Americans to travel to the Fellow's country to build upon strategic partnerships and professional connections. Through the Reciprocal Exchange component of the Fellowship, Americans and young African leaders form lasting partnerships, expand markets and networks, and increase mutual understanding between the United States and countries in Sub-Saharan Africa. 
This program is partially funded through the American Impact Award (AIA), a small-scale grant available to Reciprocal Exchange Awardees to implement programming or attend events in the United States that present results of their Reciprocal Exchange, share experiences, transmit lessons learned, or otherwise extend the work of their project to American audiences.
The Mandela Washington Fellowship is a program of the U.S. Department of State with funding provided by the U.S. Government and administered by IREX. For more information about the Mandela Washington Fellowship, visit www.mandelawashingtonfellowship.org.   
For more information on the Mandela Washington Fellowship, visit https://www.mandelawashingtonfellowship.org/.
Contact the Mandela Washington Fellowship Team at REmwf@irex.org. 
Follow us!
Facebook – Facebook.com/MandelaWashingtonFellowship
Twitter -- @WashFellowship
Instagram -- @MandelaWashFellowship
Save This Event
When & Where

Goethe-Institut
1377 R Street Northwest
#300
Washington, DC 20009


Thursday, April 16, 2020 from 6:30 PM to 8:30 PM (EDT)
Add to my calendar
Organizer
The Jüdische Kulturbund Project explores issues of oppression and response through music and art.  Its mission is connecting people through common experiences; inspiring people to respond to persecution through cultural expression; and encouraging freedom of expression and culture.
Our exploration begins with Jewish performing artists of Jüdischer Kulturbund, the Jewish Cultural Association, which was founded in 1933 Berlin and connects to current-day artists from around the world.  We have interviews from 15 people associated to the Kulturbund and 45+ current-day ethnically and religiously diverse artists from 25 countries.
The Project brings a collective voice for artists living under oppression around the world through public presentations and events; multimedia performances; education programs; and films. We lead education workshops that explore issues of oppression and response through music and art via exercises and are developing a cultural and educational exchange program with communities to which we are connected in East Africa, Asia, Middle East, and Ibero/Latin America.   
For more information about The Jüdische Kulturbund Project and its vision, visit: https://www.judischekulturbund.com/shared-stories/
For more information about The Jüdische Kulturbund Project's initiative Bullets to Books, visit: https://www.judischekulturbund.com/bullets-to-books-the-feature-documentary-film/
Follow The Jüdische Kulturbund Project and Bullets to Books on social media:
Facebook.com/judischekulturbund 
Twitter.com/@bulletstobooks