KCOLE50 applied. A 50% discount is available.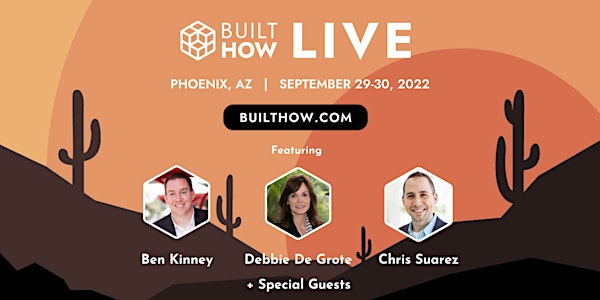 BuiltHOW LIVE
BuiltHOW LIVE is back! Join hosts Debbie De Grote, Ben Kinney and Chris Suarez in sunny Phoenix, AZ.
When and where
Location
Sheraton Phoenix Downtown 340 N 3rd St Phoenix, AZ 85004
About this event
BuiltHOW LIVE is back in sunny Arizona with your hosts, Debbie De Grote, Ben Kinney and Chris Suarez, plus 23 time gold medalist Michael Phelps, #1New York Times best-selling author Brendon Burchard, economists from Goldman Sachs and more special guests yet to be announced! Join as they interview real estate's top producers from across the nation and find out what they are doing to finish the year strong and prepare for 2023.
Don't miss your chance to get actionable strategies that you can easily implement in your business. BuiltHOW's past speakers include Chris Stuart, Fred Weaver, Vija Williams, Kevin Kauffman, Carin & Son Nguyen, Ernie Carswell, Veronica Figueroa, Brian Gubernick, Chad Hyams, Ken Pozek, and many more top producers.
Debbie, one of the most experienced and talented coaches in the real estate industry, will share the secrets she teaches sales professionals to help them dominate their local market.
Ben Kinney, hands down the expert on teams, technology, and trends facing real estate professionals today, will share how you can prepare for the disruptions our industry is facing.
Hear what attendees are saying about the last BuiltHOW event:
"This was of the most transparent industry events I've been to. I left with very actionable items." -Kimberlee Meserve
"The calibre of the speakers and the attendees was incredible." -Kelly Fry
Who is this event for?
Anyone who wants to end 2022 with a bang and make 2023 the best year of their career!
Anyone who wants to discover how they can strategically capitalize on the market shifts and industry changes that are ahead.
PLEASE READ - NO EXCEPTIONS
No-show Policy No-shows that have received a discount will be charged a discounted ticket fee of $75.00 directly to your Forward Coaching account. Participants are considered "no-shows" when they fail to show up or cancel their reservation/RSVP within 24 hours of the event. When registered participants become no-shows, it is unfair to those who wanted to attend an event but couldn't because of event limitations.
Cancellation Policy This event issues no refunds under any circumstances. Any and all payments made to this event are not refundable for any reason, including, but not limited to, illness, acts of God, travel-related problems, acts of terrorism, loss of employment and/or duplicate purchases.
Transfer Policy You may transfer your event registration to another individual for the same event you are registered for by notifying us in writing at coaching@forwardcoaching.com. All substitution requests will be processed within two business days.
Covid-19 Safety Information
Your health is our priority. Forward Coaching/Ben Kinney Companies/PLACE will adhere to current government and local authority guidance, as well as any venue specific or location specific regulations.
Assumption of risk - by completing the registration for the live event, I acknowledge and understand the following: attendance at live events includes possible exposure to, and illness from, infectious diseases including but not limited to COVID-19. I knowingly and freely assume all such risks related to illness and infectious diseases, such as COVID-19, even if arising from the negligence or fault of Forward Coaching/Ben Kinney Companies/PLACE; and, I hereby knowingly assume the risk of injury, harm and loss associated with the Event, including any injury, harm and loss caused by the negligence, fault or conduct of any kind on the part of Forward Coaching/Ben Kinney Companies/PLACE.
Video and Photograph Release Form
I hereby grant BuiltHOW ("Company") the irrevocable right and permission to use the photographs, video, and/or audio recordings taken of me during the BuiltHOW LIVE event held on September 29th & 30th, 2022 (the "Recordings") for use in the development, advertising, and promotional purposes.
I agree that I have received good and valuable consideration, the receipt and sufficiency of which I hereby acknowledge, for Company's use of the Recordings. I waive any right to payments, royalties, or other compensation arising from or related to Company's use of the Recordings.
I understand and agree that Company may use the Recordings in any media without notifying me or obtaining my inspection or approval of the final product. I also understand and agree that I may be identified by name and/or title in printed, Internet, or broadcast information that might accompany the Recordings. I agree that the Recordings and any reproductions thereof, and all plates, negatives, recording tape and digital files are and shall remain the property of Company.
I hereby release, acquit and forever discharge Company, its current and former owners, agents, officers and employees from any and all claims, demands, rights, promises, damages and liabilities arising out of or in connection with the use or distribution of the Recordings, including but not limited to any claims for invasion of privacy, appropriation of likeness, or defamation.
I hereby warrant that I am eighteen (18) years old or more and competent to contract in my own name.
This release is binding on me and my heirs, assigns and personal representatives.