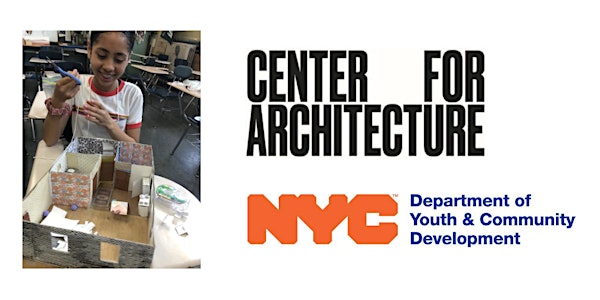 Built Environment Education: Interior Design
Learn how to guide students in 4th grade + to create architectural floor plans and 3D models of their own interior designs.
About this event
A perfect project for the winter months when we are all spending more time inside. Learn how to guide students in 4th grade and up to create their own interior designs. Beginning with mood boards and scale furniture templates, we'll teach you how to draw architectural floor plans and create a 3D scale model of an interior space of your own design.
Materials: Please have these materials on hand to use during this session:
• CFA 3D Scale template sheet (download and print on cardstock)
• CFA 2D Scale template sheet (download and print )
• Several sheets of graph paper (blank paper OK if graph not available)
• pencil or pen
• ruler
• scissors
• tape
• 2-4 thin cardboard strips 4"-5" tall (cut from cereal box or similar)
Zoom link will be sent in your registration confirmation email.
Presented by: The Center for Architecture's K-12 Education Department in partnership with the NYC Department of Youth & Community Development
Target Audience: DYCD-funded After-School Program Community Educators, Front-Line Staff, Education Specialists, Activity Specialists, Program Directors, Site Directors and Supervisors of K-8 programs.
Format: This workshop is an interactive Zoom session where you will analyze architecture, participate in group discussions, test out activities and share back with the group. Please use a computer, laptop or tablet with camera. Dialing in by phone is not recommended.
Takeaways: Participants will walk away with new insights and knowledge about architecture and design; successful activities to use with students; activity write-ups, materials lists and online resources; and ideas for customizing activities to suit your site's themes and audience.
Follow Up: Office Hours will be available for post-training consultations with CFA Educators to help you adapt these activities to your programming and site.
Cancellation Policy: If you are unable to attend the training and are sending an appropriate staff member as a replacement OR if you are canceling your registration, please notify Catherine Teegarden within 72 hours (or 3 business days) of the scheduled training. This training is made possible by funding from DYCD and is available at no cost to their funded programs. If you register for and are subsequently unable to attend this session you are responsible for canceling your registration or risk being waitlisted for future events. 
Questions? Contact Catherine Teegarden, Director of Education at the Center for Architecture at cteegarden@centerforarchitecture.org or (212) 358-6135.