Description
Welcome to Durham NCs #BuildWealth Today Workshop!!!


We are inviting you to Join Us for a in Person Learning Workshop hosted by Jasper Smith a Durham, NC Native. Through his work as a Finanical Advisor Jasper has developed a passion and desire to help others become Financial Rockstars, using understanding and planning to help families achieve their goals.
Jasper is the Founder of #BuildWealth, a Financial Knowledge Movement designed to push awareness, planning, and know-how. His workshop gives the tools needed to build a strong foundation in making your money work for you.
We work HARD to provide for our families, but do we have the necessary skills needed to become Financially Free?
Below are some of the Key Topics that will be covered during the session....
Goal Setting – Budgeting 101 – Understanding Credit – Insurance 101 – Investments 101 – College Planning – Retirement 101
**here are some of the details for the workshop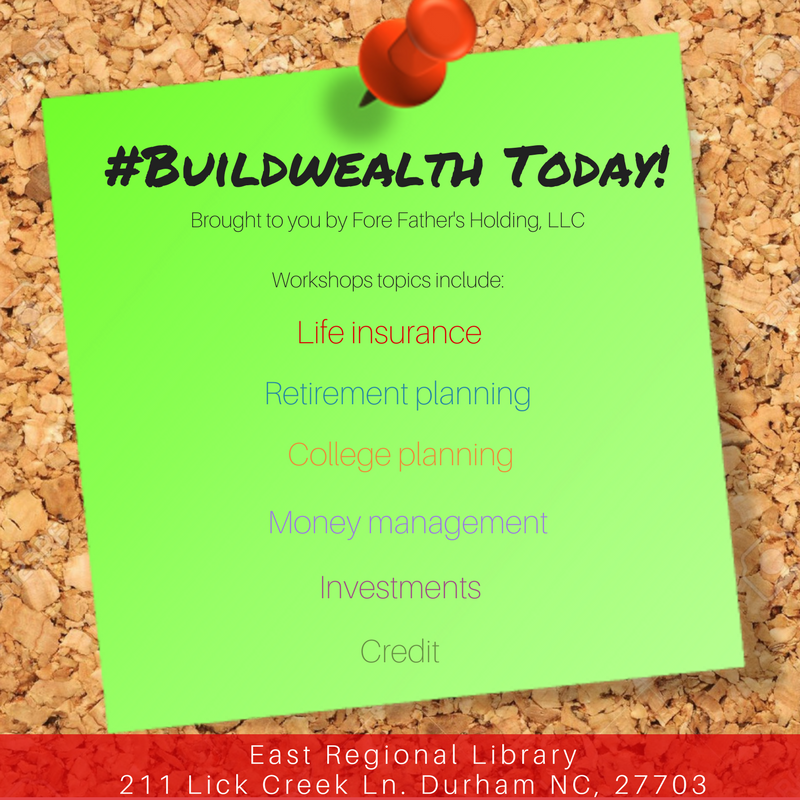 Goal Setting
- Discuss why goal-setting is important to achieve success (short/intermediate/long)
- Explain S.M.A.R.T. goals framework
- Homework: write down short/intermediate/long-term goals + S.M.A.R.T. goals
Budgeting 101
- Discuss the importance of budgeting and why so many struggle with sticking to one
- Explain alternative budgeting strategies
Understanding Credit
- Discuss what credit is and why it's important
- Explain the various components of the credit scoring system (3 bureaus + how your score is
comprised)
- Discussion: debunking credit myths
- Discuss strategies on how to build credit, manage it effectively and addressing negative items
Insurance 101
- Discuss the importance of insurance and how not having adequate coverage could
jeopardize your entire financial plan
- Explore the different types of life insurance and the pros/cons of each type
- Explain the importance of disability insurance (high level overview)
Investments 101
- Explain why the stock market is a great place to have your money
- Define the following key terms: stock, bond, mutual fund
- Explain how an investment account works
- Explore investment strategies for the novice investor
College Planning
- Explain the various products that can be utilized to save/invest money for college
- Discuss strategies on how to save/invest for college on a limited budget
Retirement 101
How much will you need? Discuss the Rule of 219
Discuss the various employer-sponsored retirement plans and how they compare to
personally owned retirement accounts
Explain the pros/cons of pre-tax retirement contributions vs after-tax(Roth) contributions