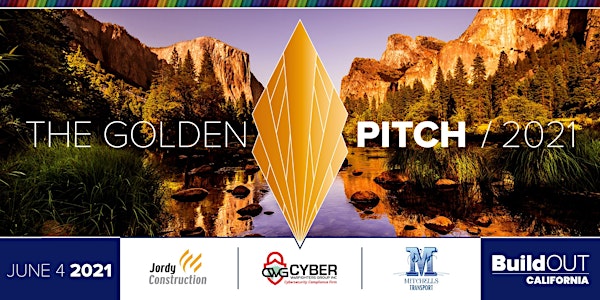 BuildOUT California Presents: The Golden Pitch - June 2021
Join BuildOUT California at The Golden Pitch for June 2021!
About this event
BuildOUT California and its Founders invite you to start your day with The Golden Pitch - an event series dedicated to highlighting the qualifications, capacity and experience of LGBT/Allied firms from throughout California in the fields of Architecture, Engineering, Construction-services and Real Estate Development.
Our June Golden Pitchers:
GENERAL CONTRACTOR
CYBER SECURITY
TRUCKING/FREIGHT/HAULING
GUEST SPEAKER
Tara Lynn Gray
Governor Gavin Newsom's Director
California Office of the Small Business Advocate
Tara Lynn Gray was appointed by Governor Newsom to Director of the California Office of the Small Business Advocate on March 19, 2021. Prior to her appointment, she was Chief Executive Officer of the Fresno Metro Black Chamber of Commerce and Chamber Foundation (FMBCF), where she engaged, educated, and empowered small businesses in California's Central Valley.
Gray has leveraged the green economy to advance equity, developed an employment & training program in green jobs for young adults 18-24 years old, and managed a network of organizations working to advance electric vehicle ownership. As part of the region's DRIVE Investment Plan, Gray was instrumental in developing the local initiative Betting Big on Small Businesses Owned by Women and People of Color which aims to provide economic mobility for entrepreneurs in disinvested neighborhoods, closing opportunity gaps, and providing culturally competent entrepreneur education & technical assistance.
Registrants will receive Zoom login information 24 hours prior to the start of this event.
ABOUT THE GOLDEN PITCH EVENT SERIES:
BuildOUT California's Golden Pitch series celebrates exceptionally talented LGBT-owned/certified and Allied firms from throughout the Golden State in the areas of Architecture, Engineering, Construction-services, Real Estate Development and related industries.
The Golden Pitch is fueled by California-based Equator Coffees, the first LGBT-Certified company in the history of the United States to be named the National Small Business of the Year!
Each of the Golden Pitch events will showcase a minimum of 3-4 firms who will follow a highly-specialized format designed to highlight their qualifications, capacity and experience. Each company begins with a five-minute presentation, followed by six-minutes of Q & A and then ends with a one-minute "wrap up" statement.
Our promise to event attendees is that we will start promptly at 8:00am and we will end precisely at 9:00am. Each event is broadcast via the Zoom Meeting platform with the invitation link being sent to each participant at least 24 hours in advance of the start of the event.
2021 GOLDEN PITCH EVENT SCHEDULE:
Friday, January 15, 2021
Friday, February 12, 2021
Friday, March 12, 2021
Friday, May 14, 2021
Friday, June 4, 2021
Friday, July 9, 2021
Friday, August 6, 2021
Friday, September 10, 2021
Friday, October 1, 2021
Friday, November 5, 2021
Friday, December 3, 2021
IN ADVANCE OF EACH GOLDEN PITCH EVENT:
As each of the Golden Pitch participants are selected at least one-month prior to their respective event, BuildOUT California will announce the roster of presenting firms at least three weeks in advance. In addition, SOQ documents from 'Golden Pitchers' will be distributed to prospective event attendees.
AS A FOLLOW-UP TO EACH GOLDEN PITCH EVENT:
Following each of the events recordings of each of the sessions will be distributed to event attendees as well as PDF file of the presenter's PowerPoint deck.