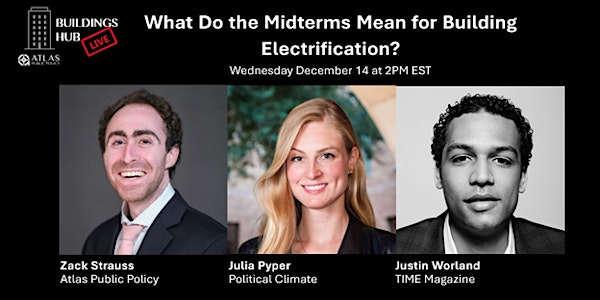 Buildings Hub Live: What Do the Midterms Mean for Building Electrification?
Buildings Hub Live is excited to host a special post-Midterms discussion on the impact of the election for building electrification.
About this event
Atlas Public Policy is excited to host our fourth episode of "Buildings Hub Live," where we spotlight the changemakers and technologies leading the charge to electrify our built environment. Join us for a special post-Midterm election conversation on Wednesday, December 14 at 2PM EST where we'll sit down with Julia Pyper, host of the "Political Climate" podcast series and Senior Fellow at the Atlantic Council, and Justin Worland, Senior Climate Correspondent at TIME Magazine, to discuss the implications of the election outcome for building sector electrification. How might the results change or accelerate the push to decarbonize the US buildings stock on the federal, state and local level? What does the unexpected outcome mean for the future of decarbonization policy over the next two years?