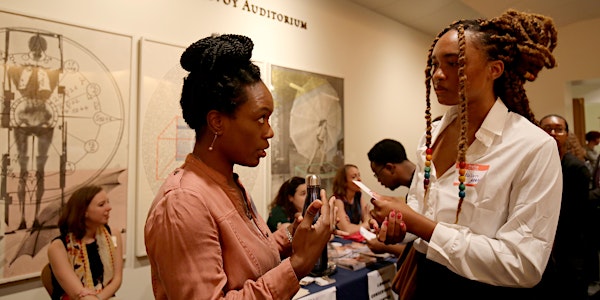 Building Your Future in a Changing Museum World
Join staff members from the Smithsonian American Art Museum for an engaging virtual professional development conversation.
About this event
Please Note: We have rescheduled this program for Wednesday, September 29, due to logistical issues. If you signed up for the April 22 event and received a confirmation email, your registration transferred to September 29. No additional action is necessary. We apologize for any inconvenience this may cause and hope you will join us this fall. Program details and speakers may be subject to change.
Museums are powered by professionals with wide-ranging backgrounds—from historians and scientists to accountants, attorneys, computer programmers, and graphic designers. Join staff members from the Smithsonian American Art Museum (SAAM) and Smithsonian Gardens for an engaging virtual conversation about the changing landscape of the museum field and the need for greater diversity among the professional staff. Discuss your passions, studies, and experience with practicing museum professionals during this informational session. The program starts with a panel discussion with Smithsonian staff discussing their unique career paths, followed by breakout sessions where representatives from an array of departments—including conservation, visitor services, education, publications, and more—offer advice and guidance to aspiring museum professionals.
Learn more about the participants in the panel discussion
Daniel Finn
Media Conservator, Smithsonian American Art Museum 
Dan graduated with a master's degree in moving image archiving and preservation from New York University. He is the first full-time conservator at the Smithsonian American Art Museum to specialize in time-based media art. While at SAAM, he has designed the Media Conservation Lab and refined policies for documentation and conservation of time-based media art. 
Ashawna Franklin
Assistant Docent Coordinator, Smithsonian American Art Museum  
Ashawna graduated with a degree in anthropology from the University of North Carolina at Greensboro. She started her career in museums at the Discovery Place Science in Charlotte, North Carolina, as a docent and then public programs educator. In 2017, Ashawna traveled to Zambia to volunteer with the Peace Corps. Upon her return from Peace Corps, she made her way back into the museum field as an assistant docent coordinator for the Smithsonian American Art Museum. 
Virginia Thaxton
Horticulturist, Smithsonian Gardens 
Virginia Velez Thaxton has a B.S. in Biology and an M.S. in Horticulture. She did her undergraduate thesis on the ecology of a high-altitude tropical tree species in her native Colombia and later conducted research in plant physiology while working at the Smithsonian Tropical Research Institute in Panama. Virginia's graduate thesis focused on irrigation in container grown ornamentals at Louisiana State University and over the years she has gained plant production and care experience from working at nurseries, garden centers, and historic gardens in Puerto Rico, Louisiana, and Maryland. Since 2018 she has been a horticulturist with the Interiors Section of Smithsonian Gardens. Virginia and her colleagues display and maintain all of the indoor tropical plants in SAAM's beautiful Kogod Courtyard and across Smithsonian museums in Washington DC.  
Grace Lopez
Exhibits Graphic Designer, Smithsonian American Art Museum 
Grace graduated with a master's degree in arts management from American University. She designs, produces, and installs exhibition wall labels, large vinyl wall texts, and large interior and exterior signs for the Smithsonian American Art Museum's temporary exhibitions and collections. She has also created exterior building banners and graphics for SAAM's popular public programs. Grace began her Smithsonian career at the National Zoo in their exhibits department. She is a founding member of SHAPE, the Smithsonian employee fitness committee, and has illustrated the employee walk t-shirts since SHAPE's beginnings in 2005. She also does design work for the Smithsonian Unsung Hero committee. Before working for the Smithsonian, Grace was a silk screener at a local DC graphics services company, providing custom color graphic proofs.
Karen Siatras
Senior Designer, Smithsonian American Art Museum   
Karen graduated with a bachelor's degree in art history from Middlebury College and a bachelor of fine arts degree in graphic design from Maine College of Art. She is a senior designer in the Publications department at the Smithsonian American Art Museum. Since 2000, she has been happily designing some of SAAM's most celebrated catalogues, including those for the landmark exhibitions Between Worlds: The Art of Bill Traylor and Alexander von Humboldt: Art, Nature, and Culture. She is a past winner of the American Alliance of Museums' Frances Smyth-Ravenel Prize ("The Franny") and many other awards.