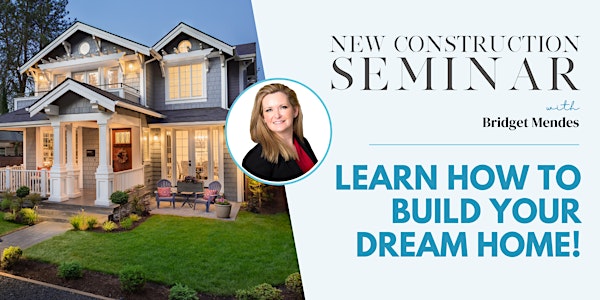 Building Your Dream Home: New Construction Seminar
Build a New Construction Home with Our Team & We'll Sell Your Current Home for FREE! Join us in person to learn how!
About this event
If you are looking thinking about buying or building a home in 2023, now is the time to start exploring the first steps in this process. Come learn about what is possible in the world of new construction in the Washington, DC area!
Learn how to build your dream home! QA with home building experts
Let expert home builders and seasoned mortgage lenders help you navigate the new construction home buying process.
Home Building Session Lead by Local Industry Leaders
Building your home should be a fun, rewarding and memorable experience. It's not every day that you get to design your own home the way you want it! We've built years of experience working with a wide range of clients -- each of whom had different budgets and design aesthetics -- and we know that a custom-built home needs personalized, customized service. The Keri Shull Team will work with you to select an optimal home building path to create your dream home.
Join us at this free event to learn more about the custom building process, feasibility, financials and cost!
We'll cover:
Advantages of New Construction - At the event we'll take an in-depth look at how you can design the exact home you are dreaming of!
Buying a Builder-Owned Lot vs. Finding Your Own - Which solution is best when finding a lot? In the DC Metro, land can be rare, we'll show you how to find it.
Choosing the Right Agents and Specialists - Don't risk costly problems, and don't risk losing your dream home! A good agent will help you close faster and pay less.
--
Our Commitment To You
We'll help you locate and build your dream home & get you the best deal possible.
We'll save you hassle & stress by preparing you with education in advance.
We'll assist you in understanding financial options, and getting the best terms for your loan.
We'll NEVER pressure you into buying a home or going above your price range.
We'll give you SUCH OUTSTANDING service that you will want to refer us to all your friends and family!
--
REGISTER TODAY FOR FREE!
This is a virtual seminar.