Description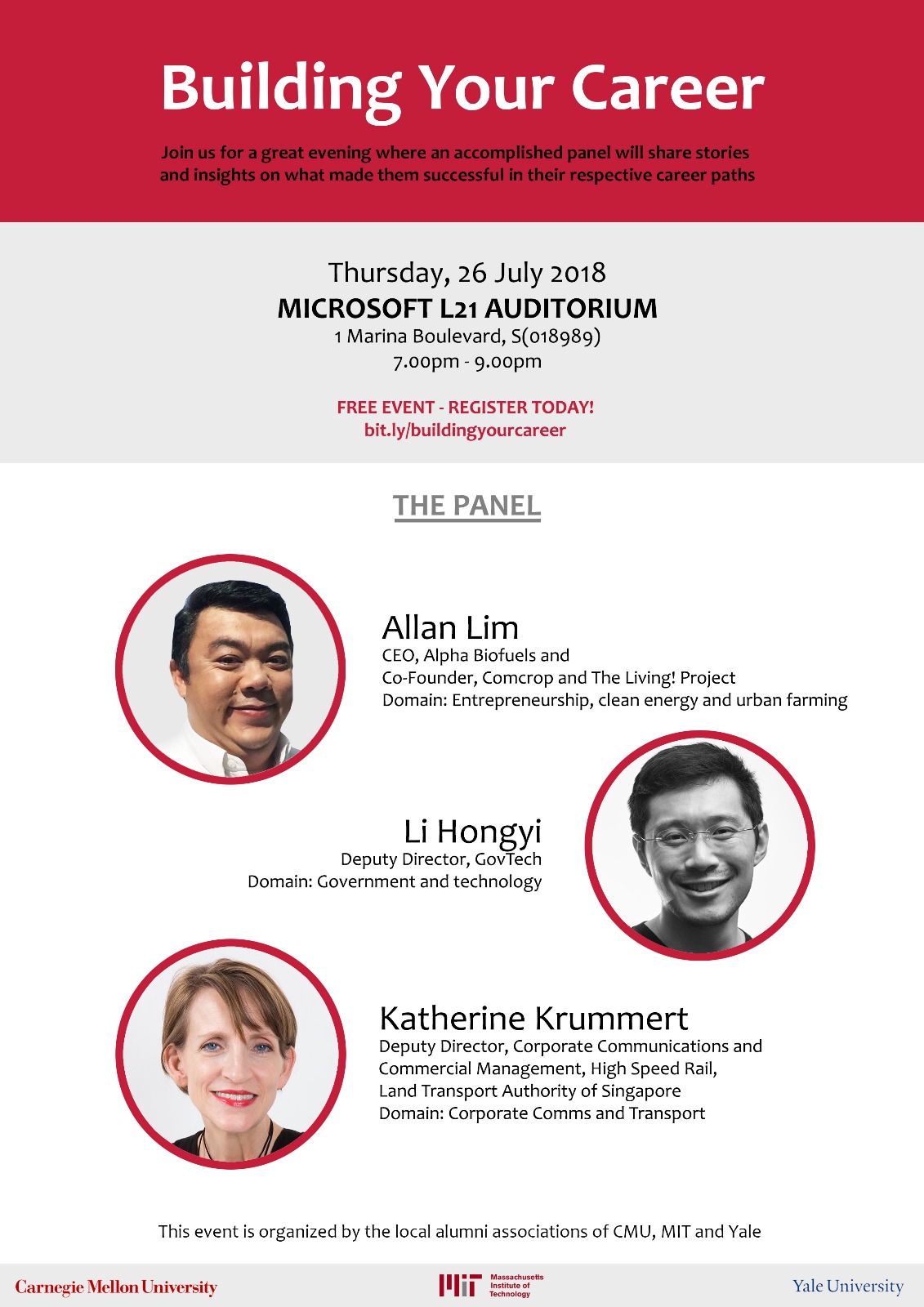 Join us for a great evening where an accomplished panel will share stories and insights on what has made them successful in their respective career paths.

This free event is organized by the local alumni associations of CMU, MIT and Yale. Dinner will not be provided.

Our Panel:
ALLAN LIM
CEO, Alpha Biofuels and
Co-Founder, Comcrop and The Living! Project
Domain: Entrepreneurship, clean energy and urban farming

From refining waste cooking oil into biodiesel to engaging the youth in arts to growing vegetables on high-tech rooftop farms - Allan's companies promote clean energy, active citizenry and food security for Singapore.
Apart from leading his companies, Allan mentors young entrepreneurs and volunteers on various government and NGO committees. He graduated from Nayang Technological University with a Bachelor's degree in Civil Engineering.
LI HONGYI
Deputy Director, GovTech
Domain: Government and technology

Hongyi leads a team of engineers, designers, and product managers who build technology for the public good. Projects they work on include Parking.sg - an app to replace parking coupons, and Data.gov.sg - the government's open data repository. He believes in working on real problems, building for the user, and pushing for change.
Prior to joining the government, Hongyi worked at Google on the distributed databases and image search teams. He previously attended MIT where he obtained degrees in Computer Science and Economics. In his free time, he works on personal projects like typographing.com and chatlet.com.

KATHERINE KRUMMERT
Deputy Director, Corporate Communications and
Commercial Management, High Speed Rail,
Land Transport Authority of Singapore
Domain: Corporate comms, transport and government
Katherine is currently Deputy Director, Corporate Communications and Commercial Management for the Kuala Lumpur—Singapore High Speed Rail project under the Land Transport Authority (LTA). Prior to this, she'd worked with the LTA providing strategic communications counsel, handling branding and integrated communications planning, and overseeing LTA's public feedback platform, for which she was honoured to receive the Singapore Public Service Award Bronze in 2016. Since completing a B.A. in Professional Writing from CMU, she's worked across industries in business development, international relations and fundraising in Tokyo, New York City, Philadelphia and more.
A native of Pittsburgh, PA, she's has lived in Singapore for nearly 20 years with her husband (CMU, ME & EPP) and two children, with her daughter now in university in the US and her son in Singapore's national service programme.