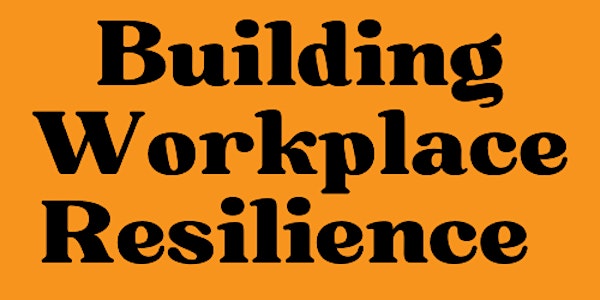 Building Workplace Resilience
At the end of this class, you will feel comfortable implementing strategies to bring energy into a difficult day and a stressful time.
Refund Policy
Contact the organizer to request a refund.
Eventbrite's fee is nonrefundable.
About this event
Our work life now includes our life's work – caring for a family member with a chronic illness or disease or injury. How do we make room for both experiences in the workplace? How do we take time during our work day to manage our stress and worries? How do we console our colleagues who grieve?
A Workbook for Your Workplace Wellness, our free resource, shares tools to help you manage your experiences as an employee, a co-worker and a family caregiver. During this live two-hour training, we'll help you integrate the tools from the workbook into your day.
In addition, during our Building Workplace Resilience workshop, you will learn about our training to become a Workplace Wellness Guide to bring these tools to your workplace. 
Learning Objectives
Attendees will gain insights into what drains our energy.
Attendees will gain a strategy to bounce back after receiving a difficult review.
Attendees will learn how to manage their burn-out.
Attendees will learn a strategy to manage the crises in their personal and professional lives.
Attendees will receive a tool to help them with their grief.
CEUs
We are approved to provide 2 continuing education hours for various health care professionals who attend our Building Workplace Resilience workshop. See below for the list of professionals.
Your registration fee includes the cost of your CEUs.
You will receive an evaluation to complete at the end of our live training. After completing the evaluation, you will receive your CEU certificate via email in 10 business days. You must complete our evaluation to receive your CEU certificate.
We are approved to provide 2 CEUs to the following:
--Certified Dementia Practitioners® in all 50 states.
--Certified Senior Advisors® in all 50 states.
--Nurses in all 50 states.
--for the SHRM-CPSM or SHRM-SCPSM in all 50 states.
We are approved to provide 2 CEUs to the following professionals in Illinois:
--Counselor-Professional/Clinical
--Dental Hygienist
--Dietitian/Nutritionist
--Marriage and Family Counselor
--Nursing Home Administrator
--Occupational Therapist
--Physician
--Psychologist
--Physical Therapist
--Respiratory Therapist
--Social Worker
We also can provide CEUs for social workers in Indiana, Iowa and Wisconsin.
About Denise M. Brown, Your Trainer
Denise launched The Caregiving Years Training Academy in April 2020 after selling CareGiving.com, an online community she launched in 1996, to Ohio's Hospice.
In January 2016, Denise debuted the Certified Caregiving Consultant training program which helps former family caregivers launch a business to help current family caregivers. The program also helps professionals who work with family caregivers communicate effectively and offer the right resource at the right time. She has since added additional programs, including the Certified Caregiving Advocate, Educator, Facilitator and Specialist training programs. More than 300 individuals from seven different countries have enrolled in her training programs.
In 1997, Denise began an ongoing project of staging the family caregiver experience. She regularly refines her six stages to reflect the current challenges faced by family caregivers. The Caregiving Years, Six Stages to a Meaningful Journey is now the foundation for her training programs and Master Classes.
Next Avenue named Denise a 2017 Influencer in Aging, one of "50 advocates, researchers, thought leaders, innovators, writers and experts who continue to push beyond traditional boundaries and change our understanding of what it means to grow older."
Denise helps her parents who are 90 and 87. Her brother suddently died in August 2021.