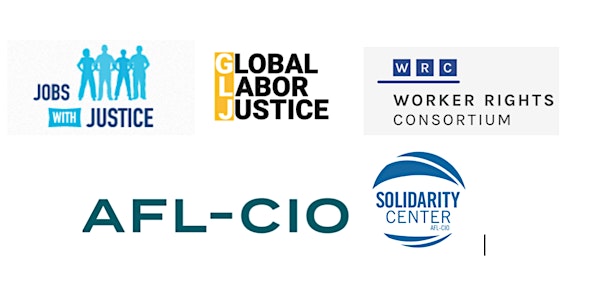 Building Women Workers' Power: From ILO C190 to Global Bargaining & Account
Discussion on the Asia Floor Wage Alliance Safe Circles Approach, Lesotho Agreement on GBVH, Global Demands to end GBVH at Marriott
When and where
Location
Solidarity Center 1130 Connecticut Avenue Northwest #800 Washington, DC 20036
About this event
Event will be livestreamed here: https://www.facebook.com/GLJhub/
** Please arrive 15 min early to ensure a seat.
Building Women Workers' Power: From ILO Convention 190 to Innovative Global Bargaining and Corporate Accountability
At the International Labor Organization Centennial in June 2019, women trade union leaders led the ILO to historic adoption of the Violence and Harassment Convention, 2019 (No. 190) and Recommendation (No. 206) to eliminate violence and harassment in the world of work. 
This transformative moment was the culmination of years of organizing by women worker leaders and activists, along with allies in the gender justice, human rights, and corporate accountability movements.  They won strong, inclusive language to eliminate gender-based violence and harassment in the world of work, with the understanding that GBVH is a tool that has been used to marginalize and oppress workers and deny a broad cross section of labor rights. Importantly, workers also fought for and obtained the recognition that 'gender' in the convention encompasses harassment and violence toward LGBTQIA+ workers.
The ILO Convention emphasizes that everyone has a right to a world of work free from violence and harassment, and creates a framework to address the root causes, including gender stereotypes and unequal power relationships, and to protect workers and promote equality through collective action and bargaining. This framework is an opportunity to negotiate for fundamental workplace change.
This roundtable will discuss bold approaches that workers outside the U.S. with campaigns towards bargaining with transnational companies with a gender justice lens, how they see C190 as providing a framework to hold multi-national corporations accountable to their women workers, and ways to keep up the collective momentum, including the new Lesotho Agreement on GBVH -- a collective agreement by trade unions and women's rights groups from Lesotho , the global demands on Marriott to End Sexual Harassment, and the Asia Floor Wage Alliance's Safe Circles Approach.
Speakers:
Rola Abimourched, Senior Program Director, Workers' Rights Consortium
Anannya Bhattacharjee, International Coordinator, Asia Floor Wage Alliance
Jeffrey Boyd, Unite Here
Jennifer (JJ) Rosenbaum, Global Labor Justice
Robin Runge, Director Equality and Inclusiong Dept, Solidarity Center
Nafisah Ula, Organizing Director, Jobs with Justice
Cassandra Waters, Global Workers' Rights Specialist, AFLCIO
Co-Sponsors: AFLCIO, Jobs with Justice, Global Labor Justice, Solidarity Center, Workers' Rights Consortium
Background Materials
Lesotho Agreement on GBVH
https://www.business-humanrights.org/de/node/194974?mc_cid=fad7e97c63&mc_eid=a11c7061d2&fbclid=IwAR2JTFE-eakfVYLScX19hNH_5yzt8IKjzanqA94rmn3w3_qzKPxZmTIB3k0
https://www.workersrights.org/initial-fact-sheet-agreements-to-combat-gender-based-violence-in-lesothos-garment-industry-2/
Global Demands on Sexual Harassment to Marriott:
https://www.workersofmarriott.org
Asia Floor Wage Alliance Safe Circles Approach:
https://asia.floorwage.org/resources/asia-floor-wage-alliance2019s-step-by-step-approach-in-preventing-gender-based-violence-in-production-lines-3/view
https://www.globallaborjustice.org/2019/09/20/wlc-statement/