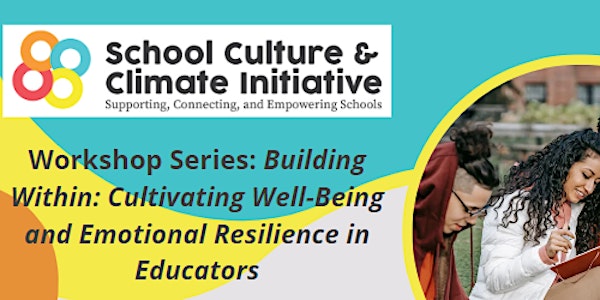 Building Within: Educator Well-Being Workshop Series
Featuring guided personal reflections and tools for implementing SEL practices on a daily basis
About this event
Research shows that educators who cultivate their own SEL practices enjoy more positive relationships with their students and see improved academic performance in their classrooms.
Designed specifically to help educators develop their SEL skills, the Building Within workshop series features guided personal reflections and offers tools for implementing SEL practices on a daily basis. Led by social emotional learning coaches Erica Brentan and Kathleen McClay, the workshops will provide educators with a set of activities they can take back to their schools and easily share with students and colleagues.
Series topics include:
Understanding, accepting, and positively responding to emotions
Cultivating the perseverance, patience and courage needed to manage change
Strengthening compassion and gratitude for the self and others
Building strong, healthy classroom communities
Series dates/times:
The third Wednesday of each month from November through January (November 16, December 14, January 18, other dates TBD) from 3:15 p.m. to 4:15 p.m. Eastern Standard Time (EST) via Zoom for a total of five 1-hour sessions.
By registering for the November 9 session, you are registering to participate in the full workshop series through the last session.
Questions:
Leighann Garland, Marketing and Event Planning Specialist, School Culture and Climate Initiative, info@SchoolCultureandClimate.org