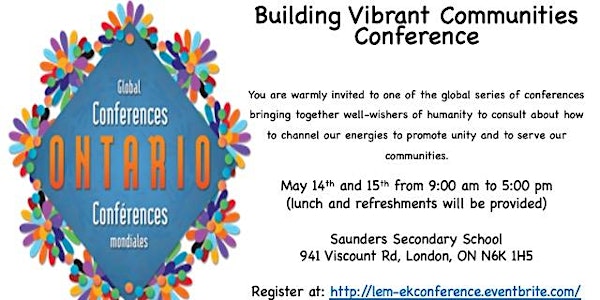 Building Vibrant Communities for the Betterment of the World
Location
Saunders Secondary School
941 Viscount Road
London, ON N6K 1H5
Canada
A unifying and uplifting community building conference for every member of the London, Elgin, Middlesex, Essex, and Kent communities.
About this event
The Baha'i community warmly invites you to join the community building conference for London, Elgin, Middlesex, Essex, and Kent. The conference will take place in person on May 14 and 15 at Saunders Secondary School (9am to 5pm). Programs are available for children and junior youth of ages 5 to 14 for in-person participants. An online option is available (main program only).
Join us on the path toward building a prosperous global civilization in southwestern Ontario through honouring and identifying our community building capacities.
Out of an abundance of concern for the health and safety of all, masking in the TVDSB building is required. Exemptions will be provided to all who choose to opt out.
Hosted by the Bahá'í Community.