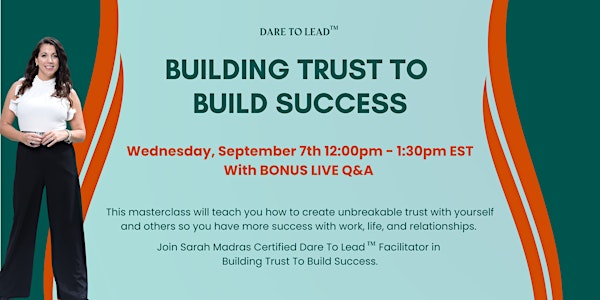 Building Trust To Build Success
Teaching you how to create unbreakable trust with yourself and others so you have more success with work, life, and relationships.
Refund Policy
Contact the organizer to request a refund.
Eventbrite's fee is nonrefundable.
About this event
"How do you know if you can trust someone?"
When I ask this question to audiences, most people say that trust is a "feeling in their gut." They give reasons why they don't trust someone. Or how when someone lies it breaks trust.
As long as I don't lie, cheat, or steal then I'm trustworthy, right?
No! Trust is so much more than not lying, cheating, or stealing. Trust is a key skill needed by
everyone.
If you've ever had trust broken then you know that painful and confusing feeling.
So how do you build unbreakable trust in yourself and others?
It starts by understanding what trust REALLY IS.
Imagine if trust could be seen in people's actions. Could be measured by what you observe
people say and do. How much easier it would be to have concrete examples that explain your
gut feeling of why you can't trust someone and then be able to communicate that with a tool
that builds trust.
You would no longer second guess yourself.
You would no longer wonder if you're going crazy because you don't trust that person or
situation.
You have the tool and skills to understand and communicate exactly why trust is missing and
exactly what needs to happen to rebuild & maintain trust.
The Building Trust to Build Success Masterclass will teach you THE TRUTH ABOUT TRUST.
● How we build trust
● How we break trust
● Why we need it in all areas of our lives (relationships, career, with yourself)
● What a lack of trust is costing you
● How building more trust builds more success, confidence, and inner peace
● How to create unbreakable trust at home, work, within relationships, and with yourself
This Masterclass includes:
● Guided session through Brene Brown's world-famous Dare To Lead™ Trust skillset
● Interactive workbook with an action plan for how to use your new trust skills in real life
● LIVE Q&A to get your individual questions answered (all questions will be answered
making this one of THE MOST INDIVIDUALIZED Masterclasses available)
● Access to replay
You will learn NEW trust building skills, WHY they are important, and HOW to use these new tools in the real world.
Start your journey into Building Trust To Build Success with Certified Dare to Lead™ Facilitator Sarah Madras.
Details:
Masterclass will take place Online via private Zoom room (Zoom link provided after registration)
Wednesday, September 7, 2022
12:00-noon to 1:30pm EST. (11am CT, 9am PT)
Investment: $47.00
Meet Your Certified Dare to Lead™ Facilitator:
Sarah Madras is a seasoned Licensed Mental Health Therapist turned Mindset Transformation
Expert and Certified Dare to Lead™ Facilitator with nearly two decades of being the keeper of
people's secrets and most vulnerable desires. What each person has in common is the desire to
be seen, heard, understood, and valued. She takes her expertise to build brave leaders and
courageous cultures through the skills of mindset mastery and leadership development. As a
business owner since 2007, she has firsthand experience of what it is like to build a business
from the ground up and lead a trustworthy, loyal team.