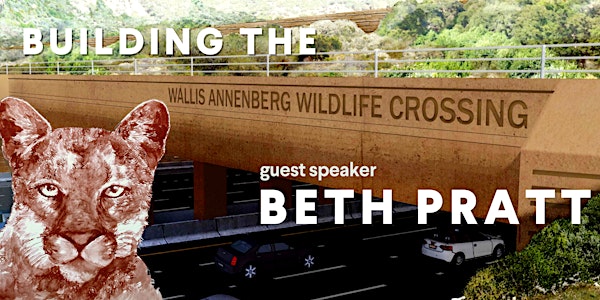 Building the Wallis Annenberg Wildlife Crossing Featuring Beth Pratt
Guest speaker Beth Pratt shares her incredible journey to breaking ground on the revolutionary Wallis Annenberg Wildlife Crossing.
When and where
Location
Wallis Annenberg PetSpace 12005 Bluff Creek Dr. Los Angeles, CA 90094
About this event
The Wallis Annenberg Wildlife Crossing is a public-private partnership of monumental scope that has leveraged the expertise and leadership of dozens of organizations and institutions to protect and restore wildlife habitats in Southern California. The crossing is currently in construction and is expected to be finished in 2025.
P-22, a cougar who had made his home in LA's Griffith Park, shifted Beth's perspective and his remarkable story of crossing between two of the busiest freeways in the country to find a new home lit a fire in Beth. The cougar population's ability to adapt to life in a challenging urban interface in order to survive speaks to the beauty and resiliency of wild things. This resilliancy inspired her to act. Beth sprang into action in hope of helping these magnificint animals survive the ever-changing habitat that they called home.
From that inspiration #SaveLACougars was born. The collaborative campaign launched to help build the largest wildlife crossing in the world over one of the busiest freeways in the country to help save a population of mountain lions.
In 2021, Wallis Annenberg and The Annenberg Foundation accelerated donations with a record breaking $25 million challenge grant to the NWF. The 'Conservation Challenge Grant' – currently the largest of its kind – serves as a call to philanthropists to help protect a threatened global biodiversity hotspot in Los Angeles. The funds raised were not only enough to fund construction, but moved up the construction timeline to April 22, 2022 – three years earlier than planned.
Beth will discuss her journey, the long road to funding this project, and how to collaborate with local, city, and state leaders to ensure this project did not fail.
Please note that this presentation will be a HYBRID event offering – meaning participants can choose to join in-person at Annenberg PetSpace or stream the presentation live via Zoom. Please select the appropriate ticket when registering.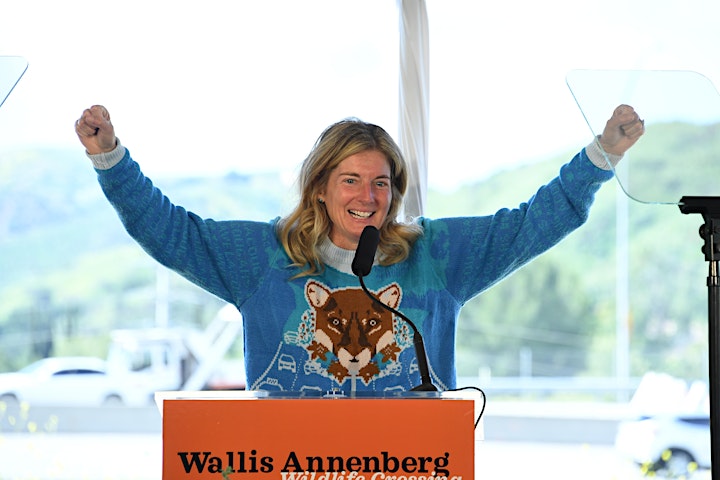 ABOUT BETH PRATT
A lifelong advocate for wildlife, Beth Pratt has worked in environmental leadership roles for over twenty-five years, and in two of the country's largest national parks: Yosemite and Yellowstone. As the California Regional Executive Director for the National Wildlife Federation, she says, "I have the best job in the world—advocating for the state's remarkable wildlife." Although most of her career has been spent in national parks, she now focuses most of her work on helping wildlife and people thrive together in cities.
As part of her conservation work with the National Wildlife Federation, Pratt leads the #SaveLACougars campaign to build the largest wildlife crossing in the world to help save a population of mountain lions from extinction. Her innovative conservation work has been featured by The New Yorker, The Wall Street Journal, Washington Post, BBC World Service, CBS This Morning, the Los Angeles Times, Men's Journal, The Guardian, NPR, AP News, and more. A recent AP story featuring Beth's work on building the wildlife crossing received over a billion media impressions worldwide.
Di Angelo Publications released new book, I Heart Wildlife: A Guided Activity Journal for Connecting With the Wild World, in 2020, and Heyday Books published When Mountain Lions are Neighbors: People and Wildlife Working It Out In California in 2016. Her new book, Yosemite Wildlife, will be published by the Yosemite Conservancy in 2024. Beth has also contributed essays to the books The Nature of Yosemite: A Visual Journey, and Inspiring Generations: 150 Years, 150 Stories in Yosemite. She also has given a TEDx talk about coexisting with wildlife called, "How a Lonely Cougar in Los Angeles Inspired the World," and is featured in the documentary, "The Cat that Changed America."
Beth spends much of her time in Los Angeles, but makes her home outside of Yosemite, "my north star," with her five dogs, two cats, and the mountain lions, bears, foxes, and other wildlife that frequent her backyard.