Description
Whether you're 25 or 55, now is the time to plan for the future and start your journey to financial stability.
Join the Association for Financial Counseling & Planning Education® (AFCPE®) for a FREE community event that brings together financial professionals, government officials, and community based organizations to help ALL Ohioans – regardless of age, income or background – plan for a secure future.
Gain access to important investor education and protection resources AND certified financial professionals who provide pro-bono financial counseling and financial planning services.
9:00 - 9:30 am - Networking & Continental Breakfast
9:30 - 10:30 am - When I'm 65 documentary Screening with Panel Discussion

10:30 - 11:00 am - Q&A

11:00 - 11:30 am - Visit Exhibit Tables
This event is FREE and open to the public, but registration is required to attend. Continental breakfast provided.
Access Resources * Gain Information * Make New Connections * Build Partnerships to Strengthen Financial Security
Parking
Metered parking is available on Jefferson Street in front of ThinkTV and around the corner on 4th Street. The Transportation Center Parking Garage is also available. Entrance to this garage is located at 134 E. Fifth Street. (This is just east of the Jefferson Street/5th Street intersection).
If you have questions, please contact smartinfuller@afcpe.org.
To learn more about the Building the Bridge to Investor Education and Protection for Ohioans please visit www.wi65.org/ohio.
View clips from the Columbus Building the Bridge Community Event.
Are you a financial professional interested in providing pro bono financial counseling or planning services? Sign up here to be listed as a resource: https://www.surveymonkey.com/r/ohioprobono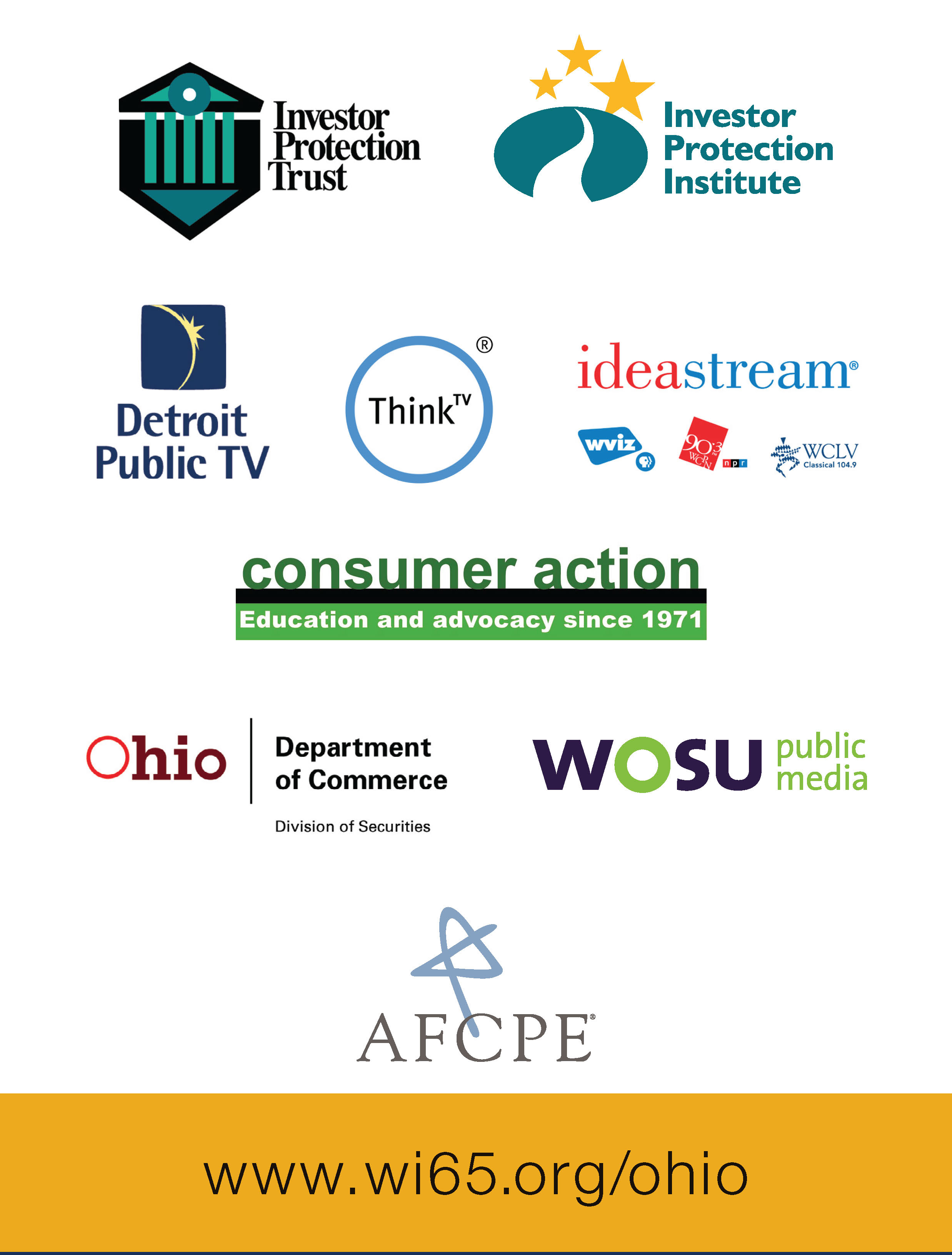 This program was designed by AFCPE® and would not be possible without funding from Investor Protection Trust (IPT); partnership and support from the Ohio Division of Securities and Consumer Action; and Detroit Public Television, WOSU Public Media, ThinkTV, and IdeaStream for their support with the documentary and engagement events.