Building the Attention Web: Whose job is it to create a sustainable media industry?

Monday, May 19, 2014 from 6:00 PM to 9:00 PM
Event Details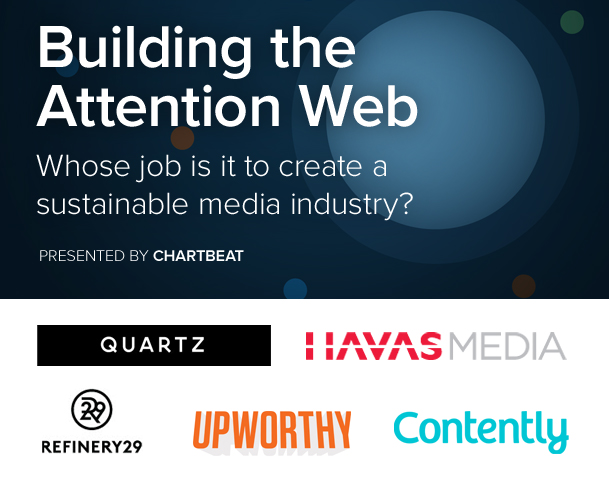 "In searching for the next sustainable business model or media company, the company needs to be great at 'owning attention' and the company must be very clear about what it stands for." - Om Malik
"When sites are built to capture attention, any friction, any bad design or eye-roll-inducing advertorials that might cause a visitor to spend a second less on the site is bad for business." - Tony Haile
The internet was built around the click. The click built the success of companies like Google and Yahoo. However, it has also led to click-bait headlines and plummeting CTRs. The media industry knows tracking if a page loaded isn't enough. What happens between those clicks is where the magic happens. It's where people read, watch, consume. It's where their interest lies, their attention is held.
We've entered the era of the Attention Web. The world's best editorial teams are capturing it. Companies like Medium, Upworthy, and Chartbeat are all measuring for it. And now top brands are paying for it as they create the next evolution of successful, high-quality native content.
Join us at Chartbeat HQ on May 19th at 6pm, hear from a panel of the leaders of the internet's Attention Movement -- measuring and monetizing the second-by-second engagement of people on the web -- and enjoy a beverage or two with your best industry pals.
Host 
Tony Haile, CEO, Chartbeat
Featured Panelists
Joy Robins, VP Advertising & Strategy, Quartz
Jen Ray, VP Account Director, Havas
Patrick Yee, Executive Vice President, Marketing & Strategy, Refinery29
Daniel Mintz, Head of Business Intelligence, Upworthy
Joe Lazauskas, Editor in Chief, Contently 
Oh, and we'll be serving up bottomless booze and tasty bites from Hill Country BBQ. 
Space is limited. Reserve your spot today!
Have questions about Building the Attention Web: Whose job is it to create a sustainable media industry??
Contact Chartbeat
When & Where

Chartbeat
826 Broadway, 6th Floor
New York, NY 10003


Monday, May 19, 2014 from 6:00 PM to 9:00 PM
Add to my calendar