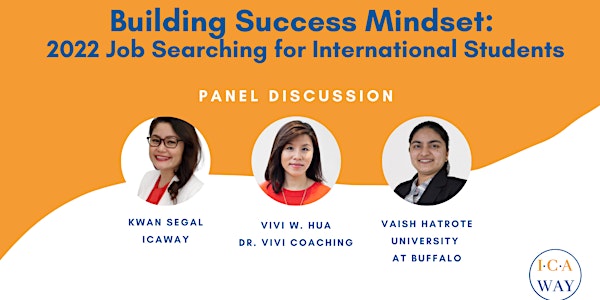 Building Success Mindset: 2022 Job Searching for International Students
We will share with you tips and techniques to transition from Self-Criticism to Self-Compassion and get ready for your job search in 2022!
About this event
ICAway guest mentor to kick off the year of Tiger is Dr. Vivi Hua.
About Vivi Hua, Psy.D.
Informed by her own journey as an international student and her training and experience as a psychologist, Dr. Vivi helps international students successfully navigate the personal, academic, social, and logistical challenges of succeeding in the United States.
Originally from Taiwan, she speaks both Mandarin Chinese and English. She received her Doctor of Psychology degree from Yeshiva University in Bronx, NY, and has served in leadership roles in prominent psychological associations on the national and state level.
Moderator: Vaishnavi Hatrote , International Student from University at Buffalo
Learn more about ICAway, visit https://www.icaway.com/
Organizer of Building Success Mindset: 2022 Job Searching for International Students