Building Strong Family Business Foundations: Part I - Getting on the Right...
Sales Have Ended
Registrations are closed
Thank you for your interest in attending this program. Please reach out to us at info@nycfec.org or through our website (http://www.nycfec.org) for more information.
Event Information
Location
Private Location
Midtown West, Manhattan
Sales Have Ended
Registrations are closed
Thank you for your interest in attending this program. Please reach out to us at info@nycfec.org or through our website (http://www.nycfec.org) for more information.
Description
Part I Morning Program with Luncheon keynote
Getting on the Right Path for Success
Includes Keynote Luncheon with Mitzi Perdue
Please join us for the "Building Strong Family Business Foundations" - Part I in Midtown Manhattan on April 27th. This very inspiring and engaging half day program is essential for all family businesses, who want to advance their family businesses, as well as improve communications and build healthier and lasting family relationships.
The morning session will be led by Fredda Herz Brown, PhD and Carolyn Greenspon, MSW, who are very experienced faculty members and practitioners. Carolyn is a fifth-generation member of a large NYC family business. See backgrounds below. This program will cover the following key questions, practical steps, topics, and much more, all related to the family and its intersection between the business.
How to deal with the voice and interest of the family.

How do you define and differentiate between the needs of family and the needs of the family business?

How do you harness and use the interest of the family for the benefit of the company as well as vice versa?

Defining family values, mission and a vision for the future

Examining best practices in effective decision-making in family owned companies

Staying connected and building lasting relationships

Structures of family meetings and family assemblies: When and why to have them

What it means to be an owner: the roles and responsibilities

Communication and structural techniques to better align the family owners, board and management
The day will finish with an inspiring luncheon keynote from a very successful businesswomen, speaker, author and member of two iconic family businesses (Sheraton Hotels and Perdue Chicken), Mrs. Frank " Mitzi" Perdue. This program also includes a free copy of Mitzi's book: "How to Make Your Family Business Last".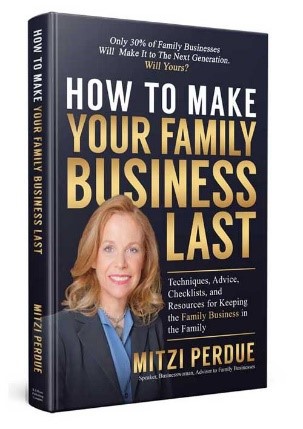 NYCFEC Faculty
Fredda Herz Brown, Ph.D., is a pioneer in the field of family enterprise. Her numerous contributions over 25 years have helped to establish the standard for families and their trusted advisors and develop the body of knowledge that defines the field of study to this day. In 2006 she became a founding principal of Relative Solutions LLC, a firm that is a recognized leader in helping multigenerational families manage the complex decisions related to their shared assets. Dr. Herz Brown is the co-author of the highly acclaimed and innovative The Family Wealth Sustainability Toolkit, an online assessment and action tool developed to help families and their advisors better understand the behavior that defines a family's evolution and helps them to develop a roadmap for reaching their goals. She is also the author of Reweaving the Family Tapestry, which encapsulated her model for understanding and working with families as they evolve through their life cycles. Dr. Herz Brown's work has been honored with several awards from Family Office Exchange and from the Family Firm Institute, where she is a Fellow and founding board member.
Carolyn Dryfoos Greenspon is a Senior Consultant at Relative Solutions who successfully leverages her extensive experience in working with families to build effective family governance structures and to prepare the next generation to assume responsibility as owners and leaders of the family enterprise. She is passionately committed to her belief that "if you take care of the family, you take care of the business," and she relies on this philosophy as the cornerstone of her outstanding work in the areas of transition and family governance. Before joining Relative Solutions, she had a psychotherapy practice for 18 years, working with children, adolescents, adults and families. In addition to her work as a therapist, she had a private consulting practice working with multigenerational family businesses and families who share substantial assets. She draws upon extensive personal experience as a fifth-generation member of a business-owning family and trustee and Board member of family enterprise. Ms. Greenspon is uniquely qualified to combine her years of specialized, focused training with her personal experience navigating the complexity of membership in a family which shares financial and business assets. She received her undergraduate degree from Duke University, and her Masters in Social Work from Simmons College in Boston. Additionally, she earned post-graduate certificates in Substance Abuse Treatment and Child Psychotherapy. She is a member of the Family Firm Institute.
Mitzi Perdue is a businesswoman, a master story teller and an accomplished artist. The daughter of one business titan (her father founded the Sheraton Hotel Chain) and the widow of another (her late husband was the poultry magnate, Frank Perdue), she is also a businesswoman in her own right; she started the family wine grape business, now one of the larger suppliers of wine grapes in California. Her family of origin (the one that started the Sheraton Hotels) began with the Henderson Estate Company in 1890, and her Perdue family started in 1920 in the poultry business. These two families have a combined tradition of 222 years of staying together as a family. She likes nothing better than to share insider tips for successful family businesses. Ms. Perdue holds degrees from Harvard University and George Washington University, is a past president of the 35,000 member American Agri-Women and was one of the U.S. Delegates to the United Nations Conference on Women in Nairobi. She is the author of more than 1800 newspaper and magazine articles on food, agriculture, the environment, and philanthropy and has been a syndicated columnist for 22 years, first for California's Capitol News and later for the Scripps Howard News Service. Ms. Perdue also produced and hosted more than 400 half hour interview shows and for two years was a broadcaster on the Coast to Coast Radio Network. Her biography of Frank Perdue, Tough Man, Tender Chicken: Business and Life Lessons from Frank Perdue, made #5 on Amazon's Business Biographies, and her latest book, How To Make Your Family Business Last is schedule for publication this fall.
WHO SHOULD ATTEND?
Attendance is limited and only open to qualified individuals who are family members, family shareholders, family board members, family management, spouses or next generation family members:

Whose Family Business is based in the NYC area, or
Whose Family Business is based elsewhere, but live in the NYC area
No solicitation or commerce influence is permitted, and you do not have to disclose your full name or the identify or provide any information about your family business during sessions.
Space is very limited, so please sign up early to save your spot.
NYCFEC programs and sessions are designed to be private, neutral, inclusive and respectful, so all attendees can openly discuss their challenges and learn from experts and others to provide the highest, positive impact.
**If you are a small family business owner, please fill out the contact form on our website with your information as you may be eligible for a scholarship. Limited availability.
If you are a member of other select non-profit business groups in the NYC area, you may also get a 17-25% discount, by filing out the contact form at the bottom of our website. Please include the non-profit business organization(s) your firm belongs to in the message box.
If you would like to join our community and Next Gen, Senior Gen or other special NYCFEC group, please fill out the contact form on our contact form and indicate if you are interested in becoming an Individual Member or your family business is interested in becoming a Family Enterprise member in the message box, as well as describe what type of special group you would be most interested in joining.
Date and Time
Location
Private Location
Midtown West, Manhattan
Refund Policy