Get Smart! Get Involved! Get Business! Host: IMC USA - Carolinas Institute of Management Consultants - USA
About this event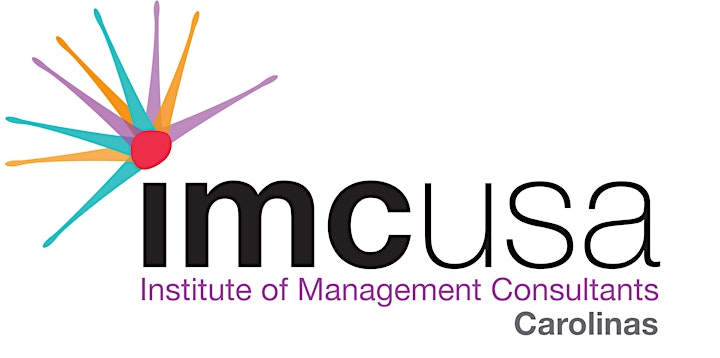 Date: Monday, February 14, 2022
Time: 12:30 pm to 5:00 pm EST
Location: Grandover Resort & Conference Center
Come join us for the Carolinas' chapter 1/2 day LIVE* conference to meet fellow consultants, learn from experts and network with peers.
Meeting will start with an optional opportunity for networking and interaction with others with lunch in the hotel restaurant. Attendees will individually order and pay from lunch menu offerings.
If interested, PLEASE BE SURE TO SEE Add-on ticket at bottom of ticket list so we have a head count for lunch.
Building Relationships for Lasting Success
PROGRAM INFORMATION:
KEYNOTE: Steve Wilcenski, Co-Founder & CEO, BNNano, Inc.
Learn how BNNano is changing the world by partnering with rural communities to bring high-tech opportunities to small town America. For the past 20 years, Steve has led and been part of teams that developed and manufactured innovative products and materials. They have left the solar system, been implanted into human bodies, helped explore the surface of Mars, and are key components in many electronic devices used in our everyday lives. Despite all this technical work, Steve has never lost sight of his belief that, regardless of technology, real success is founded in relationships with people and communities.
WORKSHOP #1: Finding Your Sustainable Advantage
Felix Nater CSC, President and Owner, Nater Associates, Ltd.
Consultants MUST identify their value proposition and stay on top of our strengths, weaknesses, opportunities and threats. To attract clients, we have to be compelling and distinctive. Differentiation not only attracts the sale, it also influences the close.
Felix is a nationally recognized, highly-skilled and experience consultant who has cultivated a sustainable competitive advantage with deep client relationships.
He will lead us in group discussions to help frame your own sustainable edge in a competitive and challenging marketplace.
Key takeaways:
What is a competitive advantage?
What is your personal sustainable advantage?
What makes it sustainable?
WORKSHOP #2: Leveraging Chapter and National Resources
Rick Starkweather CMC - Partner, ScottMadden, Inc., Carolinas Chapter President
Is continuous learning one of your consulting superpowers? "Sharpening the Saw" (as Stephen Covey would say) is vital to stay on top of relevant, developing trends in your area of expertise or within industries you serve.
Continuous learning is an effective strategy to grow and expand your consulting capabilities, making you even more valuable to clients.
Be part of the discussion on various educational media available to you as well as ways the IMC USA, and especially the Carolinas Chapter, can serve you in your efforts to learn and grow in 2022.
AGENDA
11:15 am: OPTIONAL: Networking Lunch (individual order and payment from menu)
12:15 pm: Registration and Networking
12:30 pm: Introductions and Announcements
12:45 pm: Keynote Speaker: Steve Wilcenski, Co-Founder & CEO, BNNano, Inc.
1:45 pm: Carolinas Chapter Annual Meeting and Election
2:15 pm: Workshop #1: Felix Nater, President and Owner, Nater Associates, Ltd.
3:45 pm: Workshop #2: Rick Starkweather CMC - Partner, ScottMadden, Inc., Carolinas Chapter President
5:00 pm: Adjourn
Organizer of Building Solid Relationships for Lasting Success
IMC Carolinas serves consultants in the area of North Carolina, South Carolina and SW Virginia - and is the regional home for members and guests of the Institute of Management Consultants (IMC USA). We seek to include members from all chapters, including any Virtual member not affiliated with any chapter.
Our chapter mission: to provide a collaborative network for ethically-grounded consultants to develop professionally and build successful consulting practices.