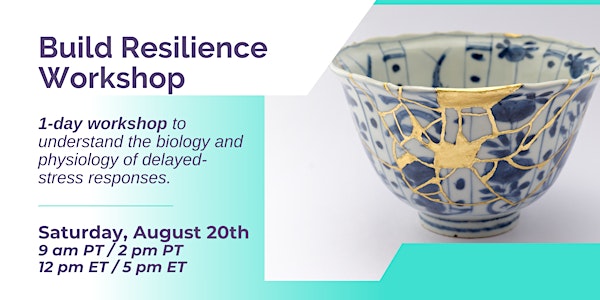 Building Resilience Workshop
1-day workshop to understand the biology and physiology of delayed-stress responses.
Refund Policy
Contact the organizer to request a refund.
Eventbrite's fee is nonrefundable.
About this event
Resiliency is the key to unlock navigating life's ups and downs.
Resiliency isn't what you think it is. Too many people think resiliency means being strong or tough enough to plow through whatever challenge they're facing and feeling unaffected by it. The reality is people are affected, and they're tired of being strong, tough, and plowing through.
Luckily for you, this isn't that.
In the Building Resilience Workshop, you'll gain a deeper understanding of simple, biology-based skills that can help bring balance back to your mind, body, and spirit. It's when you have the skills to bring yourself back to balance that you have resilience. This is an experiential, interactive, and educational workshop, so come prepared to learn new skills that are designed to build resilience within.
**********
Join us and learn a skills-based approach that teaches you to become more resilient by using natural biological processes that all humans have. By learning and practicing resiliency skills, you'll discover a different relationship between your body and your environment that will lend you a greater capacity to meet challenging and adverse life experiences while also managing and thriving in your normal, everyday life.
Resiliency skills help you foster a deeper connection with yourself, which ultimately leads to a deeper connection with others. The more these connections are maintained, both within yourself and within relationships, groups, and communities, the more resilience grows.
This workshop is designed to help you understand the biology and physiology of delayed-stress responses and to teach you skills to return your body, mind, and spirit back into balance following highly stressful life experiences. 
These skills can arouse hope, motivation, and inspiration in individuals who may have lost them following life transitions, tragedies, and natural or man-made disasters.
The Building Resilience skills are meant to be shared with others. When used and practiced, these skills can shift a corporation, school, group, or home environment from frustration and anxiety to adaptability and hope. This workshop goes a step beyond creating 'trauma-informed' homes and communities to creating 'resiliency-informed' homes and communities.
**********
About the group leader:
Jennifer Gardner is an Empowerment and Resiliency Strategist.
She uses science-based strategies and fine-tuned skills to help clients address and overcome impediments to progress. Painful experiences, whether generational, developmental, cultural, or individual in origin, can have long-term physiological effects. Ultimately, that impact is less about the event and more about how it affected you on the inside as a result of the event. Clients are guided through a deeper process that unlocks ways to stabilize, reset, and self-regulate so that they can manage anxiety, reduce stress, sleep better, think more clearly, and gain trust in themselves.
"I found you caring and the information you shared to be interesting and relevant." -Alissa