Learn how to live life instead of feeling that life is living you.
About this Event
Change is an integral part of life. Regardless of its intensity, change is often accompanied by some personal loss and grief.
Join Robert Pardi in this live class to explore how embracing change is the first step in being resilient. Resilience is about transformation forward. It's about learning how to live life instead of feeling that life is living us.
About Robert Pardi
Columbia University graduate, adjunct professor at the Swiss School of Management in Rome, and Ex-Investment Banker, Robert radically transformed his life after losing his wife to Breast Cancer by pursuing his dream to become a Certified Life Coach and move to Italy.
He works with clients coping with dramatic life events or desiring tectonic shifts in their lives through his signature D.R.I.V.E holistic approach: a belief- and behavior-based methodology addressing both skill and mindset. He believes we can all become "possibility in action".
This live class is presented by

Explore the Huddol Journeys App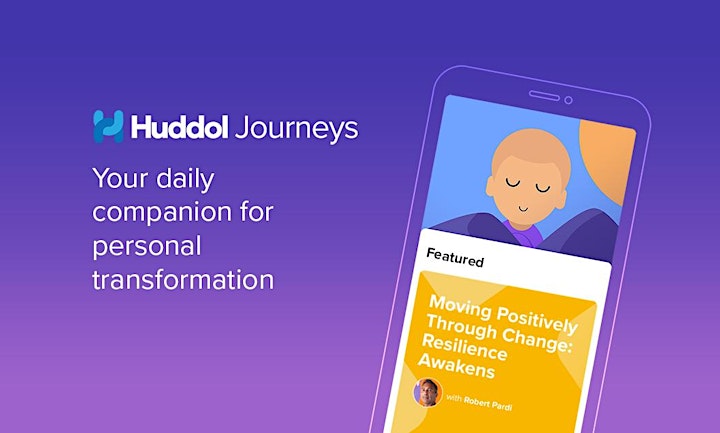 Need help building resilience and moving positively through change?
Go on a 7-day Journey with Robert where he will support you in creating a road map that leads to the inner experience of resilience.
About Robert Pardi's 7-day transformational Journey
Moving Positively Through Change: Resilience Awakens
Change is always present and it is only in responding positively that we can live a more balanced and fulfilling life. Yet many view change as a threat because we are physiologically hardwired with a negativity bias. Yet, without change, we would wither from a lack of growth. The person who thrives understands how to leverage resilience and use life instead of being used by life. Join me in this 7-day Journey where we will create a road map that leads to the inner experience of resilience.
I invite you to join me in exploring the various components needed to build lasting resilience and respond well to life's challenges. By the end of the 7 days you will:
Understand how expectations and attachment hinder resilience
Become adaptable in the face of major life disruptions
Broaden perspectives to transition to a growth mindset
Understand the role of self-trust in remaining resilient
Equip yourself with tools for staying calm during periods of uncertainty and ambiguity
Here are some common assumptions that we will challenge in this Journey:
Resilience is only for the select few
Resilience is not time-bound
Resilience is about bouncing back
Resilient people are completely self-reliant
Resilience means not being afraid
Resilient people power through everything
Join Robert Pardi for a 7-day Journey to move positively through change.
We made it really easy to get started. Simply create an account and start exploring the new Huddol Journeys App FREE! Start with seven days and activate a lifetime of growth.