Building Relationships between Law Enforcement Officials and the Community
Description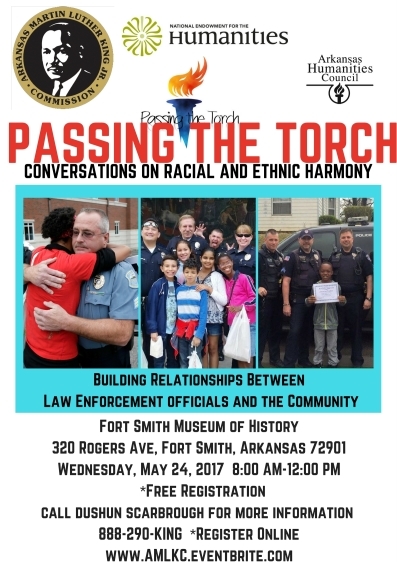 The Arkansas Martin Luther King, Jr. Commission along with the Arkansas Humanities Council, and National Endowment for the Humanities will host "Conversations on Racial and Ethnic Harmony" on Wednesday, May 24, 2017, from 8:00 AM to 12:00 PM at the Fort Smith Museum of History, 320 Rogers Avenue, Fort Smith, Arkansas 72901.
The theme for this conversation is "Passing the Torch: Building Relationships between Law Enforcement Officials and the Community." It is a free community event open to the public that will serve as an outlet in promoting the importance of education, community involvement, collaboration, history, as well as conversations on racial and ethnic harmony within the state of Arkansas.
We look forward to hearing from you. If at all possible, please confirm your participation no later than May 19, 2017.
We thank you in advance for joining us in events that will help this and the next generation achieve Dr. King's dreams of understanding and acceptance of nonviolence and human equality as a way of building common unity among all Arkansans. In addition, as always, "It is a great day at the Arkansas Martin Luther King, Jr. Commission!"
For Media Interviews Contact:
DuShun Scarbrough, Agency Spokesperson
Phone :( 501) 683-1300
Fax: (501) 683-1310
Other: 1-888-290-KING
Email: DuShun.Scarbrough@arkansas.gov