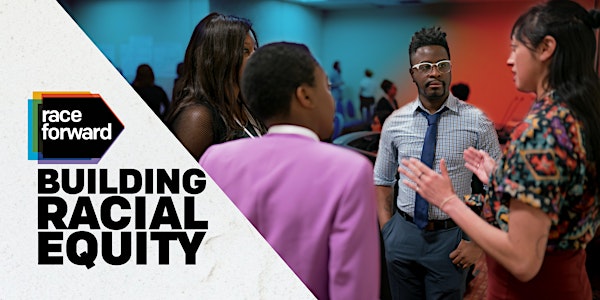 Building Racial Equity: Foundations - Virtual 9/6/22
Racial Equity training designed to equip participants with shared language, analysis and tools to advance racial justice.
About this event
In a moment unlike any we have faced as a global community, Race Forward believes that Racial Justice is more important than ever. In order to embed Racial Equity into all of our day to day operations as well as our responses in this moment we must continue to hold fast to a commitment that enables us to learn, grow and practice racial equity work together.
As the world continues to adapt to the pandemic, we will continue to offer virtual learning spaces that center on normalizing, organizing and operationalizing racial equity into our work at every intersection.
The Virtual Building Racial Equity series, developed by Race Forward: The Center for Racial Justice Innovation, are interactive trainings for those who wish to sharpen their skills and strategies to address systemic racism and advance racial equity. Unlike "diversity trainings" which primarily focus on interpersonal relations and understanding, these trainings emphasize how to challenge and change institutional racial inequities.
Building Racial Equity: Foundations is the first and "foundational" training of the series. Participants will build on and strengthen racial equity practices for themselves and their organizations and networks. This training will introduce participants to concepts, frames, and tools that are essential to a productive racial equity practice. Attending this training is required to participate in subsequent series trainings.
Training Components
Racial Justice Values & Vision
Key Concepts: Different Dimensions of Racism and Systems Analysis
Countering Implicit Bias
Opportunities to Advance Racial Equity
Participants will
Build a clear understanding of key concepts such as racial equity and structural racism.
Learn to talk about race constructively within their organizations and with their constituents.
Gain tools and practices for counteracting racial bias in their work and practices.
Identify opportunities and next steps for applying concepts and strategies to advance racial equity.
FAQ
Zoom Use:
Please note that you will need to be able to access zoom in order to participate in this training. We are unable to accommodate dial-in only participation at this time.
Access Needs
If you are registering for this event and have any access needs (see here for more information on what access needs are), please fill out this form: https://forms.gle/PjFMZA2bYVkJZH6JA We are currently able to offer ASL interpreters and Live Captioning for our training sessions.
Where's my access link?
If you don't have access to your Zoom link or encounter problems with registration, we ask that you first check your spam folder. If you cannot find your zoom link please email the BRE team at bre@raceforward.org. We try to respond to urgent requests within 24 hours of receipt. For all other requests please allow up to 2 business days to respond.
Scholarships:
We are offer scholarships to grassroots organizers and community organizations. If you need a scholarship please fill out the following form: https://forms.gle/82yieAu8cKBgbhbx9
Space:
We have limited space in our virtual training as we believe it is critical for our participants to be able to receive tailored support and coaching throughout the duration of our virtual training session.