A panel of experts and local councillors debate issues around building quality including cladding, safety and leasehold and freehold abuse
About this event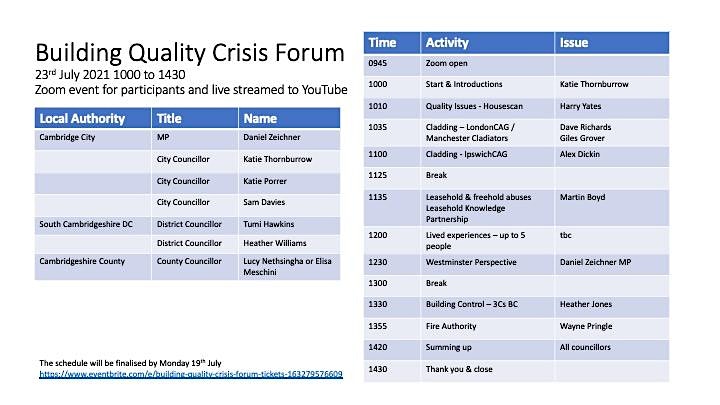 We should all care about the quality of the buildings around us, whether they are council homes, private developments, schools, offices or civic buildings. Since the Grenfell Tower disaster in 2017 attention has rightly focused on concerns about unsafe cladding, with serious concerns about the safety of people living in affected properties, the costs of replacing potentially dangerous materials, and who should pay.
In addition to cladding issues, there are many questions about other aspects of building quality across the UK such as poorly fitted insulation leading to cold bridges and mould problems, poor plumbing and electrics, inadequate installation of fire prevention measures, which need to be be addressed, and many residents of new-build estates have raised them with developers. There are also serious questions around leasehold and freehold abuses.
Cambridge City Councillor Katie Thornburrow is an experienced architect with her own practice and over thirty years experience designing and supervising building works. She believes that we need an open, public debate about these complicated issues, so that people can be better informed about the changes we need in building regulations, public policy, and accountability for our homes and the other buildings we use.
The building quality forum will bring together a range of experts in different areas with a panel of elected representatives and space for public questions, as a contribution to this vital debate. It aims to bring these issues to wider attention and also ensure that councillors and others are properly informed as they make decisions around policies and planning issues that affect building quality, and so that they can deal more effectively with issues raised by residents.
The event will take place remotely and will be live streamed on YouTube. If you register you will be sent a link in advance.
The live stream will be on YouTube from 0955 on Friday 23rd July
https://www.youtube.com/channel/UCL8Jg5d3EGZk72U5onKYqdg/featured