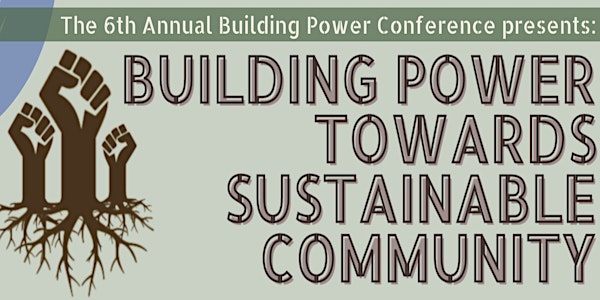 Building Power Towards Sustainable Community
Building Power isn't just a conference. It's a transformative space where we foster community and engage in collective liberation. Join us!
When and where
Location
School of Social Work Building 1080 S University Ave Ann Arbor, MI 48109
About this event
About Building Power:
Building Power is a student led conference that provides attendees with the opportunity to learn about interconnected injustices and engage in collective liberation.
This year's conferences include workshops and affinity group sessions on, but not limited to: environmental justice, food and land sovereignty, and housing disenfranchisement. The goal of this event is to create a space to strengthen community ties and mutual aid projects, as well as to supply attendees with the toolkit needed to partake in more sustainable and self sufficient practices in both their activism and personal life.
Food and drinks will be provided. Attendance is open to all and volunteer opportunities.
For more information or to volunteer go to our website: https://tinyurl.com/UM-BP2022
One person caring for one neighborhood, that's how we'll change the world, not with policy and policing."
― Abhijit Naskar, Şehit Sevda Society: Even in Death I Shall Live
Scroll down for information on our Keynote speaker, Workshops, and Affinity groups!
Keynote Address
Our keynote speech will be given by Shamayim (Mama Shu) Harris
Shamayim 'Shu' Harris, a mother, a community activist and a former school administrator, is the founder and CEO of Avalon Village in Highland Park, a sustainable eco village on Avalon Street between Woodward and Second.
Thanks to Mama Shu and her community team, vacant, blighted lots and structures along Avalon Street are being brought back to life as the Homework House (an after school learning and activity center for neighborhood children), the Goddess Marketplace (an economic development initiative for women entrepreneurs), the Healing House (a center for holistic healing), a healthy cafe, activity courts, greenhouses, a micro library and more.
Mama Shu also serves as the first female chaplain with the Highland Park Police Department. She is the chairwoman of the Highland Park Charter Commission, which is charged with helping shape the city's future. In addition, she served as Vice President of the Highland Park Housing Commission. She has dedicated her life to serving the people (especially children and elders) in her community, demonstrating that one person truly can make a difference, even against seemingly impossible odds, and inspiring others to live without fear and follow their dreams.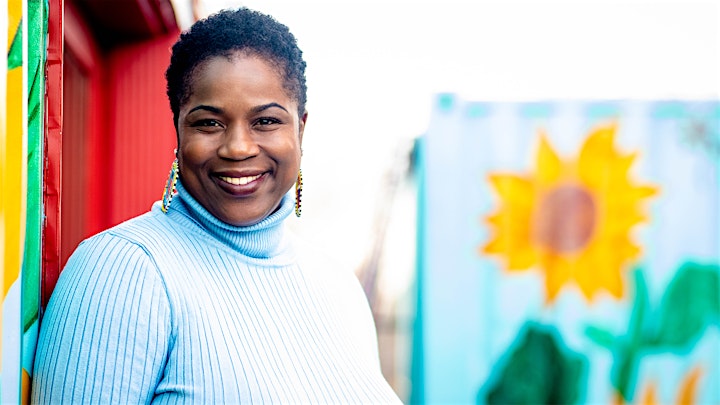 Workshops/Breakout sessions:
This year we are offering 6 workshops led by local community leaders and educators. A brief list can be found below
[Session A] Justice-oriented Workshops
Water Justice [Led by Meeko Williams and Beulah Walker of Hydrate Detroit]
Environmental Justice [Led by Ryan (Rei) Fielder and Jamie Simmons of Michigan Environmental Justice Coalition]
Neighborhood Beautification [Led by Yusef Bunchy Shakur of Community Movement Builders]
[Session B] Security-oriented Workshops
Financial Security [Led by Kevin Warren and Dr. Trina Shanks
Navigating Housing Policies [Led by Ashley Golden and Tony Gant of Nation Outside]
Land Sovereignty and Governance [Led by Ikaje Amensua and Derrienne Reese]
More information about speakers and workshops can be found on our website: Building Power Website
Affinity Groups
What are affinity groups?
Boston College provides a concise and accurate definition of affinity groups. "An affinity group represents the interests and concerns of traditionally underrepresented populations and/or protected classes of people." What that means for this conference is that you will be engaging in dialogue about white extremism in a group consisting of one racial/ethnic identity.This conference is not exclusive to people of traditionally underrepresented populations, so we have created groups that we hope everyone can see themselves in.
What if I do not feel like I fit into a group?
We recognize that the six affinity groups below do not encompass all racial/ethnic groups or experiences. We have tried to create space for as many identities as possible, while still staying within the constraints of the space available to us. Our goal is to ensure that attendees, especially people of color, have access to spaces where they feel comfortable exploring these complex issues.
If you feel that none of the groups would be a fit for you, please do not hesitate to reach out to us at BuildingPowerSteering@umich.edu
Accessibility
We are committed to ensuring this event is as accessible and inclusive as possible. All buildings and rooms are wheelchair accessible. Additionally, ASL interpretation will be available for the Opening, Keynote, and Closing. Captioning will be available for every session including breakout discussions and affinity groups. We will send out more detailed information on accessibility closer to the event.
Please email BuildingPowerSteering@umich.eduif you would like to have ASL interpretation in your breakout sessions. Additionally, contact us with any other specific questions or concerns at BuildingPowerSteering@umich.edu
Please submit all accessibility needs to us by October 13th if possible.
Beyond that date, we will make our best effort to accommodate all accessibility needs.
Masking is encouraged but not required. Our team will provide free masks on the day of the event.
Our Planning Committee
Building Power is joint planned by Black Radical Healing Pathways and the UM School of Social Work Student Union
Black Radical Healing Pathways
BRHP strives to create and build spaces centered on empowering and liberating Black people. We include and welcome students from all cultures, ethnicities, and international origins to commit themselves to this work. We want to, as a collective of all people, empower Black students (inside and outside of the University of Michigan) to develop and explore radical ideas and racial social justice efforts as a coalition. Black Radical Healing Pathways/BRHP works to create and build a network where Black students can feel safe to affirm, heal and validate each other's lived experiences with allies participating in this liberatory work as well. We aspire to organize, educate, mobilize and empower Black Students to work for transformative change on campus, neighborhoods and communities. Our focus is to nourish and cultivate the fighting spirits, critical consciousness and aesthetics of Black Students, who have been historically disenfranchised and continue to be disenfranchised within a variety of systems. We aim to hold programming which centers Black voices, intelligence, and bodies in efforts to dismantle, disrupt, and challenge white supremacy, something in which anyone can participate.
School of Social Work Student Union
Student Union is the School of Social Work's student governance entity. The mission of the School of Social Work Student Union is to support and to encourage coordination and integration of the efforts of students and faculty to achieve greater academic excellence, student success, social justice, and equality.