Description
Overview

Ever wonder what goes into building and scaling data platforms for learning science, particle physics, rainfall prediction, and cancer research? Come join us for four short talks on Wednesday, August 23rd at the Quizlet office! These talks are intended to give you a chance to understand the design, implementation, and lessons learned by the engineers who designed data warehousing, pipelining, and management solutions for life science research. We hope you'll learn new things, ask questions, and meet other people at the event.
Agenda
The event starts with food and drinks at 6:00 pm at the Quizlet office, located at 501 2nd St. in SOMA (at the corner of 2nd and Bryant). Please use the entrance on Bryant St. as the back entrance on Federal St. will be closed. We'll start the talks at 6:30 pm and have additional time for questions, discussion, and refreshments afterwards. Each talk will be 15 minutes.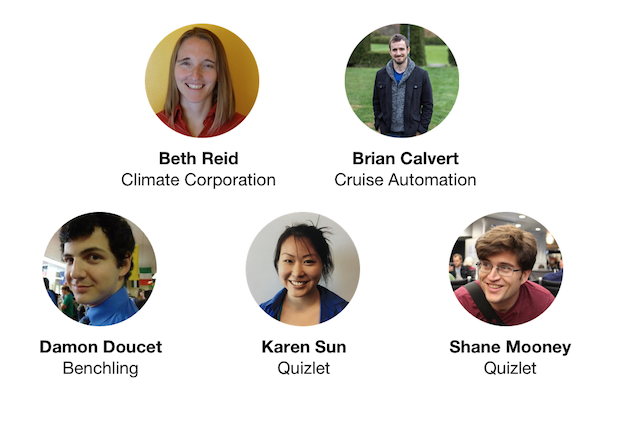 Our Moderator:
Karen Sun
(
Engineering Manager, Quizlet
)
Karen Sun leads the Backend/API and Data Science teams at Quizlet, focusing on building their data platform to support studying, teaching, and the cognitive science research that powers all the app experiences.
Speakers and Topics:
Optimizing Learning: Cognitive Science and Machine Learning
Shane Mooney
(Data Scientist - Quizlet)
Every day, millions of students put their learning in Quizlet's hands. It's our job to help them learn as effectively as possible. In order to optimize the study experience and make every question count, we need to present the facts most in need of study. This requires understanding how well each user knows each fact, and tracking how that knowledge state changes over time.

We'll discuss how, informed by cognitive science research, we used data from the billions of questions answered on Quizlet to train a model that can predict whether a student will get a question correct or not. We use this model to drive question selection in some of the core study experiences on Quizlet while addressing offline support considerations.

Shane Mooney was one of Quizlet's first engineers, responsible for building the earliest versions of the Android and iOS apps. He now works on the Quizlet data science team, focused on learning measurement, experimentation, and research.



How We Found the Higgs Boson: Large-scale Data at the Large Hadron Collider
Brian Calvert (Data Scientist - Cruise Automation)
The Large Hadron Collider (LHC), located underground at CERN, produces scientific data at *large-scale* — in the first run of the LHC (2011-2012), nearly 100 terabytes of proton-proton collision data were generated each second in the centre of each of the main experiments' detectors. This is a necessary price to pay, however, in order to produce the rare fundamental particles of nature that scientists study there. To provide context, only one Higgs boson is produced per O(10 billion) collisions at the LHC.

Managing these mountains of data requires a comprehensive and powerful data management system, beginning at the data-acquisition stage and following all the way through to the final custom collision databases utilized for statistical particle-physics analyses. This data management is further complicated by the need for a worldwide distributed-data system, so that individual researchers do not have to be onsite to access the data.

In this discussion, we'll focus on the data management systems utilized by the CMS experiment, one of the two main experiments at the LHC. We will highlight CMS's main successes in data management and how their design choices greatly facilitate the data analysis of CMS's member physicists.

Brian Calvert is a Research/Data Scientist, currently working for Cruise Automation, a company focusing on self-driving cars. Brian spent five years of his research career working on the CMS experiment @CERN, where he was a primary author for multiple peer-reviewed statistical data analyses. Brian also contributed across a broad range of the data management pipeline, including monitoring data-acquisition and worldwide distributed-data processing systems, R&D into event reconstruction algorithms and systems administration for a high-performance scientific computing cluster.


Building a Data Platform for Life Scientists: The Warehouse
Benchling is modernizing cancer and other life science research with tools that scientists love to use. Most recently, we've built a data warehouse that aggregates traditionally silo'ed data. The warehouse syncs biological data already stored on Benchling with quantitative results, empowering scientists to perform otherwise impossible analyses and build powerful machine integrations. We'll discuss the engineering challenges involved in syncing updates with often only a few seconds of latency, and surfacing the data to scientists with the rich control over data permissions that the biotech industry requires.

Damon Doucet is an engineer on the data platform team at Benchling, with a background in systems and performance research at MIT.


From Research to Production: A New Radar Processing Pipeline for Climate FieldView™
Beth Reid (Staff Quantitative Researcher - The Climate Corporation)
The Climate FieldView™ platform aims to help the world's farmers sustainably increase their productivity with digital tools. It provides farmers with field-level daily rainfall estimates and real-time rainfall animations using ~500 GB of radar and rain gauge data per day. In this talk I will discuss the science team's rainfall research platform and our work with engineering to implement our algorithms in a production system designed for stability, low latency, and scalability.

Beth Reid is a Staff Quantitative Researcher at The Climate Corporation. She was previously a Hubble Fellow at Lawrence Berkeley National Lab where she analyzed galaxy maps to measure the properties of gravity on cosmic scales.