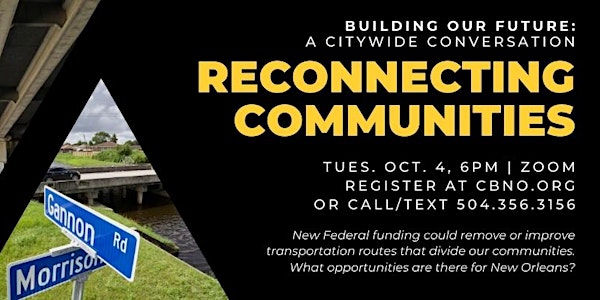 Building Our Future: Reconnecting Communities
Join CBNO for 'Building Our Future: Reconnecting Communities' a virtual information session and discussion, Tuesday, October 4th
About this event
Over the past year CBNO has been keeping community members up to date about historic federal funding opportunities currently available for New Orleans.
One major opportunity you may have heard of is Reconnecting Communities, a new federal pilot program within the Infrastructure Investment & Jobs Act (aka IIJA or the Bipartisan Infrastructure Law) created to reconnect communities previously cut off from economic opportunities.
We invite you to participate in 'Building Our Future: Reconnecting Communities' a virtual information session and discussion, Tuesday, October 4th, from 6-7:30pm, to discuss and explore potential projects that could safely connect New Orleans residents and communities across existing infrastructure that divides, such as railways, canals, and major roadways.
This transformative program is meant to repair damage and create opportunities to overcome infrastructure that divided, degraded or destroyed quality of life and prosperity, often in black and brown communities. When the law was enacted, President Biden highlighted New Orleans' own Claiborne overpass as an example of a national practice of injustice & inequity.
Is there a project your community has considered to connect residents across railroads, canals, the interstate, or a high-traffic street? Let us know and we may be able to discuss it during this or future Reconnecting Communities discussions.
In this community stakeholder meeting we will: explain the Reconnecting Communities eligibility requirements, discuss why this opportunity matters for local communities, provide an overview of potentially eligible infrastructure in New Orleans (including the Claiborne overpass), provide breakout discussions where residents can focus on specific projects, share next steps residents can take to stay informed and participate in reconnecting communities.
This will be a virtual meeting conducted via Zoom.
Send inquiries to rob@cbno.org (incl Reconnecting Communities in the subject line).