Description
After an incredible year, The Legacy Project returns!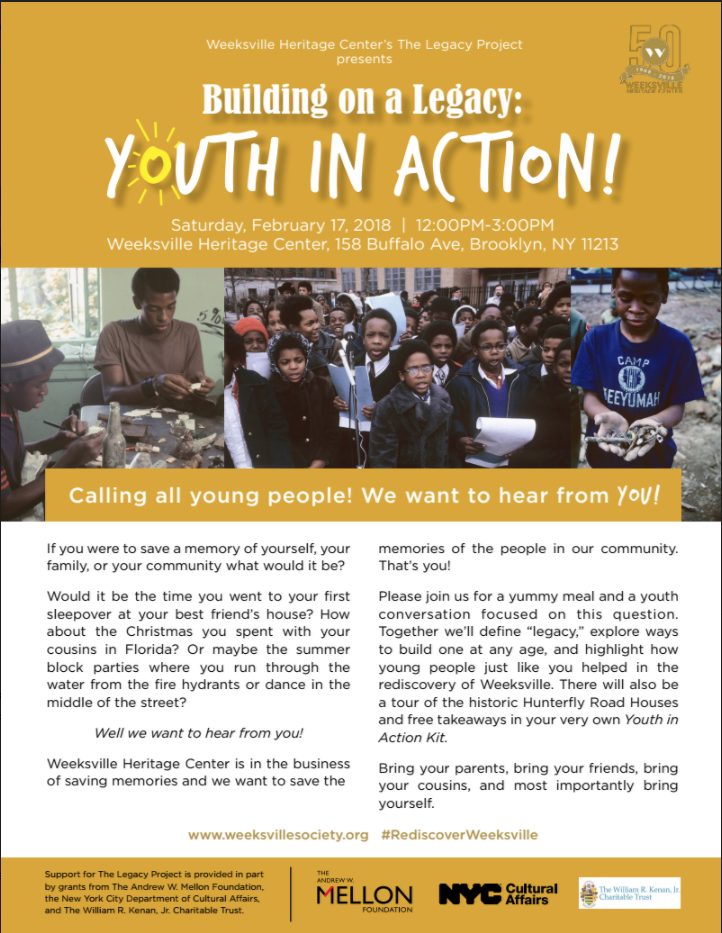 Calling all young people! We want to hear from you!
If you were to save a memory of yourself, your family, or your community what would it be?
Would it be the time you went to your first sleepover at your best friend's house? How about the Christmas you spent with your cousins in Florida? Or maybe the summer block parties where you run through the water from the fire hydrants or dance in the middle of the street?
Well we want to hear from you!
Weeksville Heritage Center is in the business of saving memories and we want to save the memories of the people in our community. That's you!
Please join us for a yummy meal, and a youth conversation captured through a graphic storytelling workshop with artist Nikki Kurt. Together we'll define "legacy," explore ways to build one at any age, and highlight how young people just like you helped in the rediscovery of Weeksville. There will also be a tour of the historic Hunterfly Road Houses and free takeaways in your very own Youth in Action Kit.
Bring your parents, bring your friends, bring your cousins, and most importantly bring yourself.
Schedule
12:15PM-1:15PM: Tour of historic Hunterfly Road Houses
1:15PM-1:45PM: Lunch
1:45PM-4:00PM: Workshop and Discussion