Building No Kill Communities, April 16, 2010, Douglasville, GA

Friday, April 16, 2010 from 7:00 PM to 10:00 PM (EDT)
Event Details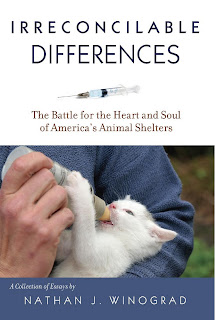 Save the date! The 'Building No Kill Communities' seminar featuring Nathan Winograd has been scheduled for the evening of Friday April 16, 2010 in Douglasville, GA. Douglasville is conveniently located off I-20 just West of Atlanta.  The event will be free and open to the public, but you will need to sign up in advance. Details about how to do that will be available soon. The event is sponsored by the Carroll County Humane Society, which will be selling signed copies of Nathan's books Redemption and Irreconcilable Differences to offset the costs of putting on the workshop. Books can be preordered here or purchased at the workshop.

Rescuers, members of humane groups, shelter directors and employees, animal control officers, city and county officials and animal lovers are all encouraged to attend. The workshop has been described as "a prerequisite for animal lovers, rescue groups and organizations that are serious about changing their communities to No Kill."

Georgia kills way too many animals in its shelters. Georgia can and will be No Kill. You can be part of this sea change.
*The Carroll County Humane Society requests that event attendees bring a donation of pet food for their Empty Pet Bowls program, which provides pet food to families in need, helping them to keep their pets.
When & Where

Douglasville Downtown Conference Center
6701 Church Street
Douglasville, GA 30134


Friday, April 16, 2010 from 7:00 PM to 10:00 PM (EDT)
Add to my calendar
Organizer
Carroll County Humane Society
The Carroll County Humane Society, Inc., a 501(c)3 non-profit organization, was founded in 1970. Since its inception, the CCHS has helped to build a better community for people and animals alike.
Following its May 1982 reorganization, the CCHS successfully campaigned to establish a countywide animal control service. After three years of letters, public opinion surveys, and meetings with city and county officials, the Carroll County Animal Control (CCAC) facility was expanded and improved.
Four of the counties surrounding Carroll County - Cleburne and Randolph in Alabama and Haralson and Heard in Georgia - have no form of animal control. Because of the large number of stray and abandoned animals in the West Georgia/East Alabama area, rabies outbreaks became a proven concern. The CCHS responded by providing a series of low-cost rabies clinics from 1986 till 2000 to make it easier for people in outlying communities to have their animals vaccinated.
To reduce the number of animals euthanized at the CCAC facility, the CCHS began offering financial assistance in 1990 to help owners spay/neuter animals adopted from the county facility. In 1991, the Society began an ongoing effort to encourage adoption of animals from the CCAC by publicizing adoptable animals through local radio and television stations and newspapers. These animals are also publicized on the CCHS website at www.carrollcountyhumane.org.
To increase the number of healthy, altered animals adopted from the CCAC, the CCHS launched its Foster and Adoption Program in 1998. Through this program, animals are selected from the Shelter, checked by a veterinarian, tested for disease, vaccinated, and spayed or neutered prior to adoption. CCHS foster pets are currently being transported to the Douglasville PetSmart every Sunday for adoption events. Foster pets are also featured on the CCHS website.
In October 1999, the CCHS began a Saturday Shelter Volunteer Program designed to heighten community awareness and involvement with the Shelter. Advertising, recruiting, and scheduling of volunteers are the sole responsibility of CCHS. On Saturdays, volunteers from CCHS and the community at large help socialize adoptable animals by exercising and giving them a little extra human contact.
In that same year, the CCHS began its Low Cost Spay/Neuter Certificate Program funded by the Warren P. and Ava F. Sewell Foundation. This program helped fund the spay/neuter of over 500 animals and was available to anyone in the West Georgia/East Alabama area whose income did not exceed $30,000.
In 2000, the CCHS presented a Dog Bite Prevention Program to over 500 local five and six year olds and created, along with the Carroll County Fire and Rescue, a Displaced Pet Program which provides temporary housing for pets displaced from their homes due to fire or other disasters.
The CCHS presented a workshop on the link between animal abuse and domestic violence called The First Strike Program. This daylong seminar, funded by a grant from the Zachariah Foundation, was attended by personnel from law enforcement, government, medical and social service agencies, and educators.
In 2007, CCHS raised funds to open the West Georgia Spay-Neuter Clinic, a high-volume, low-cost clinic which serves pet owners in the region. In the first year of operation, the Clinic performed 3,500 spay-neuter surgeries.
In the same year, the Society earned a $3,000 grant from the Community Foundation of West Georgia to fund a subscription to KIND News for all 1st and 3rd graders in the city and county schools.
The Society has several ongoing efforts to reach out to the community. Paw Prints, the CCHS newsletter, is published four times a year and distributed to CCHS members, veterinarians, local government officials, and other interested parties. Local events such as Carrollton Mayfest and the October Fun Dog Show provide opportunities to gather information about the community's needs, increase public awareness of the services CCHS offers, and foster attitudes and practices of responsible pet ownership.
Building No Kill Communities, April 16, 2010, Douglasville, GA