Building Network of the Future – Intelligent and Sustainable Hosted by Zinnov in association with CYIENT
About this event
The Telecom sector is on a revolutionary journey that is challenging the traditional operating structures and business models. As enterprises and consumers are gearing up towards unlocking the possibilities of a high bandwidth-low latency experience; the telecom service providers are moving faster to ensure that they are well prepared to face the change of the future. Upgrading existing networks and planning new networks that are flexible, scalable, reliable, intelligent and sustainable have become leading priorities for Telecom companies across the globe.
Decommissioning and migration are the key factors disrupting the telecommunication space and its adoption, is enabling operators to provide better networks, operations, and connectivity. Removal of obsolete equipment and networks are driving new innovative use cases across both revenue acceleration and cost optimization. Deep-rooted collaboration between the Telecom ecosystem of operators, equipment manufacturers, and system integrators is key towards building and scaling the network of the future that will be driving the next era of growth for the telecommunication industry.
Key Discussion Areas
• What are the key focus areas for telecom operators as they transform legacy networks and build greener future-proof networks?
• How a greener network would benefit environment, as well as company business/profit?
• What are the challenges of network decommissioning, migration and modernization?
• How digital technologies such as cloud, IoT, AI etc. are helping operators in this transformation journey?
• How should the ecosystem (Operators, Equipment manufacturers, Start-ups, System Integrators) collaborate closely to build a network of the future?
Registration Terms:
Registration to the event is subject to the following conditions:
Confirmation of participation is at the sole discretion of Zinnov.
The Zinnov team will respond within 2 business days of registration, on the status of confirmation.
Representatives from Services companies are requested to refrain from registering for the event.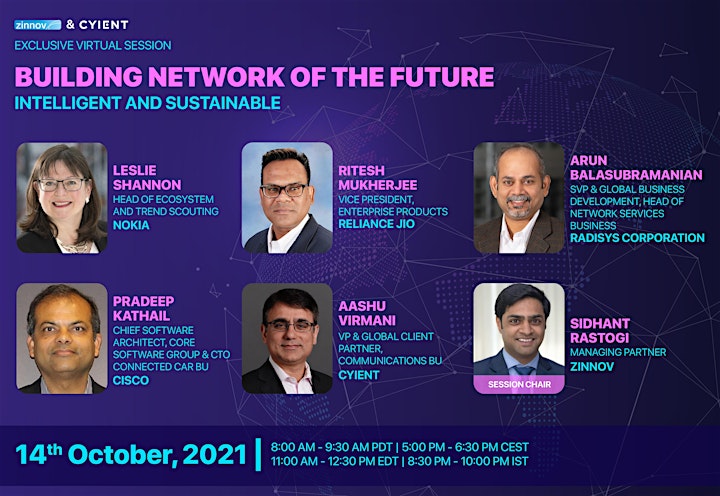 Organizer of Building Network of the Future – Intelligent and Sustainable
Zinnov is a research, consulting & advisory company with core expertise in Product Engineering and Digital Transformation. We have been consistently ranked amongst the top 20 outsourcing advisory firms for 10 years in a row by IAOP.
We help companies:
in their engineering, IT, digital disruption and business operations to achieve higher throughput, innovation, productivity and cost savings.
by advising them to develop and optimize a global engineering partner strategy
by growing revenue for their products and services in emerging markets.
With our team of experienced professionals, we serve clients across Software, Automotive, Telecom & Networking, Semiconductor, Consumer Electronics, Storage, Healthcare, Banking, Financial Services & Retail industries in US, Europe, Japan & India.