Building Light Layers (Exploring Pate de Verre) | Fahan Sky McDonagh | 2017

Monday, March 13, 2017 at 10:00 AM

-

Friday, March 17, 2017 at 4:00 PM
Event Details
Instructor: Fahan Sky McDonagh   |   Price: $750  |   Class Size: Min 5 - Max 8

Dates & Times: March 13-17 (10a-4p)  
---
Pate de Verre is a French term that directly translates to "paste of glass". This is a technically specific process of glass making developed by the French in the late 19th century offering subtle color gradients and a variety of textures. Pate de Verre is the process of creating a paste like consistency with glass frits and powders mixed with a binding agent. The paste is then carefully packed or layered into the interior walls of a plaster/silica mold. The glass is fired until fused in a kiln, resulting in a thin or thick, solid or hollow form depending on how the glass was applied. Next, the plaster silica mold is divested or removed from the glass. Lastly, the glass is cleaned and coldworked to remove rough or sharp areas. Several different applications of this technique will be covered.  
Students should expect to work hard, ask questions, experiment and have fun. There are no prerequisites, but a genuine interest in glass process and a background working with clay or sculpture would be helpful. Please bring a sketchbook and a pencil for notes and ideas. As a class, we will question the rules and solve problems to create interesting layered forms using glass in a kiln. Our goal is to produce unique results of the same process by changing variables such as temperature, glass thickness, binder and refractory material.  There will be three projects using layers. 
---
For the first project, students will create one or more glass wafers by sifting glass onto a fiber paper cut out shape and fusing it. The resulting wafers can be stacked, assembled or slumped using a variety of materials to create forms in a second firing. Frit tinting and color gradients with will be covered.
In the second project, students will handbuild a plaster and silica mold from a clay positive in the form of a low profile vessel that will be packed with frit using the traditional wet method. Three or more layers of fine glass particles will build up a glass shell resulting in a sugary texture and more opacity.
For the final project, students will build up a series of layersof glass onto kiln paper and stuff them into a mold, lay them over a form or free build in the kiln. They canuse flowerpots, hand built molds or other refractory materials to set up for the intended form such as fiber paper, frax, brick, sand and plaster to set up an intended outcome in the kiln. The desired result is tailored accordingly for each student. Together we will discuss ideas and results, learn firing schedules and cold processes for pate de verre.
Included for the class

all glass




binder

clay

 

plas

ter

silica

talc

clay working tools

 

thin fire

fiber paper

clear safety glasses

black sharpie

Exacto knife
What you will need for class

5 Questions about Glass




Pencil

Photos of your work

Sketchbook

Particulate respirator (N95) and Ziploc bag

Water Bottle

 
Ext

ras may be….




| | |
| --- | --- |
| camera/phone to document results | snacks in sealed containers |
| clay working tools | different sized spoons |
| soft ruler | black wax pencil |
| hand sanding pads | music |
SiNaCa Studios uses and teaches with Bullseye Glass (90coe) exclusively in our kiln forming studio.
---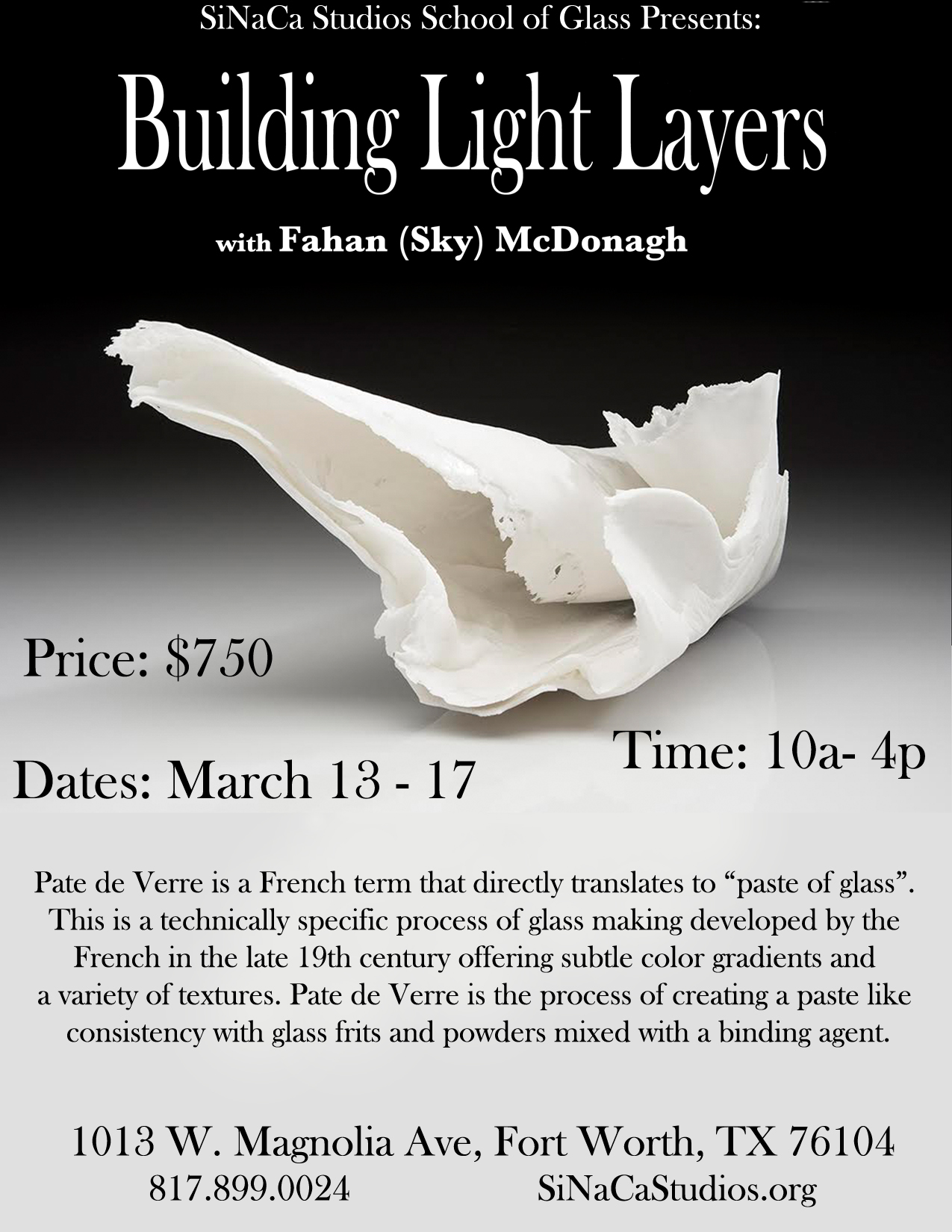 When & Where

SiNaCa Studios - School of Glass and Gallery
1013 W Magnolia Ave
Fort Worth, TX 76104


Monday, March 13, 2017 at 10:00 AM

-

Friday, March 17, 2017 at 4:00 PM
Add to my calendar
Organizer

SiNaCa Studios offers exclusive opportunities not available anywhere else in the Fort Worth or Dallas area. We are uniquely dedicated to serving the needs of all glass students from beginning through professional with workshops, classes, studio rental opportunities and facility rentals for private events. We provide a professional gallery space filled with glass treasures and masterpieces waiting to find their new home. A unmistakable combination of a talented faculty, community based programs, open enrollment workshops and a passion for sharing the beauty of glass art is the recipe for a unique and positive experience.

SiNaCa Studios is an IRS affirmed, 100% publicly supported 501(c)(3), nonprofit organization. The mission of SiNaCa Studios is to provide an opportunity to experience the rich tradition of glass as a creative medium through education and studio involvement. Contributions made to SiNaCa are tax-deductible to the extent allowed by law. Through these much needed, generous contributions to our studio, we are able to positively impact our community and deliver our mission within the growing arts culture in Fort Worth.