Description
Created 2 Empower Others Building Leadership Conference 2019 is
designed with you in mind. This year myself Coach Laveda "Lovey"
Whitfield your conference host, along with some of my special guest
will be teaching you how to Build Platforms, Achieve Higher Positions,
While You'll Learn How To Increase Your Payouts.

Be prepared to launch yourself to your next level of success. Invite
someone else to attend, why keep it all to ourselves. There is room
for everyone on the C2EO platform. You'll connect with other leaders,
entrepreneurs, professionals, and go-getters just like yourself.


OCTOBER 18th FRIDAY NIGHT EVENT 7PM-10PM We will be kicking off for
the first time "THE LOVEY SHOW" LIVE.

OCTOBER 19th SATURDAY EVENT 9:00 AM-3:00 PM Come Ready for Some
Awesome Training, Networking, and Special Power Voice Training
Session with Conference Host Laveda "Lovey" Whitfield.
We have opportunities for any business to present your company name,
logo and information in front of the conference participates. Your
Logo will be included on our
step & repeat banner, marketing material and more. This additionally
places your literature about your business or brand in all conference
attendees "Swag Bags". To participate in this opportunity email us @
info@c2eo.net

** SAY CHEESE! We will have professional headshot on the spot, register today.***

Vendors are welcome. Limited space is available.
Email us @ info.c2eo@gmail.com for pricing and more details.

Sponsorship is available.
Email us @ info.c2eo@gmail.com for pricing and more details.

You are Created 2 Empower Others but it first starts with you.


Coach Laveda "Lovey" Whitfield
C2EO
www.c2eo.net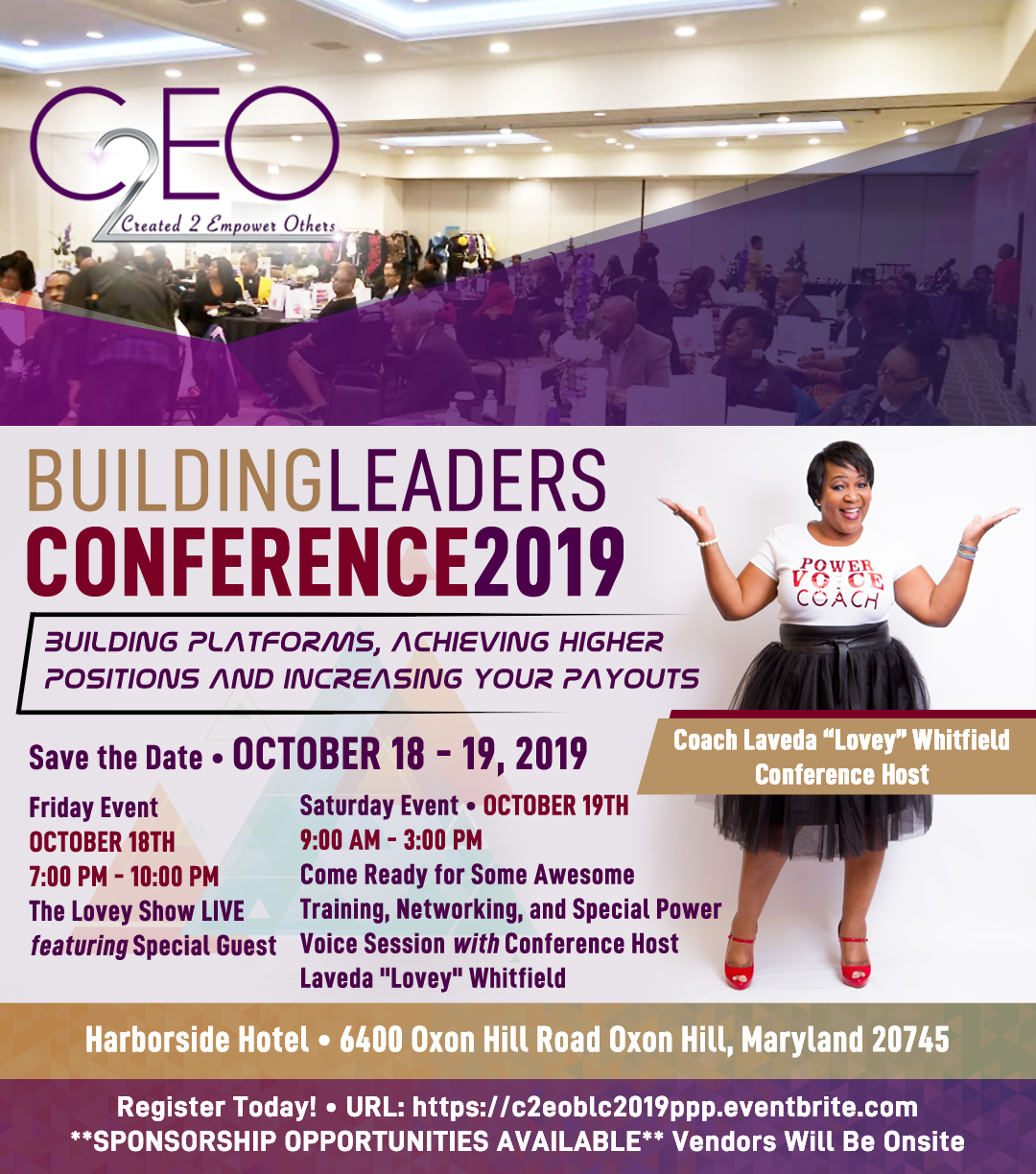 Organizer of Building Leaders Conference 2019, Platforms, Positions and Payouts
Created 2 Empower Others is a networking group that empowers everyone to win. We believe there is room for everyone to achieve higher levels of success with supportive tools and resources at our disposal.
Coach Laveda "Lovey" Whitfield is the CEO of Created 2 Empower Others. She is passionate about helping her community of leaders, entrepreneurs, ministry leaders and corporate worker reach their maximum potential. The platform that she has created has helped produce new authors, public speakers, new business and confident leaders.

Connect with us and learn how you build your income, leadership and travel the world together.