Building Industry & Property Entrepreneur Night 1 March 2011

Tuesday, March 1, 2011 at 6:30 PM (AEST)
Event Details
and Property Entrepreneur Event
If a multi millionaire property entrepreneur was offering to disclose his/her success strategies to you in return for 90 minutes of your time,
would you be willing to make that investment?
 ARE YOU in the Building & Property Industries, an investor or just passionate about property?  
Do you want to rub shoulders with the top property entrepreneurs in South East Queensland & meet self made millionaires in the industry?
Then this event is for you.  
LEARN HOW TO to get involved in the property & property development industries, & how you can become a Property Entrepreneur, even while maintaining your career, job or business. 
IN FACT, you will also find out how you can quit your job & be a full time Property Entrepreneur, just as our very special presenter has done!
THIS PRESENTATION includes all the relevant information you wish you'd had access to when you first started! 
ARE YOU ALREADY in the Property Industry?
Get the unfair advantage over your competitors - knowledge is profit!
AS AN ADDED BONUS, this is a rare opportunity to meet other local industry heavyweights & business people & form profitable business alliances, or just fellow property enthusiasts.   You will be allowed plenty of networking time during the event.  You never know who you will meet!

TAKE THE OPPORTUNITY to give your business a plug & boost sales - Networking Works!  Be sure to bring your  business cards & brochures. 

"You generate what you want."
OUR VERY SPECIAL PRESENTER, Nhan Nguyen, is a self made millionaire at the age of 30 (he actually began at the tender age of 23 while still at university.  Come hear his inspiring story). 
 
"Hi, I'm Nhan Nguyen,  Property Entrepreneur, Property Coach, Business Owner & Author.

   I have helped many others make Hundreds of Thousands of Dollars, using Simple  Strategies that anyone can apply to make Money."
 "Nhan fast tracked my wealth creation by years.  His guidance made me  $250,000 in less than 90 days." 
 Tom Gilmartin, Chief Financial Officer, Top 100 Company Australia.
 Mr Nguyen recently co-authored & is featured in the book,  
"Property Millionaire."
Property Millionaire Book
Co-authored by Nhan Nguyen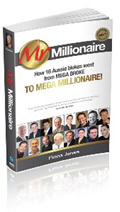 Nhan Nguyen, The 'No Money Down' Man
How ordinary Aussies are building
Millions through Property!
TIME IS MONEY -  DON'T DELAY
Capitalise on Opportunity
 Seats Are Limited - Book NOW to Avoid Disappointment!
Tuesday, 1st March @  6.30 - 9.30pm  
Gold Coast International Hotel
7 Staghorn Avenue, Surfers Paradise, Gold Coast
Tickets: $20 (Click on orange 'Order Now' button above to purchase ticket)
$35 at the door
Free Underground Parking
Tea & Coffee Upon Arrival

TESTIMONIALS
"I've worked closely with Nhan Nguyen for several years and he is a testament to himself and the property game. He definitely practices what he preaches - I personally have seen him do over $20M worth of deals in the last few years. If you're considering working with him I would take the opportunity with both hands; he is brilliant."
Alistair Bell
Founder & Director of Consortium Group Australia
Property Developer & Finance Broker
"Fantastic, Informative has a lot of experience and knowledge to freely pass on" Karen McCloskey, Investor
 "The basics of property financing with no money down in an easily understood format" Les Mor, Investor
 "Great ideas- come along and see for yourself" Simon Hammer, Investor
"A speaker with tons of experience, willing to pass on his knowledge and information of deals others have not heard of" Sue Hemsley, Investor
Join! So much information" Rachael Jay, Investor
 "You must come - it is so good" Carolyn O'Donohue, Investor
YOU'D BE MAD NOT TO TAKE ADVANTAGE OF THIS EVENT!
COME ALONG AND GET CONNECTED TO THE RIGHT PEOPLE!

 See you in the Winners' Circle! 
Join us on Facebook.  Click this icon: 
For More Exciting New Events,
Click Here: www.meetup.com/Rich-Life-Events/
 Stay in the loop; be part of the Rich Life Academy Community!

When & Where

Gold Coast International Hotel
7 Staghorn Ave
Surfers Paradise
Gold Coast, Queensland 4216
Australia

Tuesday, March 1, 2011 at 6:30 PM (AEST)
Add to my calendar
Organizer
Rich Life Events
RLE are dedicated to helping you create choice, purpose and freedom in your life by increasing your awareness and education in the field of life, health and wealth, including business opportunities, wealth education/creation, personal development and much, much more.

We will help you take action and achieve your financial goals so you can start living, doing and having what you really want in life. Rich Life Events has it all.
Building Industry & Property Entrepreneur Night 1 March 2011