Building Impact's 4th Annual NonGala: Honoring The Bulfinch Companies, Inc.

Wednesday, April 27, 2016 from 6:00 PM to 9:00 PM (EDT)
Event Details
Disclaimer: All attendees who sign up after April 27th, 9:00 AM will receive a blank name tag rather than a printed name tag. Thank you for your patience! 
---
Building Impact invites you to come celebrate the power of volunteerism in Massachusetts at our 4th Annual NonGala on Wednesday, April 27th, 2016!  
We will be honoring the 2016 Impact Award winning companies for their dedication and service along with The Bulfinch Companies, Inc. Guest speaker Eric D. Schlager, CEO will speak on behalf of The Bulfinch Companies, Inc. 
Our nongala annual event honors our partners through the annual Impact Awards while raising funds for our volunteer programming to maximize not just our impact, but your impact in our community. Together we will extend Building Impact's reach in Boston and beyond.
In addition to a formal ceremony and networking, the NonGala uniquely offers on site micro-volunteering during which attendees will have the opportunity to volunteer while simultaneously learning about various local nonprofits that are beneficiaries of Building Impact's programming.
Building Impact's mission to create stronger and more connected communities is best advanced by each citizen-both corporate and individual-rolling up their sleeves and getting personally involved in helping local communities. Winners will be recognized at our annual NonGala.
About Our Volunteer Activities 
The Cat Connection DIY Cat Toys 
The Cat Connection is an all-volunteer 501(c)(3) nonprofit no-kill organization whose primary mission is to rescue abandoned, abused, unwanted, stray, neglected, and injured cats, and to facilitate their adoption into responsible permanent homes. The toys that you make as a part of your volunteerism will be provided to the aforementioned abandoned and stray cats and will undoubtedly brighten their day! 
Dog Toys for Survivor Tails 
Survivor Tails Animal Rescue is a non-profit, all-volunteer organization that exists to rescue, rehome, and rehabilitate homeless, unwanted, abused, and neglected dogs and cats and place them in loving and responsible forever homes.

Survivor Tails aims to decrease the euthanasia rates of high-kill shelter partners by promoting adoption and educating the public on the importance of spaying/neutering and microchipping their pets.

Lastly, Survivor Tails strives to maintain a network of dependable foster families, capable veterinarians, and experienced trainers to ensure preparedness of our rescued pets for healthy, fulfilling lives in their adoptive homes. 
Volunteers will create dog toys out of fleece to benefit local shelter animals and provide them with toys to encourage energetic play.  
Daffodils for Asian Women for Health 
Flowers remind us of all the optimism and joy that can be ours. There is no better time than right now to be happy. Happiness is a journey, not a destination. According to the Daffodil Principle, it is better to live life looking to the potential of what can be accomplished today (italicized) rather than the regret of what could have been yesterday. Asian Women for Health embraces this concept as the organization envisions a world where Asian women are well-informed, have access to culturally appropriate, quality care, and are inspired to live happy, healthy lives.

Asian Women for Health will distribute the daffodils you make tonight at outreach events as a community engagement tool. AWH aims to touch one person at a time and "When we multiply tiny pieces of time with small increments of daily effort, we too will find we can accomplish magnificent things. We can change the world!" 
Congratulatory Cards 
MHSA operates two substance abuse recovery homes in Boston. The programs help residents reestablish and maintain a sober lifestyle while renewing their careers and following through on responsibilities to their families and communities. Program counselors are specially trained to address the unique needs of clients while employing appropriate, effective and lasting treatment strategies.

By writing congratulatory cards to clients who graduate from the substance abuse recovery homes NonGala attendees will not only be an additional voice of support for those struggling with addition, but the cards will help MHSA add a more caring touch to celebrate the recovery home graduates.
Paper Violins
The Paper Orchestra project from the Josiah Quincy Orchestra Program (JQOP) has each kindergartener create a "paper" violin, viola, cello, or bass, assisted by older siblings, parents, and teachers. Each instrument is the same size as an actual instrument, and is made out of cardboard and paper-mâché. Students use their life-size paper instruments to learn the following: basic playing position, how to care for an instrument, and how to make music together as an orchestra. The children sing songs while pretending to play their paper instruments in order to associate music making with the movements of an actual string instrument. It is a useful step that helps our youngest musicians develop responsibility before receiving real instruments.
JQOP brings together families, teachers, and students to paper-mâché and paint the paper instruments. What is most time consuming and challenging for our teaching artists is to create ALL of the cardboard pieces for each instrument in advance of Paper Instrument Night. Next year we will expand our K2M program from 20 to 40 students – that's a lot of cutting cardboard! It would be a big help to get volunteers to cut out cardboard pieces for future paper violins, violas, celli, and basses. Cutting one piece does not take long, but there are many pieces to be cut, so the more volunteers the better.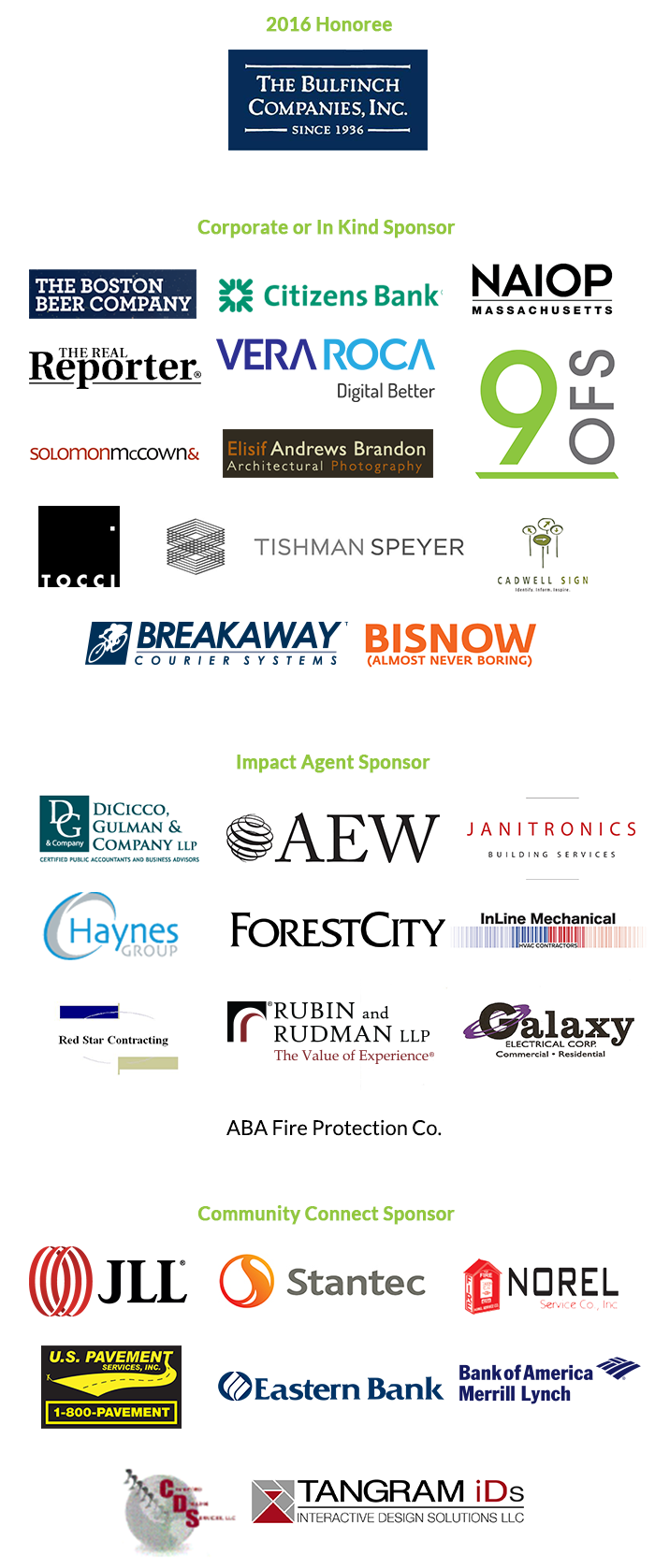 Have questions about Building Impact's 4th Annual NonGala: Honoring The Bulfinch Companies, Inc.?
Contact Building Impact
When & Where

One Federal
9th Floor
Boston, MA 02114


Wednesday, April 27, 2016 from 6:00 PM to 9:00 PM (EDT)
Add to my calendar
Organizer
Building Impact
Building Impact's mission is to strengthen communities by providing individuals and companies with the knowledge and opportunity to volunteer, donate, and connect in the buildings where they work or live.
Building Impact makes giving back convenient by bringing volunteer events and donation drives to participants in office and apartment buildings to help them become more civically engaged. We then channel 100% of the volunteerism and giving to fill service gaps in underserved local communities.
Building Impact envisions a day when each person and every company is actively engaged in making their community stronger and healthier.    
Building Impact's 4th Annual NonGala: Honoring The Bulfinch Companies, Inc.