Building Green Justice 2017 - Organic Activistology
Description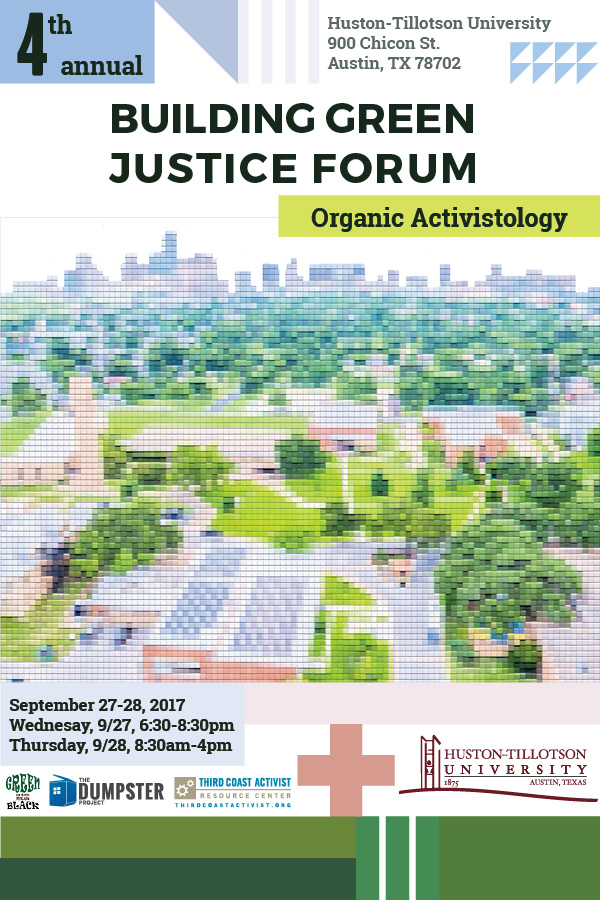 Overview
Huston-Tillotson University is hosting the 4th annual Building Green Justice Forum Sept 27-28. This year's theme is "Organic Activistology." We invite participants to reflect on their roles as organic activists – thinkers and doers who reflect their community's history, values, and knowledge and who engage to direct the community as leaders and organizers. We'll analyze the broader frame of environmental justice work, including conflicts, power sources, intersectionalities, and motivations. We hope to clarify aspects of environmental justice history and inspire lessons for the future of the work.
Our keynote speaker this year is Mustafa Santiago Ali, the Senior Vice President of Climate, Environmental Justice, and Community Revitalization with the Hip Hop Caucus. Mr. Ali built the Environmental Protection Agency's environmental justice program over 24 years of pioneering work. He resigned in protest in March of this year when the Trump administration gutted EJ initiatives at EPA.

Both the Building Green Justice Forum on Sept 28 and the Pre-Conference Special Keynote on Sept 27 are free and open for all to attend.
Please consider donating to Team Sierra efforts to support a just and equitable Harvey recovery at the frontines. The recovery effort is going to take years and the environmental impact is only beginning to become known as the Houston area is dense with chemical plants and refineries.100% of the funds donated via Team Sierra will direcly support groups ensuring a just and equitable relief effort.
Conference Schedule
Wednesday Sept 27 - Dickey-Lawless Natural Sciences Building, Huston-Tillotson University
6:30 - 8:30 pm Pre-Conference Special Keynote - "People, Power, and Community: Environmental Justice at the Frontline" - Mustafa Ali, Hip Hop Caucus

Thursday Sept 28 - Dickey-Lawless Natural Sciences Building, Huston-Tillotson University
8:30-9:00 am - Coffee and Breakfast
9:00-9:15 am - Welcome to the Forum
9:15-10:35 am - "Mobilizing for EJ in Texas: Harvey and Beyond" - Dave Cortez, Sierra Club Lonestar Chapter
10:45-11:45 am - "Environmental Equity to Environmental Liberation" - a conversation with Mustafa Ali, Hip Hop Caucus
11:45-12:30 pm – Lunch (Davage-Durden Student Union)
12:30-1:30 pm - Panel Discussion "What is an Organic Activist?" with:
Susana Almanza - PODER
Israel Anderson - EPA Region 6, retired

Pancho McFarland - Chicago State University
Tane Ward - Sierra Club and Equilibrio Norte

1:35-2:35 pm - Workshops and Breakout Sessions 1
2:45-3:45 pm - Workshops and Breakout Sessions 2
3:45-4:00 pm - Closing Session and Call to Action
Workshops
Beyond Implicit Bias - Chelsi West-Ohueri, Dell Medical School
Legislative Advocacy - Andrew Dobbs, Texas Campaign for the Environment, and Kaiba White, Public Citizen

Communities Supporting the Parks - Suzanne Dixon and Dallas Kelley-Kerr, National Park Conservation Association and Susanne McDonald, National Park Service
Decolonial Organizing and Healing - Rockie Gonzalez and Tane Ward, Equilibrio Norte
Environmental Justice Work in EPA Region 6 - Arturo Blanco, Environmental Protection Agency, Region 6
Serving Food Justice - Simone Benz and Sayuri Yamanaka, Sustainable Food Center

What Legal Action Can (and Cannot) Do to Address Environmental Injustice

- Kelly Haragan, University of Texas Environmental Law Clinic

All events will take place on the Huston-Tillotson University campus, 900 Chicon St., Austin, TX 78702.
Sponsorships
The forum is brought to you by Huston-Tillotson University, Green is the New Black, the Dumpster Project, and Third Coast Activist Resource Network.
Please contact Co-Organizers Amanda Masino (ammasino@htu.edu) and Karen Magid (kmagid@htu.edu) for more information on tabling, sponsoring, and attending.