Building Green Justice 2016
Description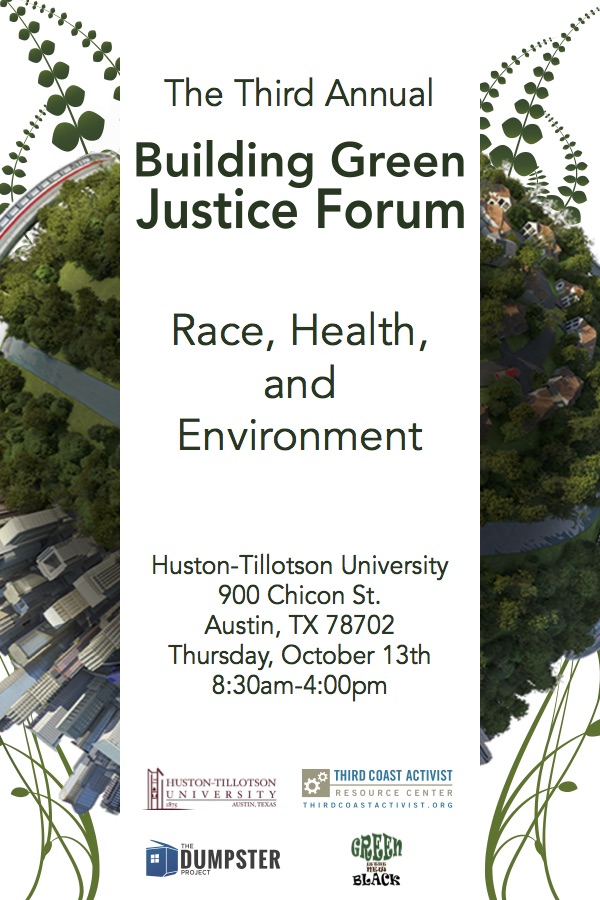 Huston-Tillotson University will host the third annual Building Green Justice Forum, this year focusing on "Race, Health, and the Environment" from scientific, sociological, political, and historical perspectives.
Keynote speakers include Mario Sims, social epidemiologist with the Jackson Heart Study and a professor in the University of Mississippi's Department of Medicine, addressing the Jackson study's research on the prevalence of cardiovascular disease among African Americans and issues of health disparity.
Also delivering a keynote address will be Israel Anderson from the Environmental Protection Agency, and community activist Mary Nash, who will discuss the fight for environmental justice in Sandbranch, a community southeast of Dallas that has been battling for water rights for over 30 years.
A panel will report on public health and environmental hazard investigations from Argentina to Austin. Moderated by Dominique Vining of HT, the panel will include Sylvia Herrera, a founding member of PODER (People Organized in Defense of Earth and her Resources), Shannon Jones, Director of Travis County Health and Human Services, and Emily Spangenberg from the UT Department of Sociology.
Workshops will feature activists, community members, students, and researchers working on issues of environmental justice and health.
The forum is sponsored by Green is the New Black, The Dumpster Project, and the Third Coast Activist Resource Center. For more information, contact Karen Magid, kmagid@htu.edu or Amanda Masino, ammasino@htu.edu.
Schedule of Events
8:30-9:00am - Coffee and Breakfast Snacks
9:00-9:15am - Welcome to the Forum
9:20-10:35am - Dr. Mario Sims, University of Mississippi Medical Center, "Psychosocial Factors and Cardiovascular Disease Disparity in the Jackson Heart Study"

10:40-11:55am - Israel Anderson, Environmental Protection Agency Region 6, and Mary Nash, Sandbranch Development and Water Corporation, "Sandbranch, Texas - A former Freedman's Town Fighting for a Water Bill"

11:50-1:00pm - Lunch
1:00-2:30 pm - Discussion Panel: "Navigating Race and Environment in Health Intervention Work,"
Dr. Sylvia Herrera, People Organized in Defense of Earth and her Resources

Shannon Jones, Travis County Health and Human Services;

Emily Spangenberg, University of Texas at Austin;

moderated by Dominique Vining, Huston-Tillotson University.
2:35-3:45 pm - Workshops and Breakout Sessions with:
Sierra Club organizer Dave Cortez

The UT/HT Environmental Humanities Working Group,

Dr. J.P. Maestre from the Home Microbiome Asthma Study,

Dr. William Lawson and Dr. Virginia Brown of the HT/UT Health Disparities Team
3:45-4:00pm - Closing Session and Call to Action
Event Logistics
Free parking is available in the Chalmers Ave. HT parking lot indicated on the map, and there is free street parking around campus. The Chalmers entrance to campus is directly across from the parking lot and we will have a few signs pointing the way to Dickey-Lawless, where all sessions will take place. There is no parking available on campus unless you have arranged for it prior to the event with the organizers.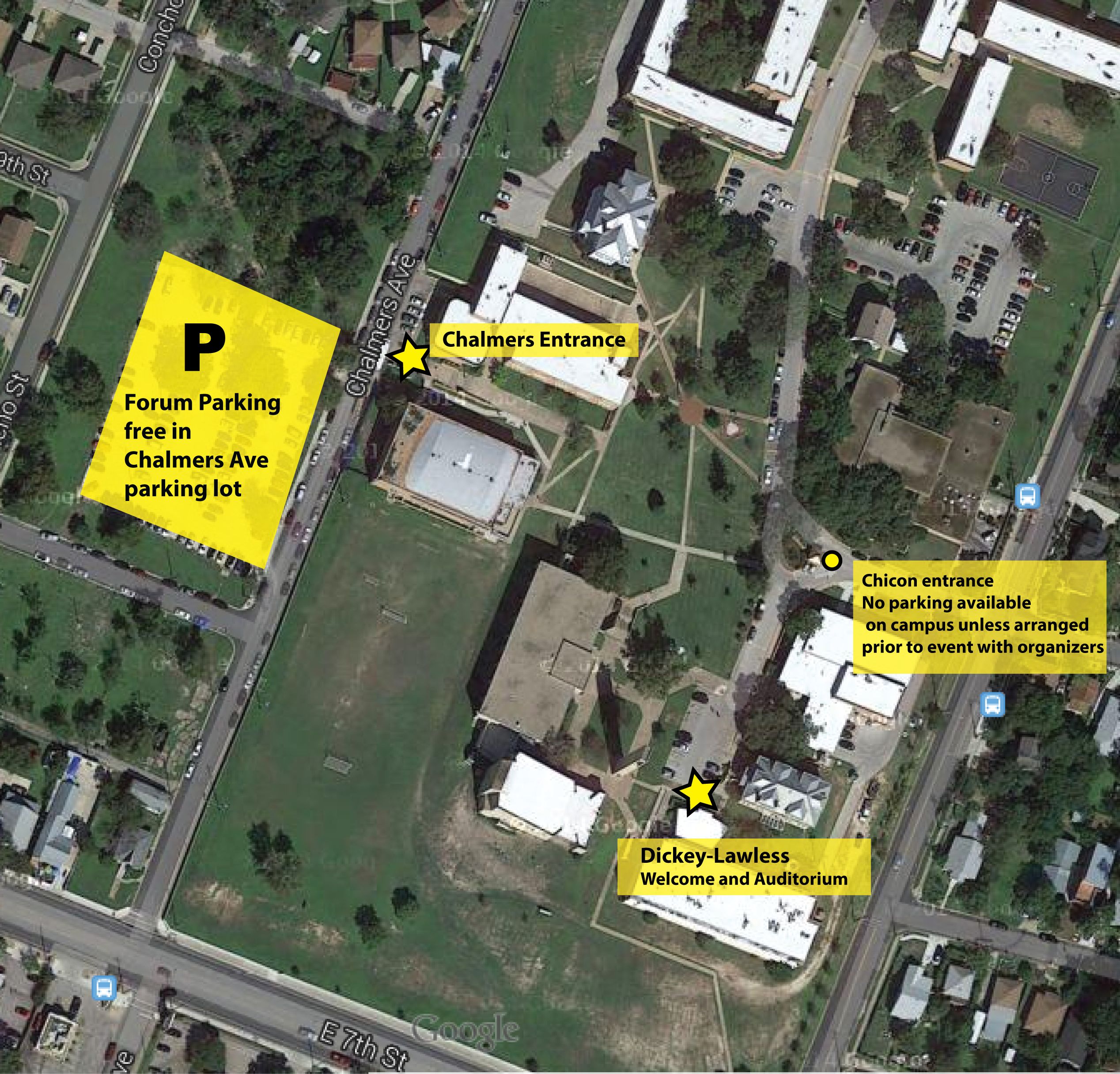 Sponsorships available - please contact kmagid@htu.edu