Building for the Future - Waldorf Education, Winkler Center Conference 2019
Description
This year we are excited to offer to teachers, parents and friends a conference, on March 23rd 2019, with a keynote talk "Learning by Linking: Preparing Young People to Meet the Future" by Douglas Gerwin, Ph.D.
Download conference program and schedule to learn more!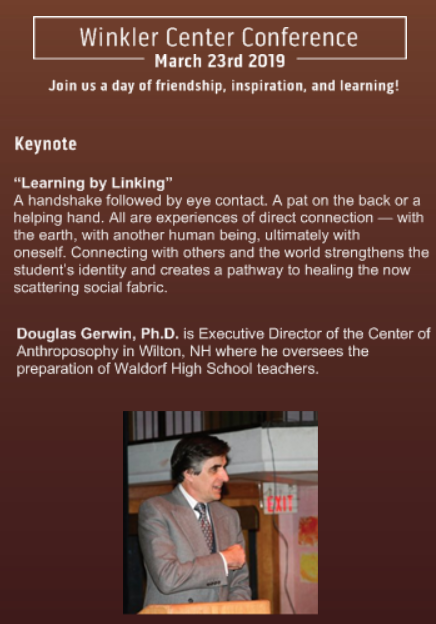 Each year we address our constituents burning questions, usually these boil down to "what do we do to make a difference?"
Dr. Gerwin's draws on his experience as a former Waldorf graduate and now, teacher educator, to address the signs of positive change made by Waldorf schools, graduates, and parents world wide.

This year's topic follows our several conferences on sustainability such as Cultivating Stewardship of the Earth, Social Media and Search for Community. This year is the ninth conference sponsored by the Winkler Center with each one attracting a larger audience every year.
Morning workshops follow Keynote speech. Discussions and afternoon workshops follow the lunch (included).
Morning Workshops
Creative Writing with Anthony Yaeger, ENL Teacher

Eurythmy: Moving to Music as Healing with Leonore Russell, Eurythmist and Jeanette Resnick, Musician

Supporting Healthy Self-regulation in Early Childhood with Lisa Miccio, Waldorf Pre-school teacher

Wet on Wet Painting with Diane Haley, Winkler Center Faculty

Afternoon Workshops
Conversations on the Theme of the day with Douglas Gerwin and George Russell, Waldorf Teacher Educator, and George Russell, Adelphi University Faculty Emeritus

Gardening: Connecting with the Earth with Jeannine Davis, Waldorf Gardening teacher.

Handcrafts with Karen Talluto, Waldorf Handwork teacher

Soul of Discipline with Stephanie Cleary. Waldorf Pre-school teacher

Please choose one Morning workshop and one Afternoon workshop when selecting TICKETs.
* Some workshop has limited space. * Subject to cancellation. In this case we will give the optional choice.
This year's sponsors include:













Lunch Sponsors

We thank our Sponsors!
Cafe of Life, 2439 Grand Ave. 100 W. Park Ave. Bellmore & Long Beach
Chen's Acupuncture, 277 Northern Blvd, Great Neck

Ershow Chiropractic Center

,

915 Commons Way - Princeton, NJ

Food for Thought, 154 7th St Garden City
Jonathan's Restaurant, 2499 Jericho Tpk, New Hyde Park

Matthew Cahill's Grandma

Nature's Dental, 50 Broadway, Greenlawn
New York Institute of Go,

255-05 Northern Blvd, 2FL, Little Neck

Patty Morrissey Konmari Tiding Session, Organizing & Decluttering
Prime Fine Catering, 4 Nassau Blvd, Garden City South
Rhino Chiropractic & Holistic Wellness Center, 25 S. Park Av. Rockville Center
Sheridan Fencing Academy,

69-47 Austin St, Forest Hills

Samantha Calonita Coaching

Life and Career Coach

The Myrin Institute,

187 Main Street

Great Barrington, MA

The Waldorf School of Garden City

, 225 Cambridge Ave, Garden City
We thank our Patrons!
We thank our Friends!
....
FAQs
Do I have to bring my printed ticket to the event?
No you don't have to bring your printed tiket as long as your registered name matches.
Can I update my registration information?
You can change your workshop selections as space permits.
Is my registration fee or ticket transferrable?
Yes, if you cannot attend the event, you may send somebody else. The person should have the registered name or print out ticket so that we can find the record.
Is it ok if the name on my ticket or registration doesn't match the person who attends?
Yes, as long as we know who is attending for which registration name.