About this Event
A new construction project is the ideal time to design and build for energy efficiency while considering a more sustainable and resilient future for a community. Take a moment from your fast-paced daily grind, join us for lunch, and learn about the New Construction Design Assistance programs offered in Mount Horeb and surrounding communities.
Are you a property manager, building owner, or community stakeholder and want to learn more about capital assistance that can be leveraged for your next project? Is your architectural firm taking advantage of financial incentives and expert technical assistance available from local utilities and energy efficiency programs?
WPPI Energy, with their 51 locally owned member utilities including Mount Horeb Utilities and Focus on Energy both offer a New Construction Design Assistance program that empowers building owners and design teams to achieve high performance buildings. Whether your project is large or small, public or private, it could qualify for cash incentives and technical guidance to help you reach your energy efficiency goals.
This lunch and learn will provide an overview of new construction programs that are currently available for new projects and gut renovations in Mount Horeb. Join us and learn how the Driftless Historium worked closely with Mount Horeb Utilities and Focus on Energy, to participate in these energy efficiency offerings. Don't leave money on the table and ensure that your project reaches its full sustainable design potential.
Building Tours
Attendees are invited to a building tour accompanied by WPPI Energy and Focus on Energy immediately following the presentation. Learn how the Driftless Historium took advantage of these programs and received more than $11,000 to offset the cost of energy efficiency measures. The Driftless Historium is also saving more than $9,000 a year in reduced energy costs. Learn more about its award-winning participation.
We will also tour the new Mt. Horeb Firehouse/Public Safety Building just around the corner from the Driftless Historium. The project completed in June 2019 and is home to both the village fire department and police department. This project also participated in the WPPI New Construction Design Assistance program and received financial incentives for its energy efficient design. Learn more about this exciting new project.
Don't miss your opportunity for two exciting building tours in Mt. Horeb!
LEARNING OBJECTIVES:
Identify energy efficiency opportunities in new construction and major renovation projects.
Explain technical assistance such as energy modeling offered for high performance buildings.
Learn how the building owner and design team can also be eligible for financial incentives.
Identify project eligibility and participation timeline.
Discuss how the Driftless Historium took advantage of new construction design assistance programs to achieve a high performance and more sustainable building in Mount Horeb.
COURSE OUTLINE
11:30 a.m. - Registration and lunch
Noon – 12:45 p.m. - Program
Welcome – WPPI Energy
Overview of WPPI Energy Design Assistance Program
Overview of Focus on Energy Design Assistance Program
Identify energy efficiency opportunities in new construction and major renovations
Explain financial incentives available for your project
Learn about technical assistance to support your team
12:45 – 1 p.m. – Overview of the Driftless Historium's participation in programs and highlights of energy efficiency design
1 – 1:30 p.m. – Driftless Historium and Mt. Horeb Public Safety Building Tours
WHO SHOULD ATTEND?
Building owners, developers, architects, engineers, contractors, government officials, city stakeholders and anyone with interest in designing and constructing high-performance commercial, industrial and multifamily buildings.
CONTINUING EDUCATION CREDITS:
Please note that in order to receive continuing education credits, you must be present for the entire training; partial credit cannot be given.
AIA Members of the American Institute of Architects will receive 1 LU for this instructor-led face-to-face course. This is an introductory level course and expires 7.18.22. Questions about AIA credits should be directed to Lonna Berg at 608.210.7157 or lberg@slipstreaminc.org.
Credits are approved for the presentation only; they are not available for the tour.
FEATURED PRESENTERS:
Erikka Byrge, LEED AP, Program Manager, Slipstream

Francisco Sayu, Program Manager, Design Assistance, Focus on Energy

ADDITIONAL SPEAKERS:
Jenny Minter, Deputy Chief, Mount Horeb Fire & EMS
Nicholas Owen, Village Administrator, Village of Mount Horeb
Jim Schwingle, PE, CEM, Energy Services Representative, WPPI Energy
Destinee K. Udelhoven, Museum Director, Driftless Historium
Nate Considine, Architect, Bray Architects
Early registration is encouraged. There is no cost to attend, but space is limited.
EVENT HOST: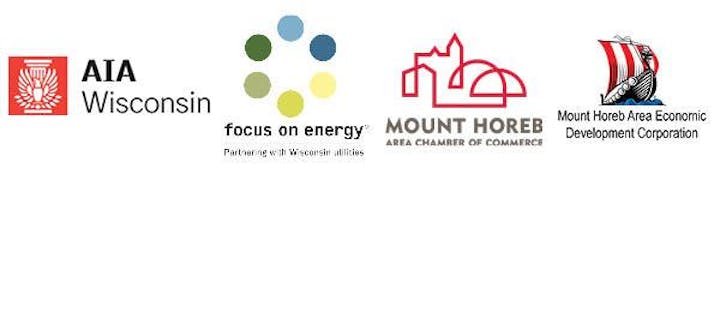 Questions? Email registration@slipstreaminc.org or call 608.210.7103.