Building Fermented Foods Businesses / Fermentation Frenzy!
Description
Building Fermented Foods Businesses / Fermentation Frenzy!
Featuring Sandor Katz
Sunday July 15th – Monday July 16th, 2012
Organized by the Appalachian State University Fermentation Science program in collaboration with Blue Ridge Women in Agriculture and Maverick Farms.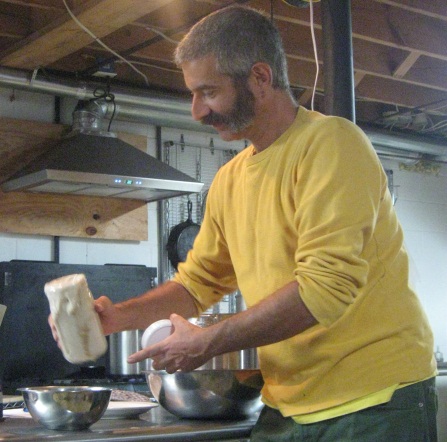 Farmers interested in pursuing a value-added product for their stand or wholesale accounts, and folks interested in starting a small food-based business are invited to a two-day workshop on fermented/acidified foods and beverages.
We will cover production, logistics, and financial issues of scaling-up home fermented or acidified foods and beverages to small commercial scale.
Producers from across Western North Carolina will present the "How-to's" of various food and beverage ferments, including vegetables, cheese, brewing, fermented soda, and mead.
Sunday night will feature a panel discussion on navigating food production and sales regulations.
Monday evening, Sandor Katz, nationally recognized fermentor and author of Wild Fermentation, The Revolution Will Not be Microwaved, and The Art of Fermentation (2012), will share his observations on the development of fermented foods businesses.
Click here to hear Katz's June 13, 2012 Fresh Air interview with Terry Gross.
Please see below for the workshop agenda!



Workshop Agenda
Sunday, July 15th, 12 pm - 7 pm
Fermented and Acidified Vegetables, Holly Whitesides, Against the Grain Farm
Fermented Sodas and Mead, Marc Williams, Botany Every Day
Food Regulations and Sales Panel Discussion:
Carol Coulter, Heritage Homestead Creamery, Ashe County, NC
Melanie Pollard, NC Department of Agriculture, Meat and Poultry Inspection Division
Harold McDowell, NC Department of Agriculture, Food and Drug Protection Division
Ben Starr, Starrlight Mead, Pittsboro, NC
Angela Walsh, Bare Essentials Natural Market, Boone, NC
Pete Jankowski, Fire From the Mountain, Zionville, NC
Monday, July 16th 9:30 am - 6 pm
Home and Commercial Brewing, Isabel Pastrana, Appalachian Homebrewing Supply, Boone, NC; Dr. Brett Taubman, Fermentation Science at Appalachian State University
Wild Dairy Ferments, Tess Pendergrast
The Science of Fermentation, Dr. Seth Cohen, Director, Fermentation Science at Appalachian State University
Business Planning and Financial Considerations, Mountain BizWorks, Asheville, NC
Fermentation and Economic Revival, Sandor Katz
A limited number of volunteer opportunities are available at reduced-rate registration.
This workshop is supported by grants from the North Carolina Rural Economic Development Center, GoldenLEAF Foundation, and NC Biotechnology Center.

Organizer of Building Fermented Foods Businesses / Fermentation Frenzy!
The Fermentation Sciences program is an inter-disciplinary degree within the College of Arts and Sciences at Appalachian State University intended to provide students with a strong background in chemistry and biology and a considerable focus in business, marketing and entrepreneurial principles. The program also supports regional craft beverage producers with an analytical services lab and regular production-relevant workshops.