Description
Join Lob for an evening of storytelling with successful leaders of Diversity & Inclusion within Tech. We've gathered four trailblazers: two Heads of Diversity & Inclusion, a Head of Operations, and a VP of Customer Support & Community representing some of the most intriguing fields in tech today. Come learn about the resources they use to build diverse teams & grow inclusion within their communities. We'll be taking a deep dive into what is involved in building a diverse team, what role inclusion plays in that, and how to know when you're doing it right.
Beverages and snacks will be served.
Program
6:00 pm - Networking, Beverages & Light Snacks
6:30 pm - Panelist Interviews with Q&A
7:30 pm - Mix & Mingle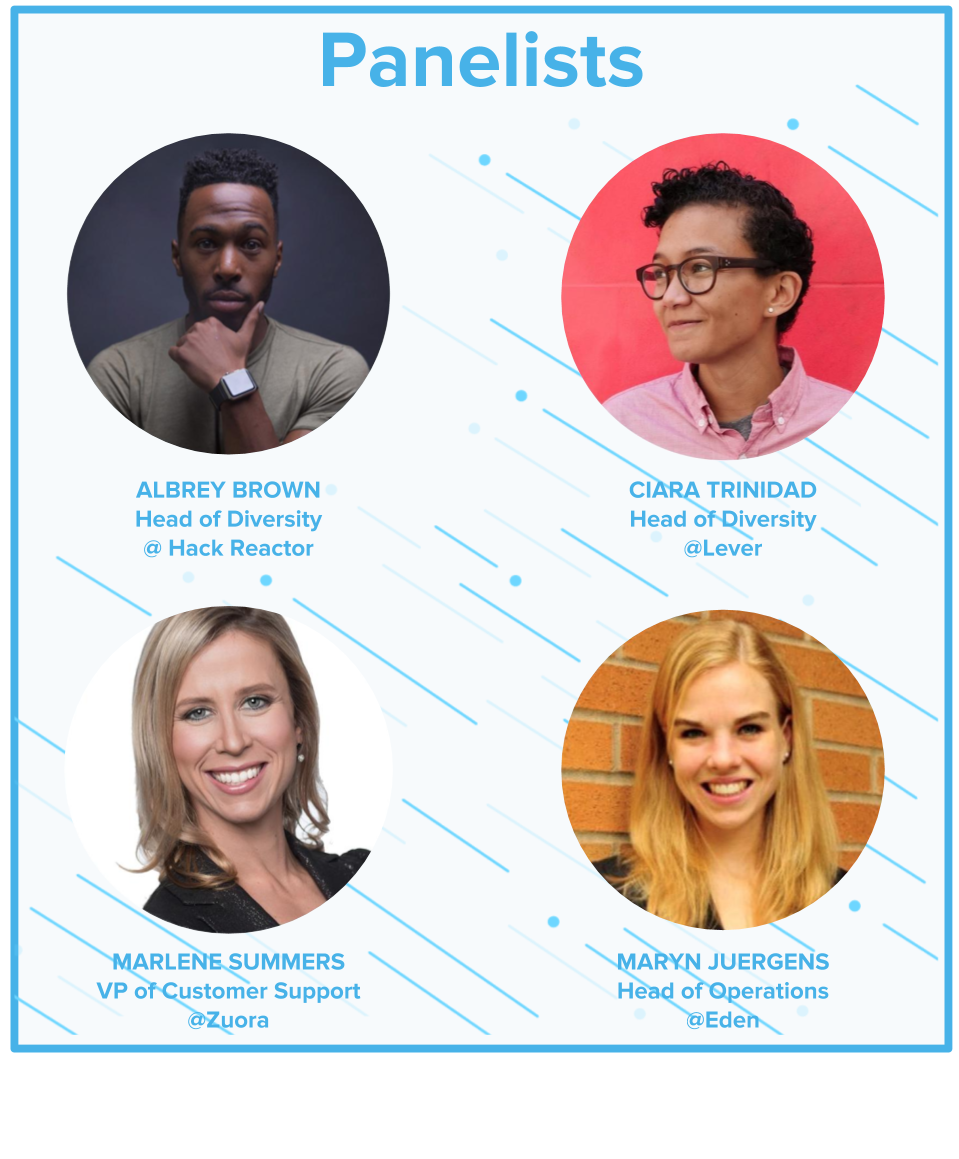 Albrey Brown:
Albrey Brown is a community oriented educator interested in distributing equitable opportunities and building inclusive spaces to the those who are identified as underrepresented in tech. Currently serving as Head of Diversity and Inclusion at Hack Reactor, his diversity and inclusion philosophy relies on a combination of data and empathy driven practices. Albrey believes that strong organizations are the best at hiring, developing, talent from all walks of life and hopes to help build a framework Silicon Valley can use to do that.
Ciara Trinidad:
Ciara Trinidad is the Head of Diversity and Inclusion at Lever where she works alongside a team that's looking to revolutionize the way companies like Netflix and Lyft think about recruiting. Having a 50:50 gender ratio at Lever is something that she is wildly proud of. At Lever, Ciara is responsible to ensuring that all Leveroos voices are heard, that the facilities and environment is open and inviting of all people and by creating people programs that foster true inclusion. She considers herself a 'triple threat' as she is black, female and queer.
Marlene Summers:
Recognized by the Silicon Valley Business Journal as a Woman of Influence and by the Stevie Awards as a Female Executive of the Year in Computer Software, Marlene is an industry trailblazer, born to do customer success at high-tech software companies. She brings 20 years of experience in enterprise software, grounded in a technical background and empowered by insightful leadership and an influential management style which gets the things done. Marlene joined Zuora in 2010 as the first Customer Success Manager before transitioning to build out the customer support organization, which provides 24x7 support through four service centers, delivered by over 70 experienced professionals, achieving a 96% Customer Satisfaction rating, which exceeds the software industry benchmark by 10%. In 2016, Marlene expanded the scope of her team to include strategic solution services, technical documentation, Developer Center and Zuora Community. Her Customer Support Services and Community organization focuses on delivering the best customer service possible, aggregating content by bringing together sources of knowledge and information, deflecting support tickets to save costs and giving customers value-add services to enhance operational efficiency and drive revenue.

Maryn Juergens:
Maryn Juergens is Head of Operations at Eden, the leading office management platform that enables office managers to access all facilities and workplace services from one dashboard. Before falling in love with the start-up life at Eden, she worked in the corporate world - managing investments at Goldman Sachs and running operations at Microsoft. She studied history and chemistry at Whitman College and received her MBA from the Tuck School of Business at Dartmouth. In her free time she can be found trail running in Marin, teaching early morning Flywheel Sports cycling classes, and drinking every flavor of La Croix.
Plese register a ticket on Eventbrite as our venue has limited capacity. We will be requiring tickets at the door.