Carlow University's Educator Workshop Series present: Building Culture and Climate. Virtual or In-Person Attendance Option.
About this event
Registered Virtual attendees will receive an emailed Zoom link the day of the event.
This workshop is designed for future and current leaders seeking to develop or improve their work environment for all stakeholders. Beginning with an introduction to various leadership styles, students will identify the qualities and characteristics of leaders that affect positive culture and climate in the school/work environment. They will also receive an introduction to the importance of student/teacher relations and the impact it has on the education/work environment. Also, students will examine how the Implicit Bias and the Deficit Thinking Model greatly impact these relationships. As part of this workshop, students will examine Positive Behavior Interventions and Supports and alternatives to suspensions. Special emphasis will be placed on urban educational and workplace settings.
ACT 48 Hours Available
Building Culture & Climate
Leadership styles
Positive Behavior Interventions and Supports
Implicit Bias
Importance of student and staff relations.
Restorative Practices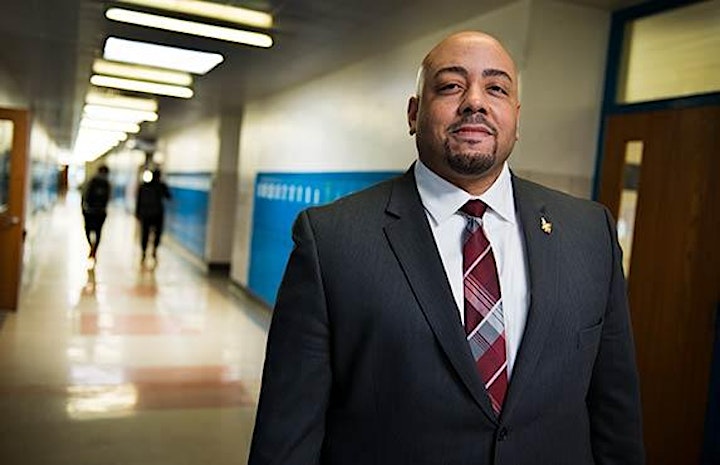 Presented by Dr. Phillip Woods
Dr. Phillip Woods is a servant-leader with a passion for developing and educating underrepresented and underperforming students through the implementation of proactive diversity, equity and inclusion initiatives which have greatly benefited the students at Woodland Hills High School.
Woods began his educational journey at Indiana University of Pennsylvania earning a B.S. in Elementary Education, a Master's Degree in Special Education and a Principal Certification from Slippery Rock University. He returned to IUP and completed a D.Ed in Administration & Leadership Studies.
He is the recipient of multiple awards including: the John S. Shropshire Graduate Scholarship for academic achievement, the IUP Foundation Doctoral Fellowship Award for excellence in teaching and research, the Carter G. Woodson Outstanding Graduate Student Award, the National Parent Teacher Association Dr. Walk Kealey Leadership Award and most recently the Tried Stone Baptist Church Men of Excellence Award, the Men of Distinction Award, sponsored by the Women's Achievement Club and his work at Woodland Hills was a featured story titled Guiding Principle, in IUP's alumni magazine, an international publication, Classic Events Excellence in Education award, and the Francette Insurance Group, LLC's "Love is Action Community Award." Most recently Dr. Woods was selected as the Most Valuable Principal by the Pittsburgh Penguins Foundation for his innovative approach to learning during Covid 19.
As principal at Woodland Hills High School, Dr. Woods focused on instituting changes that benefited the education and well-being of a very diverse student body with the most significant change of a graduation rate that raised from 87 percent in 2018 to 95 percent in 2019. The Pittsburgh Post-Gazette documented the school's transformation in a series of articles that highlighted a once "Failing School's" Educational Renewal.
In July 2021, Dr. Woods was appointed Superintendent of his alma mater Aliquippa School District where he will continue his efforts of working with the school and community to provide a high quality educational experience for all students.
Dr. Woods's accomplishments stem from the ideology that it takes a village to raise a child and through modeling hard work and perseverance can motivate one to overcome life's adverse circumstances and progress beyond expectations.
Follow Dr. Woods on LinkedIn
Organizer of Building Culture and Climate
Community.  Compassion.  
Innovative.  Personalized.  
We believe in the transformational power of education. Experienced faculty and veteran educators teach all classes. We celebrate diversity, champion social justice, and work tirelessly to address issues of equity in education. Whether you are a recent college graduate, mid-life career changer, or a veteran educator, we invite you to join us.