Description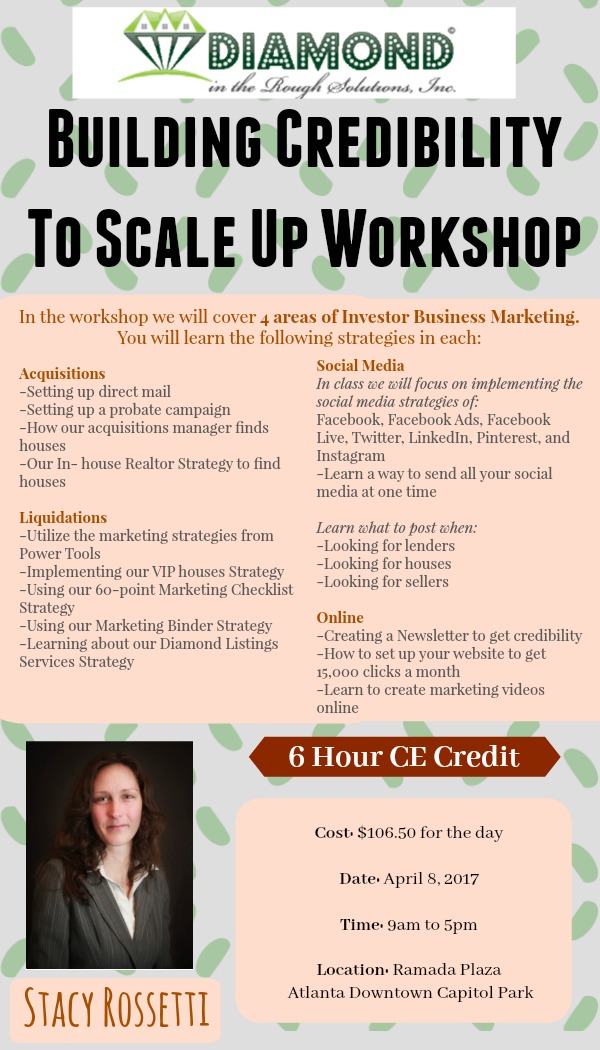 Spend a day with the #1 Rehabber in Atlanta, Stacy Rossetti, learning how to Build Your Credibility Through Marketing to Scale Up so you can learn her in-house marketing strategies for Acquisitions, Liquidations, Social Media, and Online Marketing. She will show you how to build credibility by marketing to sellers, buyers, investors, and lenders. In class, we will create your Social Media Strategy by learning how to implement and syndicate your posts faster and more automatic. Bring your laptop because she will share with you all of the systems that she has internally, so you can implement them immediately into your business to become more successful through your own market. Set up your business to automate your marketing in order to begin to build credibility and find more money, sellers, buyers and success!
Cost: $106.50 for the day.
Date: April 8, 2017
Time: 9am to 5pm
Location: Ramada Plaza Atlanta Downtown Capitol Park
We need at least 15 students so please pass the word. See ya there!
In the workshop we will cover 4 areas of Investor Business Marketing. You will learn the following strategies in each:

Acquisitions
Setting up direct mail
Setting up a probate campaign
How our acquisitions manager finds houses
Our In- house Realtor Strategy to find houses
Liquidations
Utilize the marketing strategies from Power Tools
Implementing our VIP houses Strategy
Using our 60-point Marketing Checklist Strategy
Using our Marketing Binder Strategy
Learning about our Diamond Listings Services Strategy
Social Media
In class we will focus on implementing the social media strategies of:
Facebook, Facebook Ads, Facebook Live, Twitter, LinkedIn, Pinterest, and Instagram
Learn a way to send all your social media at one time
Learn what to post when:
Looking for lenders
Looking for houses
Looking for sellers
Online
Creating a Newsletter to get credibility
How to set up your website to get 15,000 clicks a month
Learn to create marketing videos online
Learn how to syndicate all social media posts through Podio, Hootsuite, CRM, Callfire and Google Drive.
Wow! That's a lot for $106.50. What a great deal! Better not miss this one.
Call the office if you have any questions at 770-727-9464 and talk to Sarah
How can I be prepared for this event?
Be on time
Have a business Gmail Account
Print out your ticket
Bring your laptop
And be ready to learn!