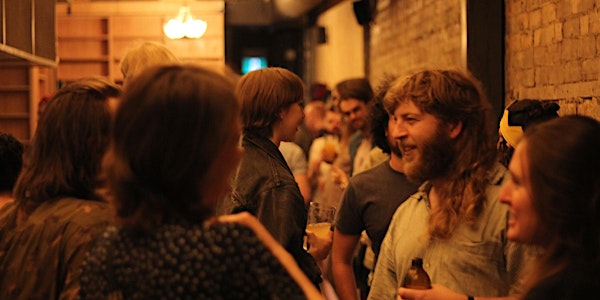 Building Community in Bars/Public Spaces: Connecting and Learning Together
Learn from 2 different perspectives how bars can be spaces where we connect with new people and broaden our understanding.
When and where
Location
Danu Social House 1237 Queen Street West Toronto, ON M6K 1L4 Canada
About this event
Third places is a term coined by sociologist Ray Oldenburg and refers to places where people spend time between home ('first' place) and work ('second' place). They are locations where we build community, exchange ideas and enjoy each other's company. Bars can often be that third space but oftentimes are instead built in order to cater to a group of people who already know each other rather than building community (though there are certainly exceptions). Danu is a new bar that aims to build a welcoming atmosphere where people can enjoy a drink, learn from strangers, and build community. Come join us and the Parkdale Free School as we learn from two people who use events and facilitation to create community in public spaces and discuss how we might do the same here. Tianna Henry: Glad Day bookshop and Marsha Shandur: True Stories Toronto; pioneers in creating opportunities in public spaces for dialogue, connection and learning.
Tianna Henry is a cis queer biracial woman who is a settler here in Toronto. She has been the events coordinator at Glad Day Bookshop for three years. When she's not facilitating queer events or delivering toolkits with the trans toolkits collective, you can find her hunting for the best tacos in the city.
For nine years, Marsha Shandur has been the host, organizer and Storytelling Coach for True Stories Toronto, the city's largest storytelling show. In her time not working on that labour of love, Marsha is a Storytelling, Communication and Speaker Coach who has taught thousands of people across Canada, the US and the UK, and worked with clients like HelloFresh, University of Toronto, TJX Companies Inc and Shopify. Before launching Yes Yes Marsha and her career as a Storytelling Coach, Marsha spent 15 years working as a Radio DJ, and a music supervisor for hit TV shows. Her work has been featured in Forbes, BBC, Mashable and the Toronto Star.
Find out more about True Stories Toronto and Marsha's work as a storytelling and speaker coach at http://www.yesyesmarsha.com/truestories