Building Community Engagement In Underserved Neighborhoods/The Path To Heal...
Description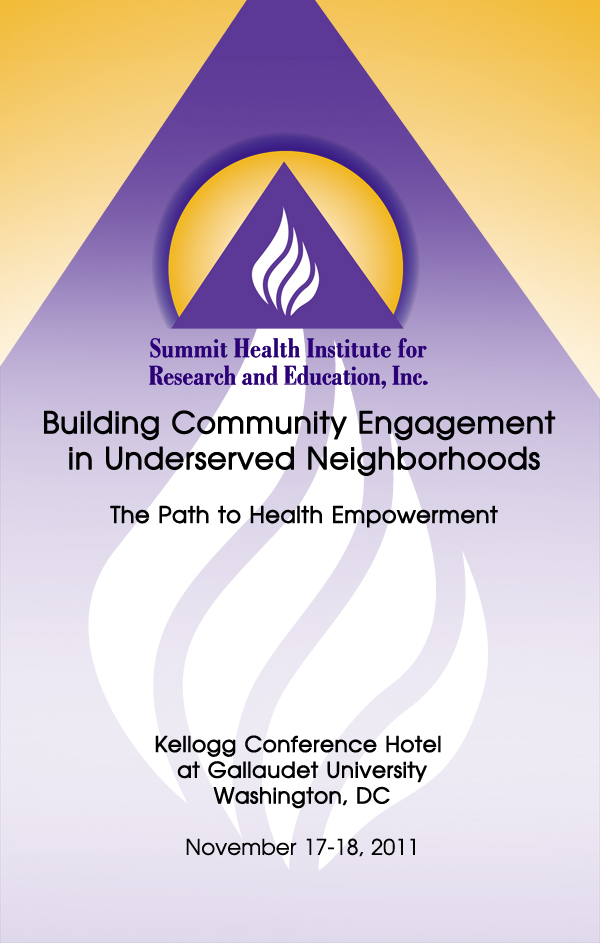 Summit Health Institute for Research and Education, Inc. (SHIRE) has demonstrated the critical importance of community engagement in its policy and programmatic efforts to advance health and wellness in the District of Columbia and the nation.
This conference provides a forum for SHIRE, partners and advocates for community engagement to share lessons learned and strategies that work to help impact communities and motivate individuals to take charge of their health. This one-day interactive conference will offer tools that individuals, organizations, corporations, foundations and government agencies can use to engage residents in neighborhoods to create meaningful and sustainable partnerships in their communities to address obesity, hunger and health and wellness.
Goal: 150-200 attendees.
CONFERENCE DATE AND LOCATION
Date:

November 17-18, 2011
Venue:

Kellogg Conference Hotel at Gallaudet University
Location:

Washington, DC
General Registration – Reception/Conference - $150

Seniors (65 and over) - $75

Students (currently enrolled) - $50



CONFERENCE TENTATIVE SCHEDULE
Reception: Thursday, November 17, 2011
Time:

5:30 – 7:00 P.M.
Purpose:

Sponsor recognition, acknowledgment of special guests, introduction of SHIRE Board of Directors and networking among conference participants
Welcoming Remarks - SHIRE President

Introductions and Acknowledgements

Entertainment by Jazz Artist "Natii"

Setting - Food stations with light refreshments, cash bar
Conference: Friday, November 18, 2011
Time:

8:30 A.M. to 4:30 P.M.

7:30 A.M. – 8:30 A.M

.

- Continental Breakfast

8:30 A.M. – 9:30 A.M.

- Opening Plenary
Welcome, Conference Purpose and Introduction of President of SHIRE – Ruth Perot, Executive Director/CEO, SHIRE

SHIRE Overview and Introduction of the Mayor of Washington DC– Dr. Russell J. Davis, President, SHIRE

Greetingsfrom DC Mayor Vincent Gray (Invitation pending)

Keynote Speaker– Dr. Mohammad Akhter, Director, DC Department of Health
9:30 A.M. – 10:30 A.M.

– Plenary Session Roundtable
Key Steps to Community Engagement – SHIRE and partners
Gathering community information

Who's who in the community – identifying, listening and dialoguing

Reaching out and sharing information

Approaching respected voices and prospective partners

Pinpointing opportunities for collective activities and projects

Taking action together

Systematic feedback and reporting

Celebrating successes
10:30 A.M. to 10:45 A.M. - Break

10:45 A.M to 12 Noon – Community Engagement Sessions
These sessions will present broad themes related to community engagement. Presenters will draw on real-life experiences and will offer concrete examples of strategies that work. Conference attendance will have the opportunity to participate in one of the three sessions.
Session #1

– Leveraging Collaborative Networks and Partnerships To Build Community Engagement and Vice Versa
How community engagement supports networking

Basic principles –

"step out of silos and leave egos at the door" in order to agree on a common purpose, mission and goals

Establish ground rules – who coordinates, shared resources, continuing feedback to and engagement with communities/constituents represented

Identifying and overcoming challenges

Requirements for effective multicultural partnerships

Advocacy – from the neighborhood to the community level

Q & A
Session #2

– Policies that Support or Impact Community Engagement
What are policies and why do they matter?

Key policies on the local scene

When do policies do harm to community engagement?

Patient Protection and Accountable Care Act – opportunities and challenges

Sustaining community engagement and empowering communities over time – what's available/what's needed?

Q & A
Session #3 –

Why does the Private Sector Support Community Engagement? How is ROI measured? (Corporations, Foundations and Unions)
Why is the private sector interested in community engagement?

How can communities engage with the private sector?

What are the benefits of community/private sector partnerships?

How does the private evaluate partnerships?

Q & A
12:15 P.M. to 1:30 P.M.

Lunch
Welcome

Lunch

Presentation of SHIRE Community Champion Awards by members of SHIRE Board of Directors
Awards will be presented to six individuals who have demonstrated a personal commitment to community engagement in non-profit/community, foundation, corporate, government and media sectors.
Luncheon presentation: The Role of the Media in Fostering Community Engagement
1:45 P.M. - 4:15 P.M.

Interactive Skill- Building Workshops
Neighborhood residents and other experts/resource persons will participate in workshops and share their community engagement experiences. Conference attendees will have the opportunity to interact with presenters in all workshops.
Workshop #1 – How to Engage Adults
Workshop #2 – How to Engage Children and Youth
Workshop #3 - Effective Tools for Engagement and Health Empowerment through Wellness and Sister Circles
Workshop #4 – Engaging Communities to Create Jobs and Community Economic Impact
Workshop #5 – Neighborhoods Residing Guiding, Not Just Participating in Community Research
Workshop #6 – Informing and Engaging Health Professionals and Consumers about Health Information Technology
Workshop #7– How to Utilize Social Media and Technology to Drive and Foster Community Engagement
4:15 P.M. -4:30 P.M.

Closing Plenary Session
Highlights on the day summarized

Present certificates and videotape interviews for YouTube

Announce raffle winners

Collect conference assessments

Closing remarks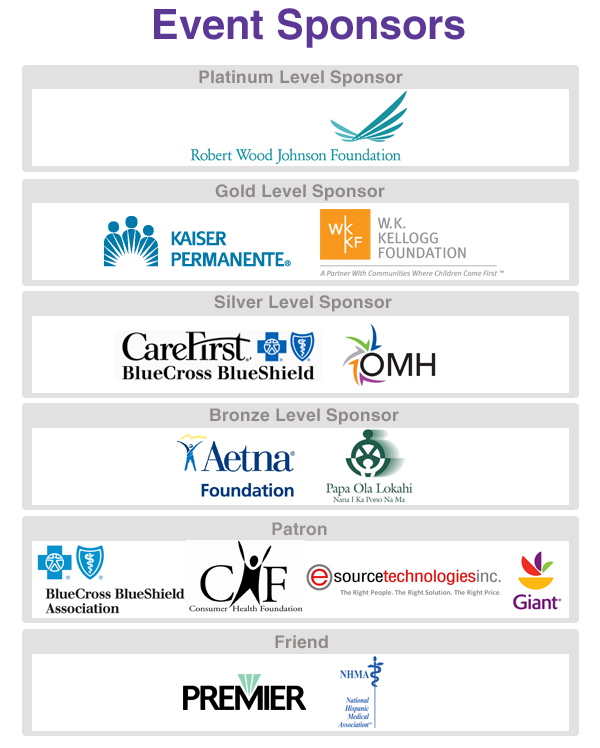 Parking: The Kellogg Conference Center provides complimentary parking on the Gallaudet University campus. Entrance to the parking lot is located at the intersection of Florida Avenue and 6th Street NE.
To Download and Print Parking Pass: Click Here (PDF)

Having trouble downloading your parking pass? Copy this and paste this link in to your browser: http://www.shireinc.org/building_community_engagement_conference/SHIRE.Gallaudet.Parking.Pass.pdf
This link requires Adobe Acrobat Reader. To download Acrobat Reader: Click Here

Metro: Full shuttle service is available from the Red Line between New York Ave-Florida Ave-Gallaudet U Metro (M Street Exit), Union Station (1st Street Exit), and the Kellogg Conference Center. Schedule and shuttle passes will soon be available at www.shireinc.org If you plan to use the shuttle, please bring your printed pass with you on November 17th and November 18, 2011.

We look forward to seeing you there!
Hotel:
The Courtyard Marriott Washington DC/US Capital
1325 2ND Street NE
Washington DC 20002
202.898.4000 reservations
Rate: $179 weekday $109 on Friday and Saturday
View Press Release:
D.C. Mayor Vincent Gray to Speak at Groundbreaking Conference on
Engaging and Empowering Underserved Residents (PDF)

Having trouble downloading the press release? Copy this and paste this link in to your browser: http://www.shireinc.org/building_community_engagement_conference/SHIRE.press.release.pdf
This link requires Adobe Acrobat Reader. To download Acrobat Reader: Click Here
Organizer of Building Community Engagement In Underserved Neighborhoods/The Path To Health Empowerment
Established in 1997, the Summit Health Institute for Research and Education, Inc. (SHIRE) is a nonprofit 501(c)(3) organization dedicated to the promotion of health and wellness for all people. SHIRE works to eradicate health disparities and aid vulnerable populations in attaining optimal health. Communities, government agencies, corporations, and foundations look to SHIRE as an effective and trusted resource to identify inequities, propose solutions, and galvanize grassroots groups to address access to health care and quality of care issues among the underserved, particularly communities of color.